One of my favourite areas of the Chelsea Flower Show is the Great Pavilion. It's filled with plant growers and nurseries exhibiting their best varieties.
There's so much inspiration to be found – I always discover a new plant that's perfect for my garden.
Plus the stallholders are true plant lovers, not salespeople, so they are great sources of advice and always happy to chat about their plants.
Here's some of my favourite picks from 2015, find out later this week if any stand a chance on my list for 2016.
Peony Scarlet Heaven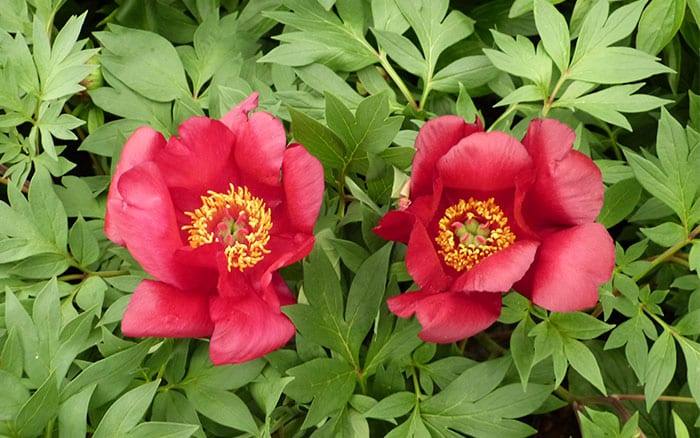 There was a big trend for magenta colours in the show gardens this year, and this peony is a great example. Its large flowers are single and unfussy, and the stamens are a rich gold shade.
Salvia Love and Wishes

This is ideal for adding height and structure to borders. The deep purple flowers are borne on tall dark stems that rise up to 80cm high – it's a striking plant.
Scilla peruviana

This is a fabulous tropical-looking plant that would suit a rockery or the front of a border. It's actually native to southern Europe, not Peru, and grows well here.
Pelargonium Aldwyck

I love these deep magenta flowers. This is a member of the regal pelargonium group, meaning it flowers early in the season and prefers partial shade.
Meconopsis Betonicifolia

This is more often called the Himalayan blue poppy. It's a beautiful sky-blue colour that creates a real talking point in a garden.
Callistemon Citrinus Splendens

Sometimes known as the Crimson Bottlebrush, this plant has lovely flower heads dominated by red stamens. It needs a sheltered spot in full sun.
Iris Beverly Sills

I adore the colour of this iris. Its ruffled flowers are a pale coral pink shade that would look great in any garden.
Fuchsia RAF

This is a lovely fuchsia that has trailing stems, making it ideal for hanging baskets. The buds spread backwards to reveal large ruffled pink petals that look like tutus.
Mentha x piperata

Also known as chocolate mint! Its leaves truly do taste like minty chocolate. It's a rampant grower, so plant it in a container to stop the roots from spreading and taking over.
Salvia Leucantha Purple Velvet

Salvias are great versatile plants, but this one is extra special. Its flowers are fuzzy like velvet and feel amazing. It's only half-hardy but it produces masses of soft blooms.
Zantedeschia Elliottiana

I'm a big fan of tropical style plants, including arum lilies. And this creamy yellow one is beautiful. Extra points for the spotted leaves too.
Broad bean crimson-flowered

This is a great variety for a potager vegetable garden. It produces rich crimson flowers followed by large broad bean pods. Fab silver green leaves too.

David Domoney is a Chartered Horticulturalist, Broadcaster, and Author. David has worked with a number of the UK's leading garden retailers as a plant buyer and strategic consultant. With more than 30 years experience, in horticulture, David is as passionate about plants now as he was when he bought his first plant at a village fete.