With many of us cultivating gardens within urban settings, balcony gardens are on the rise. Nowadays, if you've no garden, it's no problem. There are loads of ways to design a balcony garden and make the most of a green space.
Balcony gardens can really give you the best of both worlds. This is because they're big enough to sit out but not so large that enormous amounts of work need to go into keeping them looking tip-top. You can easily enlarge the appearance of the space with a few clever tweaks here and there.
With balconies being an extension of your living space, you can dress them up in the same way.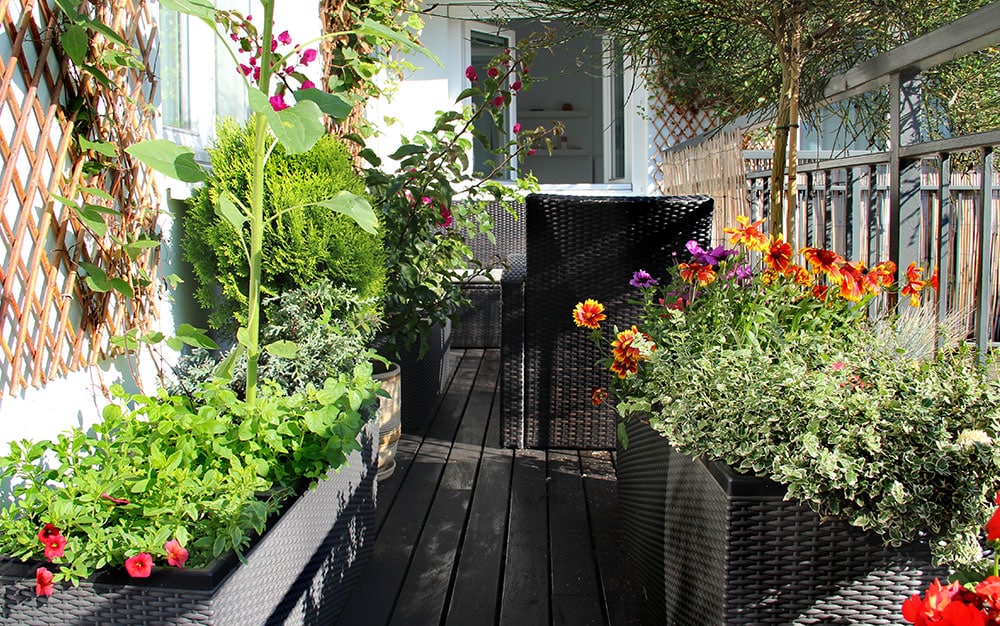 Think about decorating the walls, lighting and setting up a quiet corner in which to sit and unwind from the day. Garden mirrors should be a staple in compact spaces, they can make all the difference.
However, the main consideration when hanging a mirror outside is to watch that it doesn't reflect the direct sun as this can be dangerous.
You can set up a decorative mirror on the wall behind structurally ornate foliage, like that of ferns or the throngs of a palm, and you will get double the impact.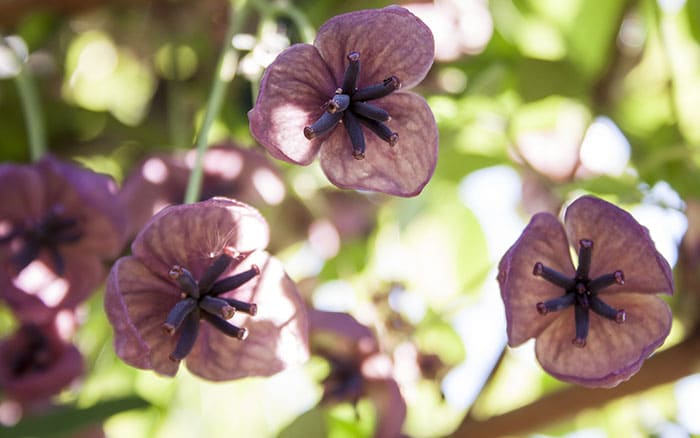 With built-up areas, one of the problems with gardens is that they can be overlooked from above.
This is less of a problem with balcony gardens, but you may still decide to enclose your space away from curtain-twitching neighbours and prying eyes. This can be done so easily with a stylish trellis and the added benefit is that it's extra growing space for you that won't crowd your floor space.
You might decide to go for flowering climbers like jasmine or clematis for that wonderful scent or keep it simple with ivy or Akebia quinata (chocolate vine) which work well in shaded areas.
With the added heights of a balcony, you may experience higher winds too. It's an idea to consider plant varieties that can withstand wind, especially if you are situated in an exposed area.
Typically, these plants have leaf moderations, such as needles, small leaves or furry surfaces, which have developed to help them cope with the drying effects of wind.
Windbreak plants can also offer a level of screening for your privacy as well. Go for Pinus mugo (mountain pine) or even an evergreen such as viburnum to give you a little shelter from the weather.
Lastly, as you're not growing in the ground, your planting will be done in containers, so you need to be accustomed to how to get the most out of plants this way. The tip here is that as they're containerised and exposed to the elements, they are more susceptible to moisture loss.
Therefore, a soil-based compost will be best for its water-holding properties. You might find that your balcony is sheltered from the balcony above, which can restrict the amount of rainfall your plants can receive too.

Try to check them regularly for signs that they are drying out by inspecting the first few inches of soil. It should be moist to touch.
Secondly, be mindful that as the pots are likely sitting on a hard, possibly paved, surface, these pots are prone to waterlogging in the winter—particularly if the water cannot escape through the bottom. For this reason, you should leave a gap using pot feet. You can make your own at home by collecting up wine corks.
With balcony gardens, the sky's the limit! These miniature green spaces can still offer you the enjoyment of a garden but with very little upkeep. So, get redesigning your balcony space today for the ultimate garden getaway.

David Domoney is a Chartered Horticulturalist, Broadcaster, and Author. David has worked with a number of the UK's leading garden retailers as a plant buyer and strategic consultant. With more than 30 years experience, in horticulture, David is as passionate about plants now as he was when he bought his first plant at a village fete.