It's November, which means Guy Fawkes Night will soon be upon us. So, when planning your celebrations, remember to keep your indoor animals and garden wildlife such as hedgehogs safe on Bonfire Night.
Many of us use our gardens for bonfires and firework displays to keep the magic of Bonfire Night alive. So, please be aware of garden wildlife when using your garden to set up Bonfire and set off fireworks.
Hedgehogs will be attracted to the wood piles you set up as your bonfire. They are woody and cosy, and a potential place for shelter and food. But taking precautions will reduce the risk of hedgehogs being hurt.
For example, when building a bonfire, it's best to build it on the day that you are going to light it. As hedgehogs prefer to wander at night, this will save them and other creatures from settling in and keep them away from harm.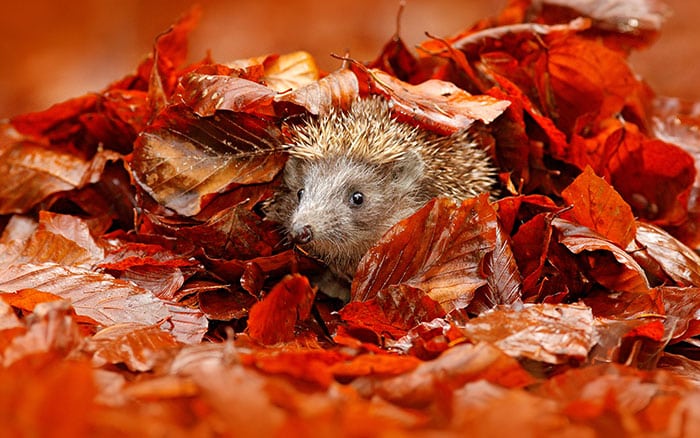 Alternatively, if it needs to be built in advance, protect the area by surrounding it with chicken wire. Ensuring it's around 1 metre high will stop hedgehogs getting in.

Before lighting, have a rummage around using a pole or broom and a torch. Choosing these tools is safer than checking with a fork or spade because they can harm any hiding hedgehogs.
Thoroughly check it – particularly the bottom two feet of the structure, which is where hedgehogs are most likely to be found.
Listen out for a hissing sound, which is the noise these spiny mammals make when they are disturbed. Finally, when lighting do so from one side only to allow an escape route for anything missed.
In the event that hedgehogs are found, the nest should be placed into a plastic or cardboard box with plenty of towels or newspaper.
When handling them, wear gardening gloves because it will protect your hands from their spikes and also save human smells from getting onto the creatures.

When the hedgehogs are in a safe space, place meaty cat or dog food and water in the box with them. Then, once the bonfire is done and cooled off, the hedgehog can be released somewhere safe nearby like a hedge or bush.

If you are planning to release any fireworks, remember that the noise causes distress to both wild animals and your pets. So, if you don't have the appropriate space to use them, don't set them off in your garden.
Remember, don't be a flaming hedgehog killer. Instead take precautions to protect wildlife and pets in your garden this Bonfire Night.

David Domoney is a Chartered Horticulturalist, Broadcaster, and Author. David has worked with a number of the UK's leading garden retailers as a plant buyer and strategic consultant. With more than 30 years experience, in horticulture, David is as passionate about plants now as he was when he bought his first plant at a village fete.