Revitalise your garden with these 50 quick fixes! I've put together a long list of easy, simple and cheap ideas to do up the garden in no time at all.
Give garden birds a place to drink and bathe with a free-standing bird bath. Place it where you can see the action from inside the house.
2 Put pots by the door
Give yourself a welcome home by putting a pair of colourful plant pots either side of the front door and filling them with flowers.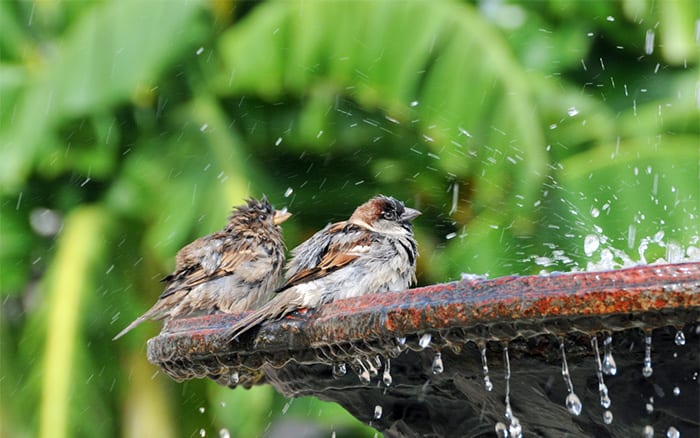 3 Add bunting
Make your garden feel more homely with bunting. You can buy fabric bunting or make your own! Stitch triangles of fabric onto bias tape.
4 Refresh hanging baskets
Boost your hanging baskets with trailing plants like strawberries and lobelia. Include fragrant plants so you smell the delightful fragrance whenever you pass.
5 Tidy the patio
Remove any weeds and brush sand over to fill in gaps between slabs to keep a preened patio.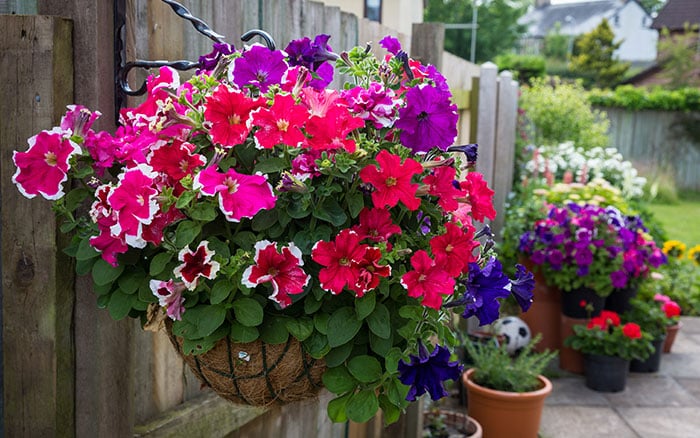 6 Plant up patio cracks
Plant creeping thyme into gaps in patios and paths for a heavenly scent as you walk over it. It also produces lovely purple flowers. It's a great filler if you want to prise out broken slabs too.
7 Paint wooden furniture
Spruce up tired wooden benches and patio furniture with a lick of paint. Choose a product with wood preservative to protect the timber.
8 Clean patio furniture
Wipe down patio furniture with a damp cloth to get it ready for summer barbecues in the garden.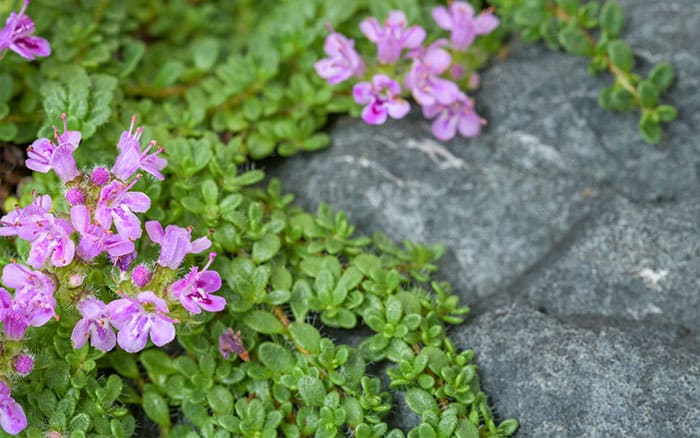 9 Grow climbers
Cover a bare fence or wall by adding trellis panels and growing climbers, there's plenty of space to grow even if you're low on floor space.
10 Paint plant pots
Revamp your patio pots with some terracotta paint. Clean the pot and allow it to dry, then paint directly onto it. Create colour contrasts, stencils and freehand paint splatters. Get the kids involved too and let their imaginations run wild.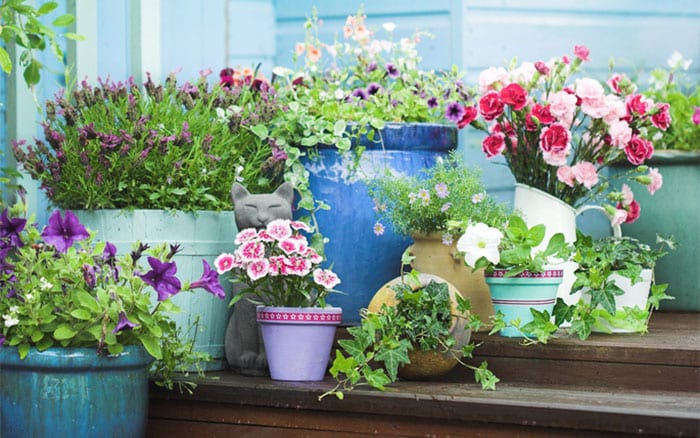 11 Add candles
Give your garden an evening glow with candles in metal and glass holders.
12 Make quick topiary
Prune striking topiary art with a wire cutting guide – squirrels and chickens are popular outlines.
13 Plant patio herbs
Make meals and BBQs tastier with a patio pot filled with culinary herbs. Thyme, mint, rosemary, and chives are all delicious in food and drinks.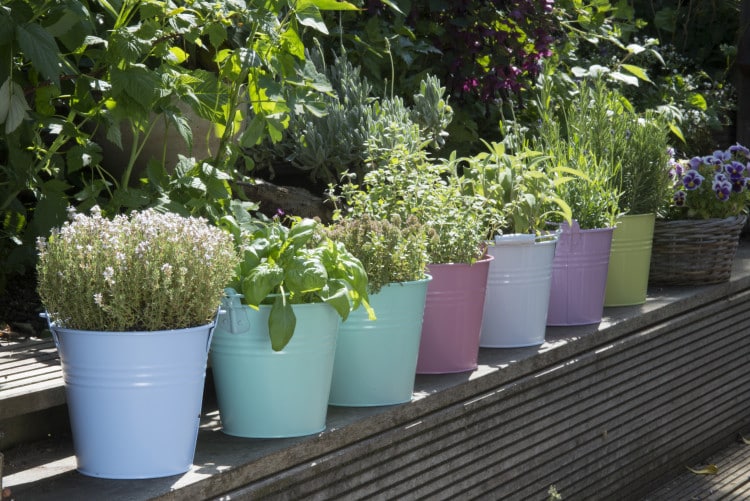 14 Plant up path edges
Create an informal cottage style with plants growing over the path edge. Choose hanging or creeping varieties, but watch out for self-seeders, which will spread everywhere.
15 Make mini mosaics
Create garden art in paving gaps or even walls. Push stones and pebbles into cement in decorative patterns. To make the cement, mix three parts builder's sand with one-part cement and mix with water to a wet but doughy consistency.
16 Plant unusual containers
Design a mixture of foliage or flaming hot oranges and reds – do something different. Alternatively, give the kids a large container each and let them make their own fairytale setting, whether that's a fairy woodland or a Jurassic jungle.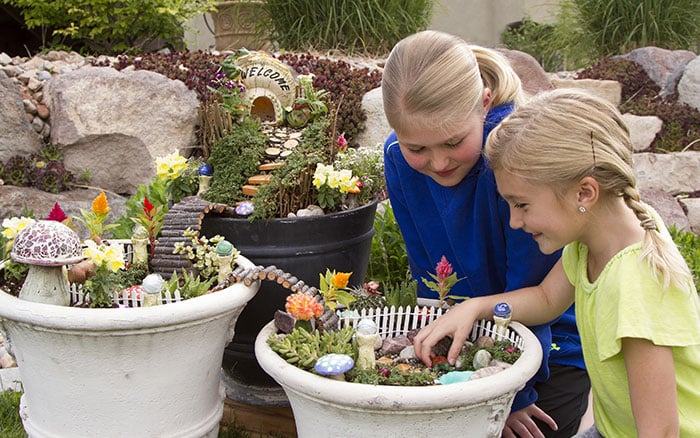 17 Paint your fence
A shabby fence can detract from a beautiful flower border. Coat with paint or stain and remember to use wood preservative.
18 Line stairs with pots
Bring a bit of greenery to hard landscaping by placing a pair of pots on each step. You can also add solar lights or candle holders to light the way in darkness.
19 Make a still pool
Still water reflects plants and creates a calm atmosphere. Choose a watertight container and nestle it among the plants.
20 Create a colour container display
Make a container garden on a colour theme by mixing pots and plants in similar tones to create an aesthetically appealing display.

21 Add height
Use arches over pathways such as wigwams and obelisks to give the garden height. Grow climbers like roses and sweet peas over them to make structural sensations.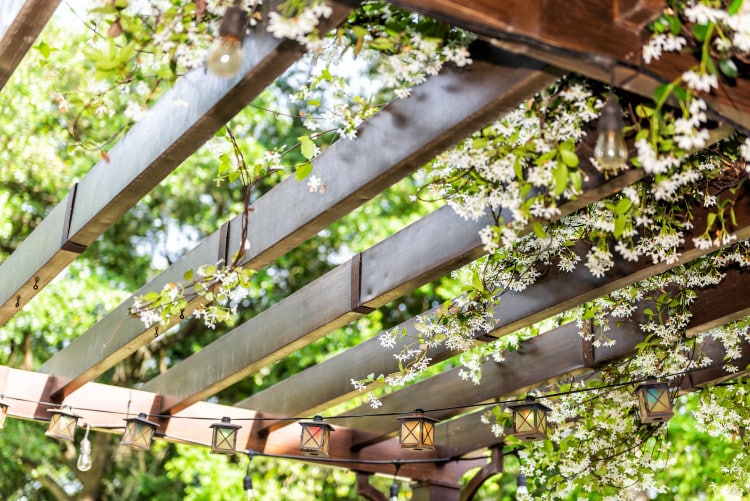 22 Grow crops by the kitchen door
Make the most of mealtimes with pots of herbs and salad leaves by the kitchen door, or even in windowboxes so they are at perfect picking height.
23 Create personalised containers
Get the kids growing with personalised containers! Apple crates are ideal for this. Stencil or paint their names onto the containers and let them choose what to grow.
24 Add a water feature
Self-contained water features don't need any plumbing – just plug into the electric and play. You can choose from modern rocks or calm spheres.

25 Transplant perennials and shrubs
Sometimes you don't even need to add plants! Simply transplant underwhelming performers to a better spot and watch them come back to life.
26 Repair the lawn
Fill in gaps in the lawn by gently forking over the soil and sowing grass seed. Water in and cover with netting propped up on twigs to stop the birds eating it all.
27 Scrub paving
Clean the patio with a stiff brush and soapy water. It makes a huge difference to its appearance!
28 Plant a feature container
Make a show-stopping display with one large container filled with a range of plants. Add taller plants for height and ivies to trail down the sides.

29 Put in a bench
Create a second seating area with a bench – choose a spot that is sunny in the morning, afternoon or evening, depending on when you use the garden.
30 Fertilise your plants
Sprinkle slow-release fertiliser around borders and in pots for a long flower display through the summer.
31 Organise your seed packets
Trapped indoors? Take time to sort your seeds by month of sowing, so you know what to sow when.
32 Sow hardy annuals
Fill gaps with tough annuals like cosmos, poppies, nigella, nasturtium and chrysanthemums.

34 Hide the bins
Disguise your wheelie bins by building a shelter from a spare fence panel.
35 Paint the shed
Turn your shed into a bonafide garden feature with a paint job. Try alternating the colours of the slats for a beach effect or brighten it with cream and pastel-tones. Add insect hotels and decorative tweaks on the side.
36 Put up bird boxes
Give nature a home in your garden with bird boxes and nesting pouches, with some treats nearby such as fat-balls.

37 Install solar lights
These cheap and easy lights are perfect for illuminating paths and patios. You can also buy string lights and fairy lights to put around seating areas and gazebos.
38 Add an insect feeder
Feed butterflies with a sugar syrup solution in a plastic box. Pop in a couple of brightly coloured scouring pads to attract them and give them somewhere dry to land.
39 Sow wildflowers
Let your garden grow wild and create a mini wildflower meadow in any unused land, which will be popular with the pollinators.
40 Plant strawberries
Strawberries are one of the most popular garden fruits, especially with children, and they are a doddle to grow.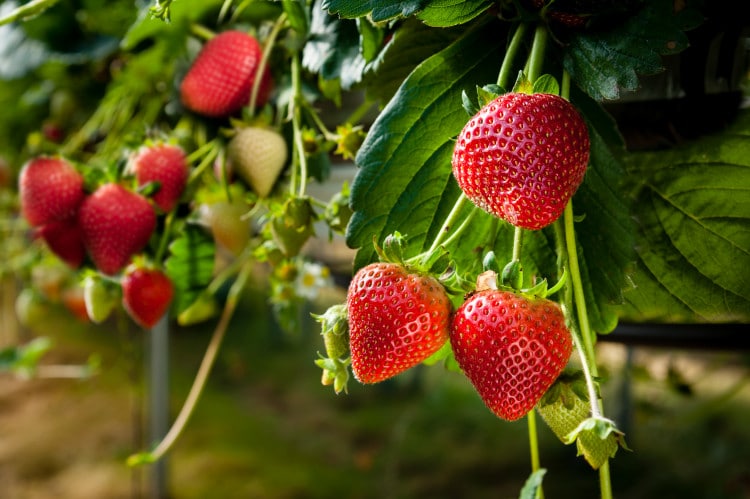 41 Sow sunflower seeds
Cover a bare fence quickly with sunflowers. Their fast-growing height makes a great screen. Sow in spring and protect young plants from slugs – cut the bottom off a pop bottle and place it over the top of the plant.
42 Install a pergola
Create privacy and intimacy around a seating area with a wooden pergola. Grow scented climbers up the supports too for the perfect companion to your relaxation time.
43 Grow chillies indoors
Sow chilli seeds into pots and place the plants on a sunny windowsill. The heat and warmth will create ripe, spicy chillies.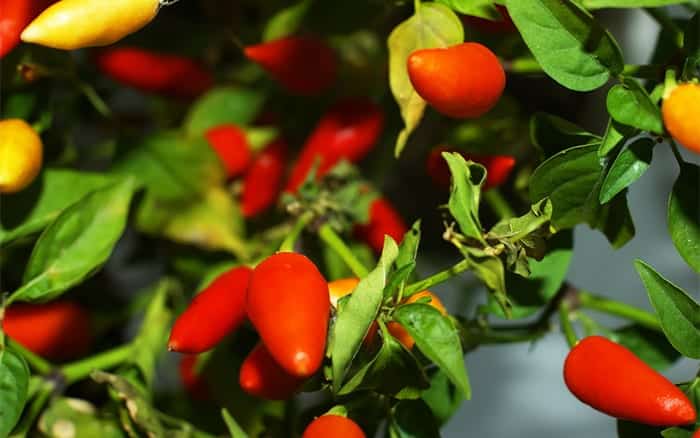 44 Plant succulents in walls
Green up old walls by planting succulents in gaps in the brickwork. Add a bit of grit to the planting hole and push the succulent in. Leave it to get settled – it won't need any water.
45 Cut flowers for the vase
Bring the garden indoors by cutting flowers, foliage and branches and arranging it into vases.
46 Fertilise the lawn
Make your lawn a brilliant green by adding fertiliser. Spring lawn feeds are rich in nitrogen, which promotes fresh, leafy green growth. Sprinkle on as per the packet instructions and let the rainwater it in.
47 Prune back overgrown shrubs
Get rid of the jungle feel by bringing overgrown shrubs under control, but be wary not to cut hedges between March and August as this is the main breeding season for nesting birds.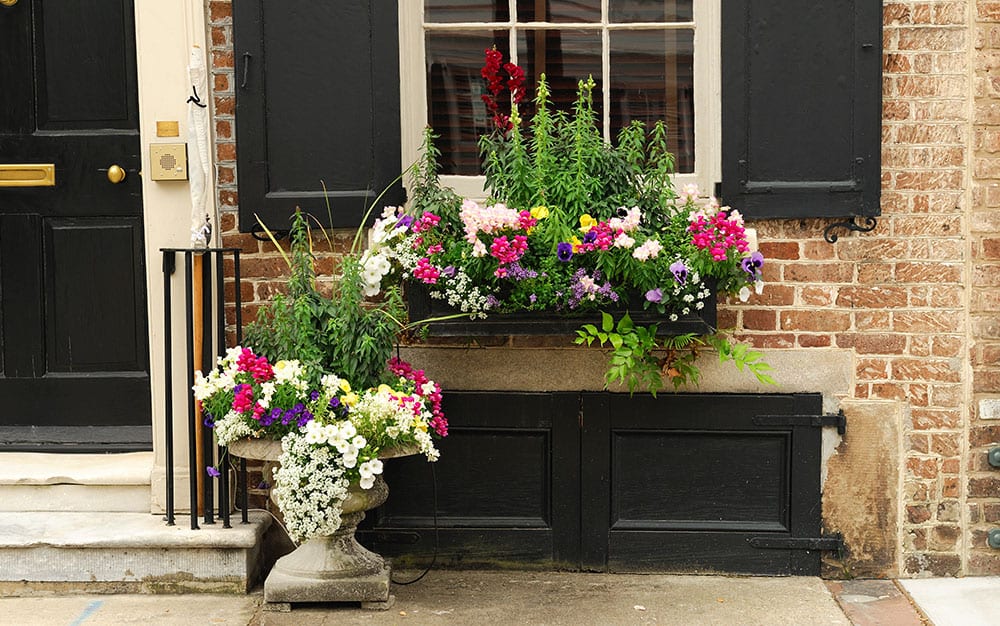 48 Plant window boxes
Make sure you can see flowers from inside the house with window boxes full of tall bedding plants like geraniums.
49 Top dress containers
Add a decorative gravel over the top of soil to retain moisture and give a smart finish.
50 Add a water butt
Save time and money on watering the garden. Install a water butt to collect rainwater – no more filling up the watering can from the kitchen tap.
Give your space a new lease of life with these 50 quick fixes for your garden.

David Domoney is a Chartered Horticulturalist, Broadcaster, and Author. David has worked with a number of the UK's leading garden retailers as a plant buyer and strategic consultant. With more than 30 years experience, in horticulture, David is as passionate about plants now as he was when he bought his first plant at a village fete.