The F Words is how I see a garden as I look at it. If you divide your garden into these three parts, you can take realistic steps towards your dream garden look. Today we're going to look at the first F – flooring. Stay tuned to find out about fencing and features!
Picture the scene. I am at a TV colleague's house for the first time, supposedly to collect some tapes. But it soon becomes clear that I'm the victim of what we call in the trade a 'green ambush'.
I can see it coming when he opens the back door. "Any chance you can have a quick look at my garden while you're here and give me some advice?" Got me – hook, line and sinker!
So I find myself standing in this cold, overgrown garden with him. His family are all watching me. Just as I go to open my mouth, he adds, "Oh and we don't want to spend a fortune". Bang goes the bulldozer recommendation then!
But I take a quick look and think of my F Words guide. In moments I am on a roll and they are cooing with inspiration.
One of the biggest mistakes gardeners make is to confuse garden design as an art form with practical garden renovation. But, and this is really important, you do not need to be a 400-metre Olympic contender to enjoy running.
There are simple, cheap, easy and achievable ways to create a garden to be proud of. For a small amount of money and a couple of weekends, you can completely make-over your garden.
Flooring
By flooring, I mean anything on the ground. This could be your lawn, patio and/or decking.
Lawn
This is a must for households with children and pets, but also for people like me who still believe that a lawn is the essence of a traditional garden.
Boost
You can rejuvenate your lawn with a programme of aeration and feeding. Aeration involves getting fresh air down to the roots by making holes in the lawn. This also reduces soil compaction and improves drainage. Aerate once a year by pushing a garden fork deep into moist soil at 6 inch intervals. Follow with a generous sprinkling of lawn feed.
Replace
It's easy to replace your old scrappy grass with a lush new lawn. If you want instant results, buy new turf and have it laid. If you'd like something more affordable, you can prepare and seed a new lawn, but get a consultation from a garden lawn centre expert on your soil type.
Patio

Don't start worrying about cost of a new patio – you can revamp your existing one in an afternoon! First, get out any weeds. Then use a patio cleaner to scrub off dirt and algae. For the best results, hire a pressure washer from a DIY centre – you'll only need it for a day, and it makes it look brand new!
Make sure you fix any uneven slabs in properly. You can replace broken ones, but for a cheap fix just rip them up and put plants in their place! Alpines and succulents are great for this. Brush a new layer of sand over the patio to fill in the gaps between slabs and stop weeds coming back.
Decking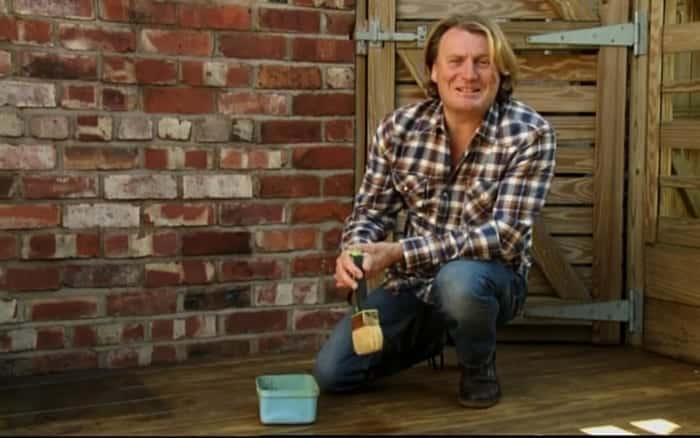 Journalists and TV interviewers are always begging me to say that decking is old fashioned and on its way out. But I don't think this is necessarily the case. Wood in the garden adds warmth and style, and it will stay with us for a long time yet.
If you have a deck, revamping it is easy. A good scrub down and an oil-based treatment will give it new lease of life.
For those of you who would like decking in the garden, try something a bit different. I always recommend oak – it gives a rich, timeless look.
David Domoney is a Chartered Horticulturalist, Broadcaster, and Author. David has worked with a number of the UK's leading garden retailers as a plant buyer and strategic consultant. With more than 30 years experience, in horticulture, David is as passionate about plants now as he was when he bought his first plant at a village fete.