Hyacinth flowers are ideal for bringing colour and fragrance into your home at Christmas.
Forcing the bulbs to flower early was made popular in Victorian times, and is a method still employed today by winter weary gardeners who can't wait for spring. Leaving the bulbs to develop their roots in glass vases is also a great unusual and modern look for your home.
You can easily force hyacinth bulbs in a glass vase over water in time for a stunning Christmas display. All you need is a couple of vases with narrow necks, some bulbs and water.
To force bulbs, you need to mimic the natural conditions of winter and spring, to fool the bulb into flowering.
First, it needs to be kept cool and dark, and then brought into light and warmth, like spring weather.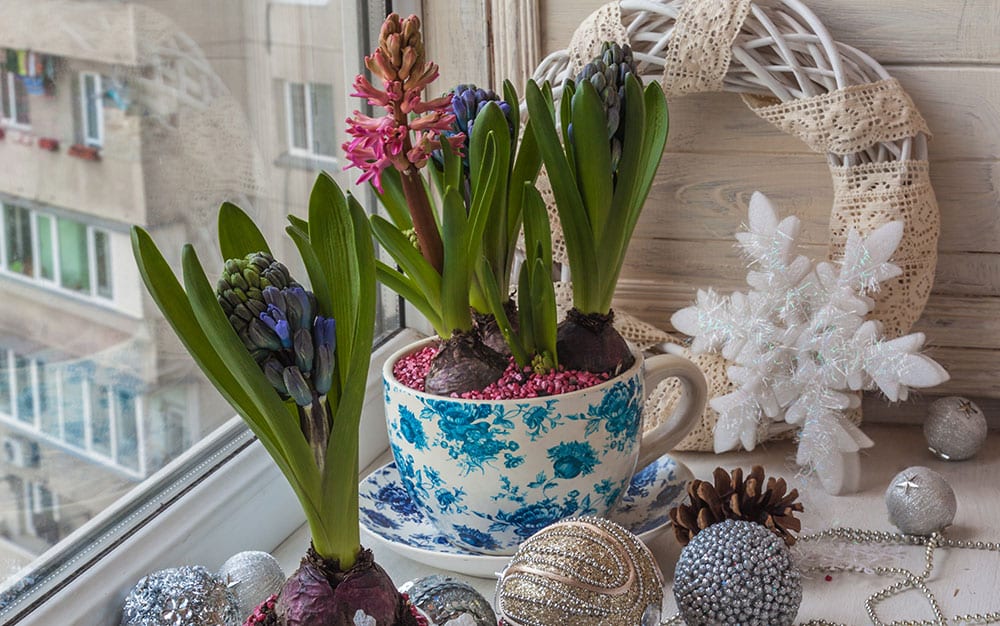 Prepare the Hyacinth Bulbs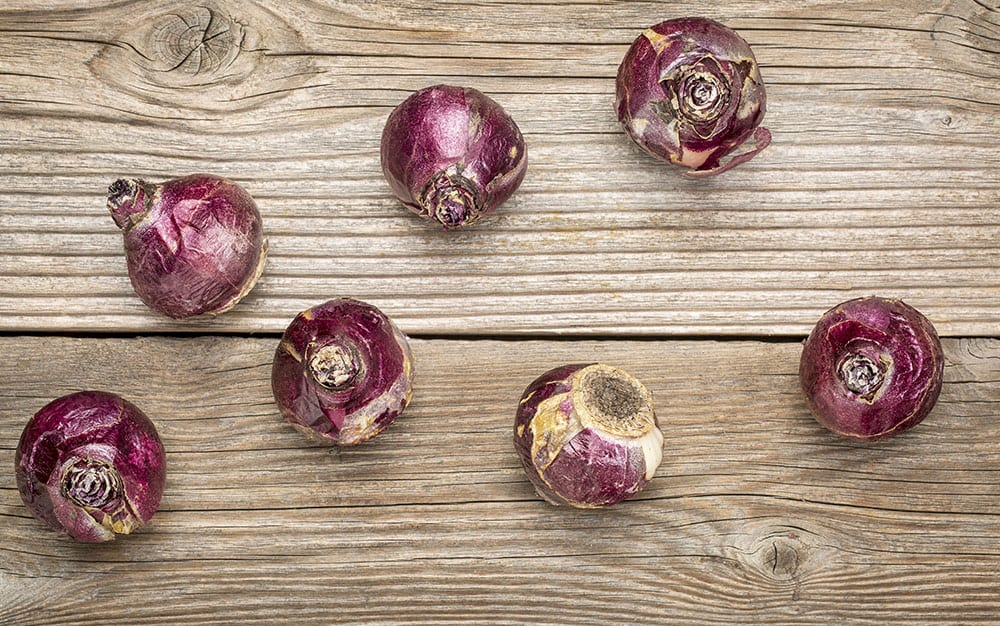 To save time, you can buy 'prepared' bulbs. This means they have been chilled and are ready to plant up.
If you are preparing your own bulbs, simply place them in a refrigerator drawer for at least five weeks. Keep them away from food produce, and keep checking on them. They are ready when they start to sprout.
Take care when handling hyacinth bulbs – they can cause skin irritation so wear gloves.
Fill the Vase
Your vase should have a narrow neck that will support the bulb, making sure it does not drop down into the water. If you only have wider vases, you can fill the base with some pebbles to make sure the bulb is supported.
Fill the vase with clean water to the neck and put the bulb in. It should sit snugly just above the water – the roots will grow down to reach it. Don't let the base of the bulb sit in stagnant water, or it may rot.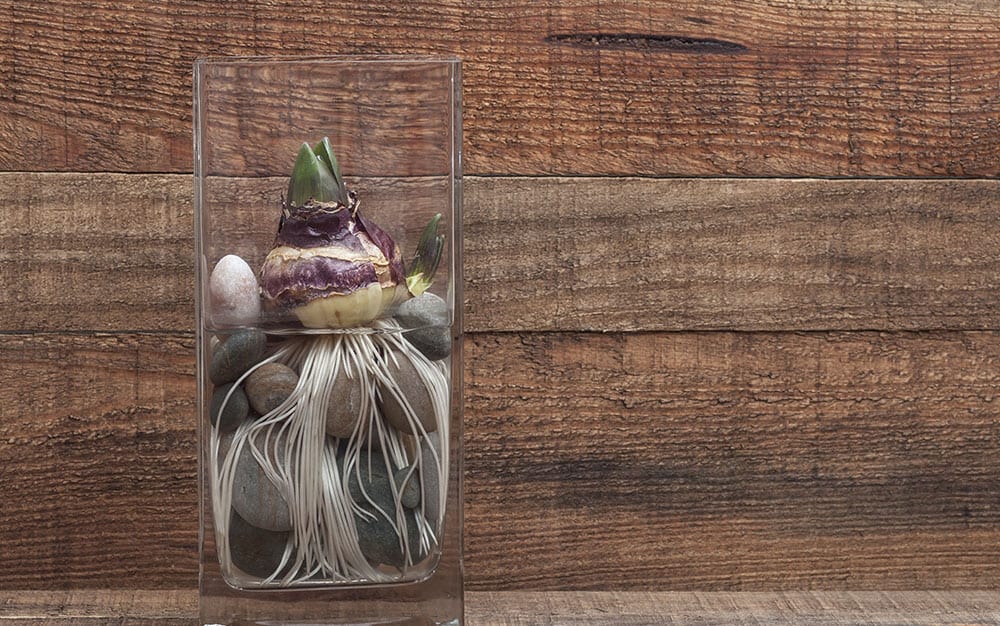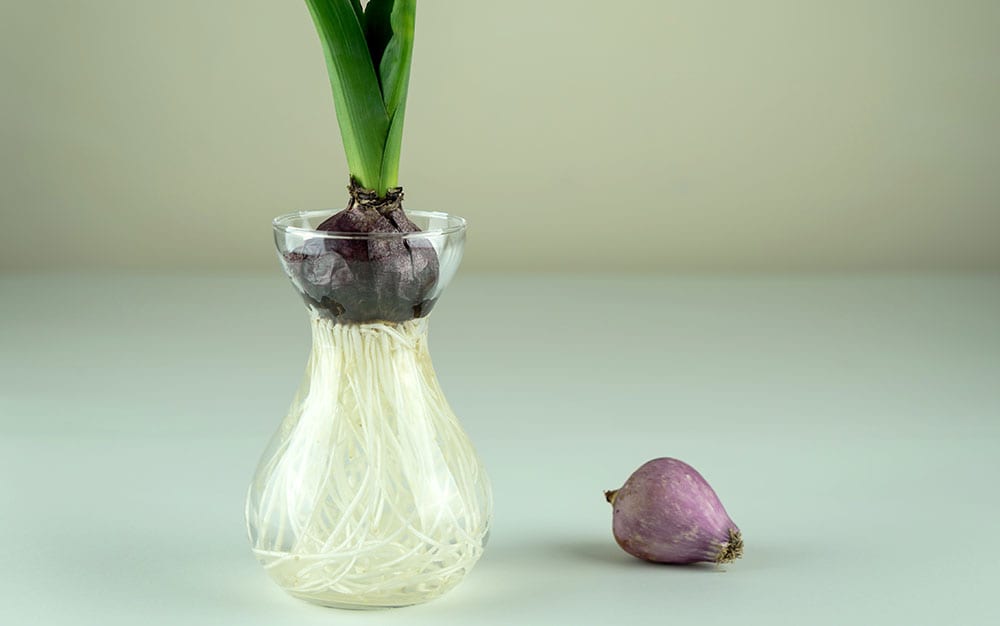 Bring the Bulbs to Flower
First, place the vase in a cool spot away from bright light. This allows the leaves to develop and green up. Then you can move it close to a window in warmer surroundings. Choose a sheltered spot free from temperature fluctuations like draughts or radiators.
If the leaves develop but the flowers don't, move the pots back to a dark, cool spot for a day or two, before bringing them back to the warmth.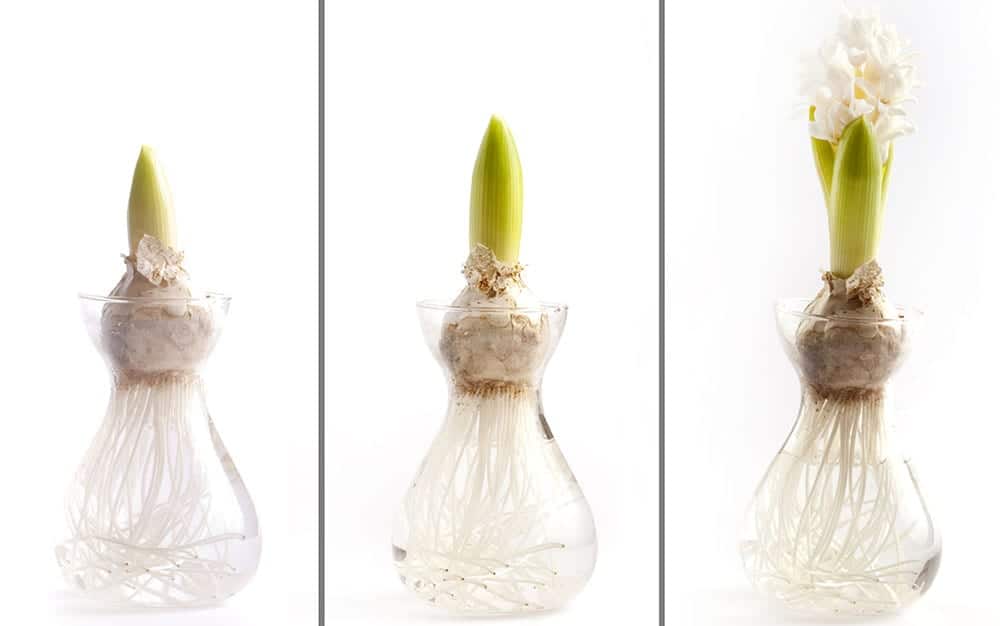 Remember to top up or replace the water periodically to keep the plant healthy.
And for an even quicker winter flower fix…
Why not try waxed amaryllis bulbs? These specially selected bulbs are covered with a wax coating, and are able to bloom even without water! They'll begin to grow as soon as you get them home, and you can expect beautiful blooms within about a month.
They look fantastic too, as the wax coating often comes in a range of different colours, and some look just like Christmas baubles.
Arrange a few in a large bowl or glass vase for a spectacularly unique table centrepiece.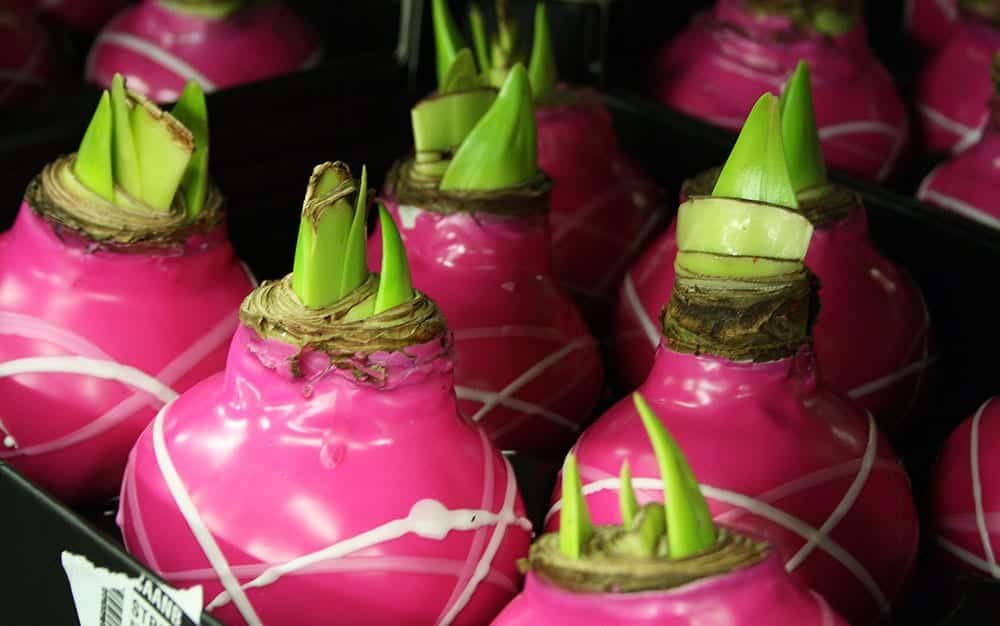 David Domoney is a Chartered Horticulturalist, Broadcaster, and Author. David has worked with a number of the UK's leading garden retailers as a plant buyer and strategic consultant. With more than 30 years experience, in horticulture, David is as passionate about plants now as he was when he bought his first plant at a village fete.