As the nights begin to draw in and we see our outdoor spaces more often showered in moonlight, rather than sunlight, we needn't miss the amazing opportunity to transform our gardens into a spectacular midnight wonder.
Time of day
Many people do not get the opportunity to experience their gardens during the bright of day and re-designing the garden to fit the evenings is a great way to make the most of an otherwise, unappreciated space. It's not difficult to do and with a couple of additions here and there, your garden could be as intriguing at night as it is during the day.
In the UK the clocks back on the last Sunday in October and with that in mind, come over to the dark side with my great tips and advice for creating your own amazing moonlight garden.
Plants that reflect light
The secret to bringing out the best of the garden at night is to plant flowers that will shimmer delightfully when the moon and the stars are beaming down on them. Plants with a silvery colour will reflect the moonlight, creating a superb visual display.
Attract moonlight
Plant Senecio cineraria 'Cirrus', also known as silver ragwort, to draw the moonlight into your garden. It works best when nestled in between other taller plants, adding allure-in-depth to borders and beds.
Similarly, the silver matt forming Cerastium tomentosum or dusty miller, will serve the same purpose but with the added bonus of small star-shaped white flowers that are absolutely beautiful. My favourite silver plant for the garden of the night would have to be the Athyrium noponicum 'Silver Falls', which is a deciduous fern that just looks amazing once the sun has gone down.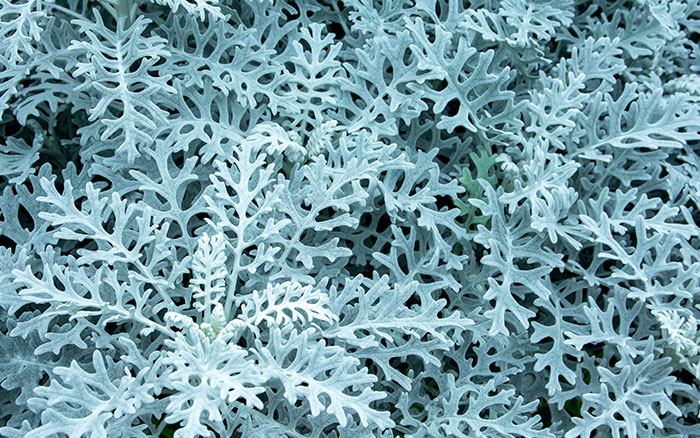 Stand out
Plants with white flowers will stand out vividly in the darkness and look great, both during the day, and during the night.
The beautiful Osteospermum 'Glistening White' is a perfect example, with silky pure white flowers, contrasted by a mysteriously dark pistil in the centre.
To add a splash of shining white to a border, Orlaya grandiflora, also known as white lace flower, is your go-to hardy annual. Its lacy blooms are bursting with intricate detail, that also makes a brilliant addition to cut flower arrangements.
For something with a bit more height, try the Clematis 'Miss Bateman', which is a climbing plant with delicate white flowers and fiery red stamens.


To make these plants stand out even more, seek a dark background in the form of a Taxus baccata (Yew) hedge. Yew hedging is easy to care for and will become the perfect dark backdrop for any moonlight garden, providing it doesn't block the light.
Features that reflect light
Decorative stones, paving and rockeries can really bolster the appearance of a night garden. Light coloured cobbles, slate and other stone formations can reflect in the moonlight and will stand out amongst the darkness, creating formidable and attractive reference points.


Similarly, sculptures and statues are excellent at breaking up patches of dark ground in the garden. They can also present a romantic feel, or one that hints at ancient Roman or Greek influences, giving your garden a classical and mysterious air.



Go Greek
Statues of Greek goddesses of the moon, such as goddess Selene, Artemis or the Roman moon goddess Luna would be fitting choices for your night garden. And why stop there? A gazebo or pergola in a patio area will provide a sense of protection from the dark expanse of the garden at night and further add to the classical theme. It's also a great accessory to relax beneath as the nights become cooler.
Water
Having a water feature in the garden can be beautiful during the day and at night. But there is something magical about seeing the moon and the stars reflecting on its still, dark surface. It doesn't matter what size garden you have either.
Water features such as ponds or even lakes are great for large gardens, and anything from waterfalls to birdbaths can transform smaller gardens. Together, with the other reflective ornaments, a water feature will help to transform the garden into a Luna landscape.


While it is captivating, the moonlight cannot always be depended on, especially in overcast conditions.
Adding your own light to a garden space can transform its appearance, making it more cosy or energetic, depending on the type of lighting you use.
Tea-Lights
Pop tea-lights into glass jars and hang them from tree branches to add an enchanting quality or lanterns with coloured glass for a more exotic vibe. These can be either candle lit or battery powered and will give your night garden a relaxing atmosphere, perfect to come home to after a long day's work.
Similarly, fairly lights suspended around the garden will add a magical essence and will certainly be popular with kids. These can be strung between trees, lining a fence or perhaps dangling from branches, like cascading falls of mesmerising bright light.


Spotlights
Spotlights pointed at particular garden features can really improve the appearance of an area at night and will relieve the sense that the darkness of the garden is closing in. Direct these at your Luna Goddess statues and soak in a sense of spiritual moon power. Also, try lining a path with solar lights, as these will light the way to prevent anyone from tripping up in the dark.

For a more tropical aesthetic, you can use tiki torches. They are usually bamboo stakes with a small oil bottle and wick at the top. These can be dotted around a seating area to add light, or along a path to guide the way. They look amazing and can be found at most garden centres and supermarkets.
Warmth
If lighting isn't enough for you, then why not add some fire. A fire pit can not only add comforting light, but will also become the focal point for evening parties, with friends and family huddling around it and soaking in the wonderful atmosphere it creates.
It's perfect for anyone who wants to enjoy the garden, even as the cold nights are drawing in—and is great for toasting marshmallows too.
If fire isn't a viable option, then an electric patio heater could be a better alternative and can enable you to chill outdoors without becoming chilly.

Patio heaters come in a wide range of different shapes and sizes, from traditional street lamp styles, to ultra-modern designs, whatever you need, there is an outdoor heater for you.
When we venture out into the darkness, our other senses become heightened and by adding sensually invigorating features into the garden, we can play upon these senses for our own enjoyment.
Scent
One way to do this is by adding scented plants, which will grace us with delicate fragrance every time a gentle wind blows between them. Herbaceous examples are Lavandula (Lavender), Sedums and Salvia officinalis (Sage), with a range of delicious fragrances, ranging from sweet to savoury.



Sight
Flowers such as Rosa (Roses), Phlox paniculata (Phlox), Paeonia (Peony) and Dianthus are great for garden colour during the day and wonderful fragrance when the sun has gone down. These delightful plants will enable you to appreciate your garden, even when it's too dark to see it!



Sound
The sense of sound is instantly stimulated at night and we can enhance this to create the perfect sensual night garden. Other than rustling foliage, there is also the magic of running water to play with. Water features like waterfalls are ideal as the sound of the moving water tantalizes the senses and adds a soothing ambience to the night garden, providing you haven't had too much to drink!


Wind chimes are another useful tool and hanging these can provide a musical effect that are perfect for those snuggly winter nights. Many different options are available, from metal chimes with distinctive high notes like that of a triangle, or wooden ones, with lower honkey-tonk chimes that are calming and strangely hypnotic. Either way, they will not disappoint.

David Domoney is a Chartered Horticulturalist, Broadcaster, and Author. David has worked with a number of the UK's leading garden retailers as a plant buyer and strategic consultant. With more than 30 years experience, in horticulture, David is as passionate about plants now as he was when he bought his first plant at a village fete.