One of the finest things about the Christmas season is the appearance of beautiful lights and decorations, bringing a wealth of joy to the hearts of any wide-eyed child (or adult) who gazes upon them.
If you're new to outdoor Christmas lights, or want to update your old ones, then there are a few things to consider before you start. Picking up any old set could mean you end up with lights that are expensive to run, the wrong type, or even dangerous to use outside.
With that in mind, here are a few tips to help you choose the perfect outdoor Christmas lights this December.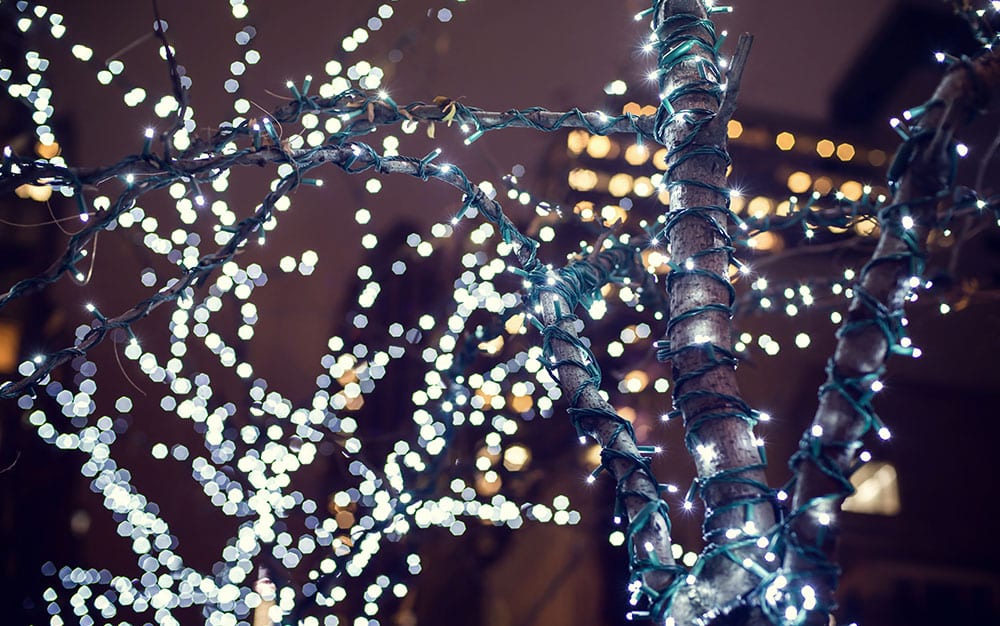 The most important thing to check when buying outdoor lights is that they are suitable for external use. Indoor lights could easily damage or blow a fuse when used outside—which is both dangerous and a waste of money.

The second thing to watch out for is the power supply. If there is an outdoor socket near enough to the place you want your lights to be, then you can buy mains supply lights. Make sure the outdoor sockets are safe and protected from wet weather.
It's also a good idea to buy a safety Residual Current Device (RCD) adaptor to act as a circuit breaker as this cuts the power supply in the event of an electrical surge. If you don't have access to outdoor sockets then fear not, because battery operated lights are also available.
Be sure to stock up on the correct type of batteries for your lights and, to save money, you could opt for a rechargeable option.
Another handy gadget worth purchasing is an electrical timer which will ensure your lights turn on and off when you want them to. Some lights come with these built-in, but for those that don't, they are worth investing in as they're great for saving you time and money on your electricity bill.
Most outdoor lights on sale today will have LED bulbs. These are more energy efficient and generally last longer than traditional incandescent bulbs. They are also lower voltage and won't overheat which makes them the safest option for your Christmas spectacular! They're also more robust and last much longer.
LED lights come in a huge variety of colours and shapes, whereas incandescent bulbs are limited to a more classic warm-glow style and it is for these reasons that I would highly recommend using LED lights.

Lighting style and placement
Ultimately this comes down to personal preference, but for those of you who are on the fence about what style you want your lights to be, then there are a few things you can bear in mind when buying lights. These will prevent you from wasting money on lights that don't end up looking how you wanted them to.

There are two main categories that outdoor Christmas lights fall into: string lights that can be used on trees, eaves, hedges and around doorways and windows, or novelty lights that come in festive shapes such as reindeers, snowmen and Santa Claus.
If you have the space, then a couple of illuminated reindeer on the front lawn is an excellent touch that will fill passers-by with Christmas glee. For an outdoor space of any size, festoon the house with beautiful string lights. These will ooze seasonal spirit and can be simple and elegant or colourful and joyous.
Outdoor Christmas lights come in a huge range of beautiful and interesting colours.
For that classic golden glow, look for lights marked 'warm white'—the ordinary white is usually blue-toned and creates an icy but striking wintery atmosphere.
When buying more than one set of single coloured lights, remember to check they are the same colour, as a mixture between blue-toned and warm white may not look as good.

For a more retro look, I would suggest using coloured lights which normally have larger and multi-coloured bulbs.
To prevent the display becoming too busy, use a single string of lights and wrap around a prominent tree or use to line a porch.
Often with coloured lights, less is more and a thinner spread of lights might have a better appearance than the alternative, which can appear chaotic.
String lights look great when wrapped around tree trunks or lining door arches and windows. You can also use shorter battery-operated sets to incorporate into wreaths or pepper into a window box.
For another enchanting addition to the home, why not place a small string of Christmas lights into a glass jar or lantern and leave outside the front door for a magical effect.



Rope lights are also available and come with the bulbs encased in plastic tubing, making them perfect for lining pathways. Arrange them in a zig-zag pattern up a wall or door to create a simple Christmas tree shape with a star shaped light at the top as a festive finishing touch.
If you're covering a tree or hedge, make sure you have enough lights to ensure an even coverage and try to keep the amount of lights on each side symmetrical. Check bulb spacing if using more than one set.
Using these tips and ideas, you should be able to create an amazing outdoor display for your home this Christmas.

David Domoney is a Chartered Horticulturalist, Broadcaster, and Author. David has worked with a number of the UK's leading garden retailers as a plant buyer and strategic consultant. With more than 30 years experience, in horticulture, David is as passionate about plants now as he was when he bought his first plant at a village fete.