Biophilia comes from the Greek word 'philia' which means 'love of', so biophilia means the love of living things and nature. So, bring a biophilic design in your bedroom at home to bring the outdoors in.
Fresh air and natural light
Having houseplants in your bedroom will encourage you to open your curtains and windows to let fresh air and natural light into the space. This will make the room feel bright and clean, whilst the fresh will boost your mood and improve bodily functions with higher oxygen levels.
It's ideal to position furniture in your home in a way to optimise the natural light being let in.
Allowing the most sunlight into the space will not only make you feel more positive and energised but will also boost levels of vitamin D which can lead to you getting better sleep.
On a practical level, the sunlight will help your plants to survive and thrive.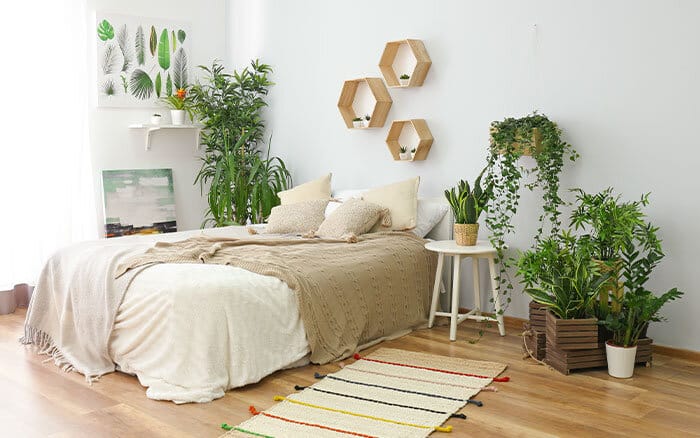 Opt for furniture that embraces nature, made from materials such as wood, stone and rattan, which will bring texture and earthy tones to your space. You can even use these elements to emphasise shapes and the natural atmosphere of the interior.
Think soft curves, rounded arches, and nature inspired patterns for design.

Get your fix of the outdoors in your bedroom by utilising colours that will transport you to a natural haven. Of course, shades of green, browns and burnt orange are warm tones, as well as calming blues and pinks.
Whether you opt for block colours or use the colours for different embellishments, colour is a great way to achieve the desired look.
For a feature wall, you could choose a nature inspired wallpaper, or better still, create a living wall in your bedroom. This can be done by choosing mounting plants together in a wooden frame, choose from low maintenance succulents or fantastic ferns if you have the right humidity levels.
Alternatively, for an easy to care choice, install wire racks or shelving to the wall and fill shelves with containers of trailing and cascading houseplants to cover the shelving to give the illusion of a covered, green wall. The containers can easily be removed and replaced to water, feed, and prune, making them a convenient choice.

It's not just about the visuals, because sounds are a big part of nature. So, to fully immerse yourself in the biophilic design, introduce elements of sound into the space.
Indoor water features are a fantastic way of adding to the tranquil and soothing atmosphere of the room. There are features that are made up of coconut shells, or small water walls that can even be planted up with tropical style plants.
With these, you'll get the movement and soundtrack of water that will help you to relax.

Immerse yourself in nature within your own home with a biophilic bedroom design. Use plants, water, and natural materials to achieve a space that is relaxing and bright. It'll help you to enjoy your interior and may even aid better sleep too.

David Domoney is a Chartered Horticulturalist, Broadcaster, and Author. David has worked with a number of the UK's leading garden retailers as a plant buyer and strategic consultant. With more than 30 years experience, in horticulture, David is as passionate about plants now as he was when he bought his first plant at a village fete.