Spring has sprung, and a new season is upon us.
The excesses of December and the dryness of January are thankfully a distant memory, and it's time to start preparing for some warmer temperatures. In the garden, that means waking up your plants and getting things growing again with some lovely spring blooms and wonderful tree blossom.
You may also be starting to think about your plans for entertaining in the garden over Easter and during the summer months. If you love a good old British BBQ, or just enjoy the odd glass of Pimm's – you'll find your cocktail twice as sweet if you've grown the garnish yourself.
A perfectly placed herb garden just waiting to add that zing to your gin and tonic, or some juicy homegrown strawberries ripening just in time to jazz up your glass of prosecco – whatever your tipple, having a homegrown garnish on hand is sure to impress.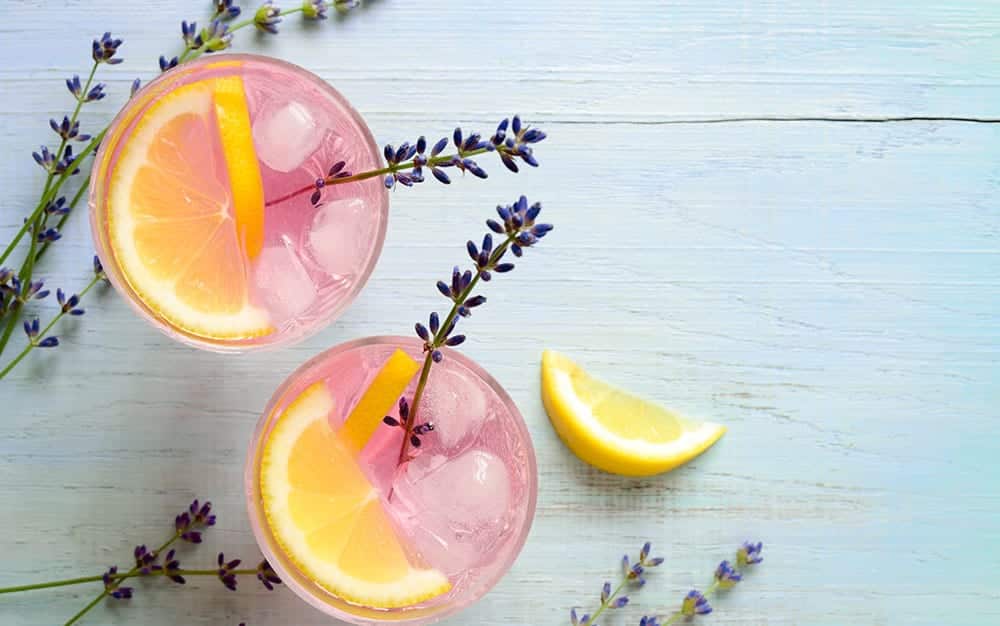 And they're some of the easiest plants to grow! Here are my top five favourite garnishes that can easily be grown in your garden, and a little info about how to do it yourself.
Most of these can even be grown in containers such as window boxes, so even if your outside space is lacking, your beverage embellishments needn't be. And now is the perfect time to be planting them, too.
The universal garnish that adds a vibrant dash of green and a fantastically fresh taste to any number of drinks from Cuban mojitos to the classic British Pimm's; you won't go far wrong growing mint in your garden.
There are so many varieties to choose from now, from classic garden mint to apple mint, spearmint, and even chocolate mint! So you can grow the perfect type to compliment your drink.
Like many other herbs, mint needs a sunny location and is best bought as a young plant in spring. It has a habit of spreading quite rapidly, so plant in a container with multi-purpose compost on the patio to keep it in check. This way it will also be within easy reach from the kitchen when you're knocking up those gin and tonics.


Keep snipping off sprigs regularly throughout the summer to make sure your plant stays healthy. To extend the life of your mint into the winter months, chop the last leaves into small pieces and add to an ice cube tray with water and then freeze to make the perfect minty ice cubes.
Fantastic for slicing up and adding to an ice-cold glass of bubbly, or even whizzing up with ice and rum for a refreshing daquiri, strawberries go hand in hand with all the sweetest summer cocktails.
Strawberries are easy to grow in the British climate, and are happy in containers, vegetable plots or even hanging baskets – any sunny sheltered spot will do. You can buy strawberries as small potted plants now and simply pop them in your chosen container.
Make sure you water well as the plants establish themselves, and as the fruits start to set, it is also recommended to spread a little straw around the base of the plant to prevent the strawberries from dangling down into the soil.

Summer fruiting strawberries will crop heavily, usually in June, and you'll know they're ripe when they're a nice, bright red.

If you have a little more space, nothing beats the fresh taste of a homegrown cucumber.
Slice them into ribbons and serve in a tall glass with gin, elderflower liqueur, apple juice and a dash of lime for a taste of the English Garden – my favourite summer cocktail.

You can buy young plants from garden centres in spring, and then plant out into a sunny vegetable plot with fertile soil at the end of May. Ideally, you should keep your plants protected using a cloche, fleece or polytunnel if you can. Once the plants have seven leaves, pinch off the tips using your fingers.
Keep the soil moist by watering around the base of the plants – not over the top. The cucumbers can be cut off using a knife in late summer, once they are around 7 inches long.
For something a little more unusual this summer, why not try a calamondin tree? 
They have the sour citrusy taste of lemons and limes with a vibrant orange colour, so are prefect for slicing into wedges and adding to summer coolers. Citrus fruits are generally not well accustomed to our British climate, so you will need to keep your plant indoors in a frost-free location during the winter.
Buy a potted tree now and keep indoors in a bright location away from central heating, misting the leaves regularly to improve humidity.


In June, you can start gradually moving it outside to a sunny sheltered spot during the daytime, to get it accustomed to the cooler temperatures. Bring back indoors if the temperature drops suddenly, anything below ten degrees and your plant will need some protection.
Water regularly over summer and feed with a nitrogen-based fertiliser. Bring back indoors when the weather cools again in September.
You know those cocktails they serve in fancy restaurants with a price tag that requires re-mortgaging your house and a topping of delicate edible flowers?
You can actually make those at home for a fraction of the price, and you might already have the garnish growing in your garden.
They'll make the most impressive finishing touch to all your drinks, and you can even make fun floral ice cubes by freezing the petals with water in ice cube trays.


Strawberry flowers bring a mild strawberry taste in the form of pretty white and yellow cup-shaped flowers, whilst a tall sprig of lavender is a lovely purple perfumed addition. Elderflowers make a classic sweetly flavoured garnish, whilst rose petals and violas can also be used to add a dramatic flourish and a lovely floral flavour, especially when crystallised. Always make sure you wash any flowers gently under the tap before use.
David Domoney is a Chartered Horticulturalist, Broadcaster, and Author. David has worked with a number of the UK's leading garden retailers as a plant buyer and strategic consultant. With more than 30 years experience, in horticulture, David is as passionate about plants now as he was when he bought his first plant at a village fete.