Get the best from your garden with a patio that will look the business and make sitting outside a real joy
There's nothing quite like relaxing on your own private patio – whether it's little oasis where you can chill out with a glass of wine on your own, or a vast Mediterranean terrace where you entertain pals. And there is something truly magical about that lovely space, filled with containers and barbecues.
The days of a boring mass of square grey slabs, butted up against the back of the house, are long gone. They now come in loads of different sizes and shapes. And in many places, paving plays both a practical and aesthetic role.
So if you're replacing an existing patio, starting to notice the cracks and oil stains in your drive or just fancy creating a new area, you won't go far wrong with a nice bit of paving.
We have come a long way from the Seventies slabs with the texture of pink wafer biscuits
When it comes to choosing your slabs, there are several types to go for. For starters, you have the traditional concrete mix that has been placed in a mould, giving a variety of shapes, sizes, textures and even colours. Concrete is less expensive than natural surfaces – it's made in the UK and is very long lasting. If laid properly, you will get years of use. The moulds used can be really creative and some of the surfaces and textures are stunning.
This type of paving now comes in an amazing range of colours too – reds, yellows, even greens. They can look marvellous if you mix and match. You can buy them from DIY stores or landscape specialists. A lot of patios up and down the country are done in concrete.
The natural look
About 10 years ago, natural stone staged something of a comeback. Often it is sandstone and often quarried and cut overseas so it's not cheap. With its lovely natural feel but it is harder and heavier to lift and lay. It can give a superb warm texture to your patio, though, especially if it's in a sunny spot, and it will wear beautifully and should not stain.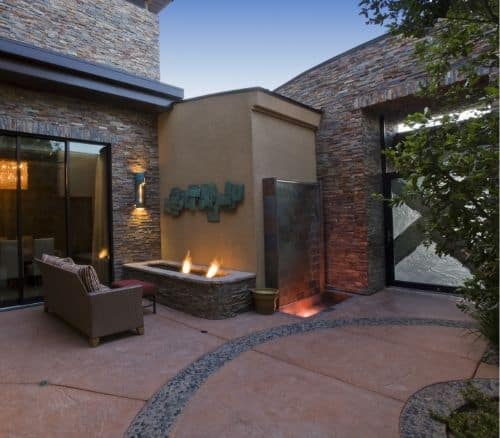 Porcelain
One of the latest arrivals in DIY stores is porcelain paving stones – many garden experts have pounced on them for their useful good looks. Fired up to temperatures of 1,400C, which gives them a huge amount of strength and durability. And they last a lifetime often tougher than concrete and stone options.
They are also frost and algae proof and non-slip because mould can't grow on them. Invariably, they come in slightly smaller slabs than concrete and natural stone slabs so will be that bit lighter and easier to lift. But one of the most amazing things about porcelain paving stones is that they can take prints on them, replicating all sorts of natural surfaces.
There are dozens of effects available to suit every garden environment. I've seen patterns giving a marble, wood, sandstone, slate and lime look – and even more decorative options. I recently used a silver wood effect that looked like a boardwalk without the need for staining and maintenance.
Check out British firm pavestone.com for tons of inspiration, products and advice on patios, drives and pathways.
Laying a patio can be a rewarding project that's not going to break the bank – or your back – if you do it properly.
Planning is crucial. First, think about what you want to achieve and where it is going to be. Patios don't have to be right outside the back door. Decide if you'll be using it mostly in the mornings or afternoons or evenings, and plan accordingly for maximum sun.
Choose a spot with some shade and shelter – it will be no fun with a constant gale roaring across it. Mark out your space using a hosepipe then move it around until you're happy. If you're not sure, stick some chairs and a table and see how roomy it feels. Add another third on to the size if you can. Once you're happy, mark it out using stakes and string and remove the top soil to around ten inches. Add a good six to eight inches of sand for the paving stones to rest on then use a long piece of wood to level it out.
Laying Slabs
When it comes to laying slabs, you need a spirit level to make sure they are just right. A rubber mallet will firm them down without marking or cracking them. Don't go for the traditional rectangular block on the back of the garden. Lay paving stones away from the house, diamond-side on. It will give the illusion of size and elongate the space as the eye naturally follows the pattern.
In general, lighter colours such as golds, silvers and light greys make your garden feel brighter and larger. Darker greys will create a more intimate space. Add interest by leaving lanes unpaved to fill with coloured gravel or herbs. Or leave out slabs to plant trees in. Include a circular pattern in the middle – why not put a tree or fountain at the centre?
Try mixing and matching colours and think about container plants that will enhance your patio experience. Scent is a good idea. Plant honeysuckle, jasmine or a climbing rose up a trellis in a larger container. On my patio, I'm lucky enough to have a night-scented phlox. They are covered in dainty, circular flowers, each about the size of a five pence piece. And it comes to life after dark as its fragrance explodes. Sitting out after a long day's work, with a beer or glass of wine, is even more of a treat.

















David Domoney is a Chartered Horticulturalist, Broadcaster, and Author. David has worked with a number of the UK's leading garden retailers as a plant buyer and strategic consultant. With more than 30 years experience, in horticulture, David is as passionate about plants now as he was when he bought his first plant at a village fete.