Here in Britain, when most of us think of cauliflower we think of it smothered in cheese sauce next to your Sunday roast.
World Famous
Personally, I like to cover my cauliflower cheese in paprika and ground black pepper and bake it off in the oven to give it that crispy edge. Delicious. But cauliflower has so many more uses around the world. In Eastern Europe they have these wonderful traditional cauliflower soups. Whilst in Italy they create marvellous pasta dishes with it. And in India there are some mouth watering cauliflower curries that will blow you away.
Blended down and mixed with egg and cheese, it can even be used as a substitute for a pizza base! Which is great if you're gluten intolerant (or you're just cutting down on the carbs).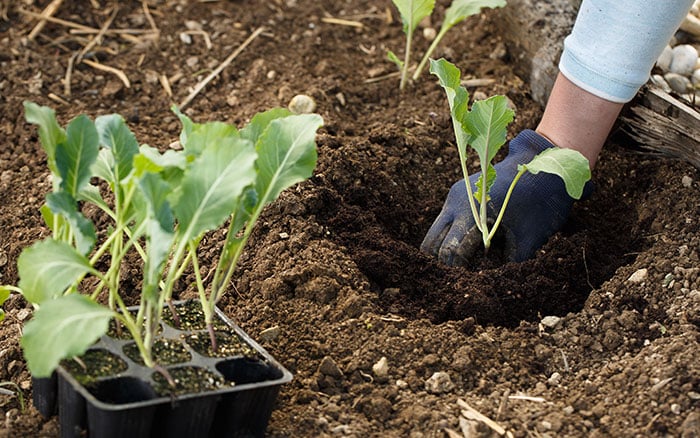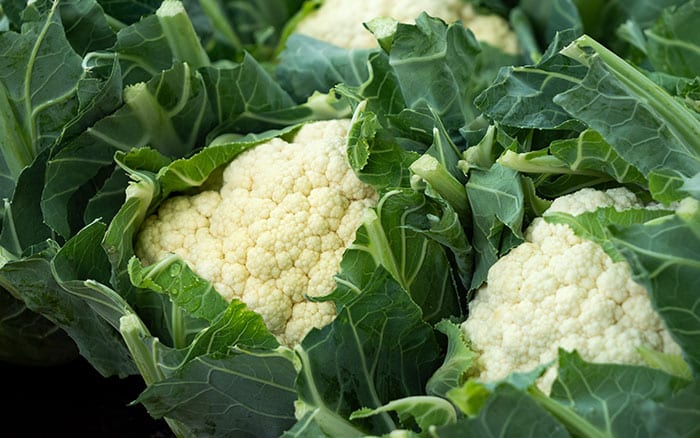 Super
Of course, being part of the brassica family which includes cabbage, broccoli and kale, cauliflower is extremely nutritious, and often labelled as a 'superfood'. It's packed with vitamins C, K, and B6.
It also contains folate, choline, omega 3 fats, and is full of antioxidants such as manganese. That's just scratching the surface of this little white gem of a veggie. Caulis are a superb food to keep you and your family healthy.
Sowing
Your main sowing period with cauliflower is March to May, but you can start them earlier if you sow them indoors or under glass. You can sow directly outdoors. I recommend starting them off in modular trays inside. This will usually get better results, and you'll have a much better chance of avoiding certain pests and diseases.
How To
Rub the compost through your fingers when filling the tray to break up any lumps. Then give the tray a sharp bang on the table to settle it. Sow 1-2 seeds per tray, about 1.5cm deep (about a fingernail depth). If 2 seedlings sprout then pinch off the weaker one (don't pull it out or you will damage the roots of the other seedling). Gently water in with a fine spray so as not to move the seeds around.
Place your trays in your greenhouse, poly tunnel, cold frame or windowsill to germinate. When you sow early in March or before you will need a propagator, heat mat or a warm south facing windowsill to add some warmth.
Growing
When it comes time to transplant them outside, choose a spot with full sun.
Caulis love rich, deep soil, so dig in plenty of well rotted compost/manure and around 150g per square metre of general purpose fertiliser. It's best not to use soil that has grown other members of the brassica family in the last couple of years.
Firm
Cauliflower do need firm soil too. Firm it up by walking over it just before transplanting your seedlings in. Then water very thoroughly. Plant around 60cm apart and with a 60cm row gap. Make sure you firm the soil very well against the roots once they are in. The hole needs to be deep enough to hold the plant with the lowest leaves at ground level.
Once your cauliflower is growing, a slow release, high nitrogen fertiliser will help them out greatly every 4 weeks or so. Do not interupt their growing cycle. If that happens you will get small, deformed heads. Keep them well watered during dry periods to prevent that from happening.
Harvesting
If you planted a number of cauliflower it's a good idea to start harvesting some of the small ones while you're waiting for the rest to mature. Otherwise they will all be ready at the same time.
Cauliflower don't store well. So you will end up with a bin bag full of wasted heads. Cut it off at the base of the plant and keep the leaf wrapping intact. If the florets begin to separate then you've already waited too long.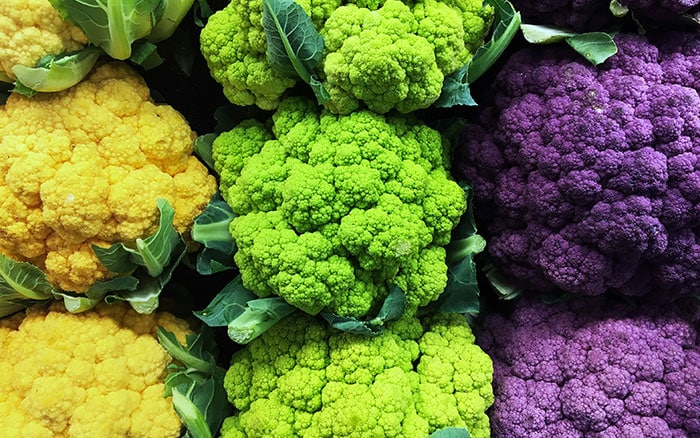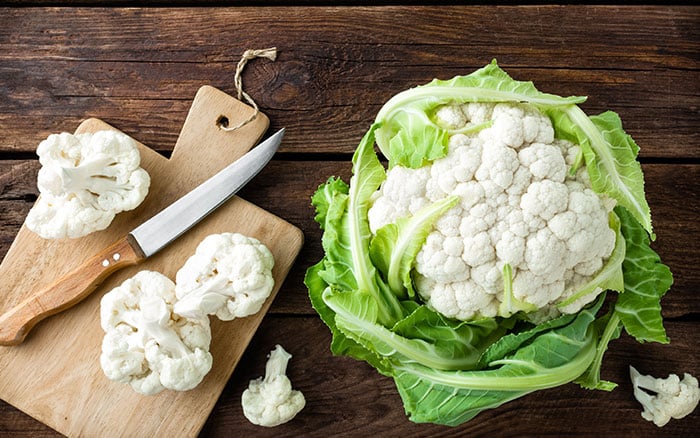 Quirky Tip
Dilute seaweed spray on leaves can help deter birds from eating the seedlings.
Fun Facts
Cauliflower means "Cabbage Flower"
The heads of cauliflower can be coloured cream, green, orange or purple.
It belongs to the group of cruciferous vegetables. They are named that way because they have flowers that consist of four petals which grow in the shape of Greek cross.
 Varieties
'Clapton': A variety with large, white heads for a summer to late autumn harvest. Club root resistant, which is great.
'Graffiti' F1: A novel variety with naturally occurring deep violet-purple colouring carried through the head. Delicious as a raw crudités, stir-fried or steamed.
'Cauliflower Romanesco Natalino': Incredible looking spiral florets, crisp texture and distinctive flavour. Grow for baby heads to eat whole or as full size.

David Domoney is a Chartered Horticulturalist, Broadcaster, and Author. David has worked with a number of the UK's leading garden retailers as a plant buyer and strategic consultant. With more than 30 years experience, in horticulture, David is as passionate about plants now as he was when he bought his first plant at a village fete.