Recycling your old wellies into containers is a great way to help the environment as well as creating a fun quirky feature for your garden. It's a really easy process, and an activity you can do with the kids too – who seem to outgrow their wellies all too frequently! You can use any type of wellies, ones with bright colourful prints are great for a vibrant look, or keep it classic with wellington green for a more rustic feel.
To help you, I've put together a step-by-step guide with a video to show you how to make a welly planter for your own garden:
You will need:
• Some old wellington boots
• A drill
• A few pebbles
• Compost
• Seeds or plants you want to grow in your wellies (I used pansies but small plants such as herbs work great too)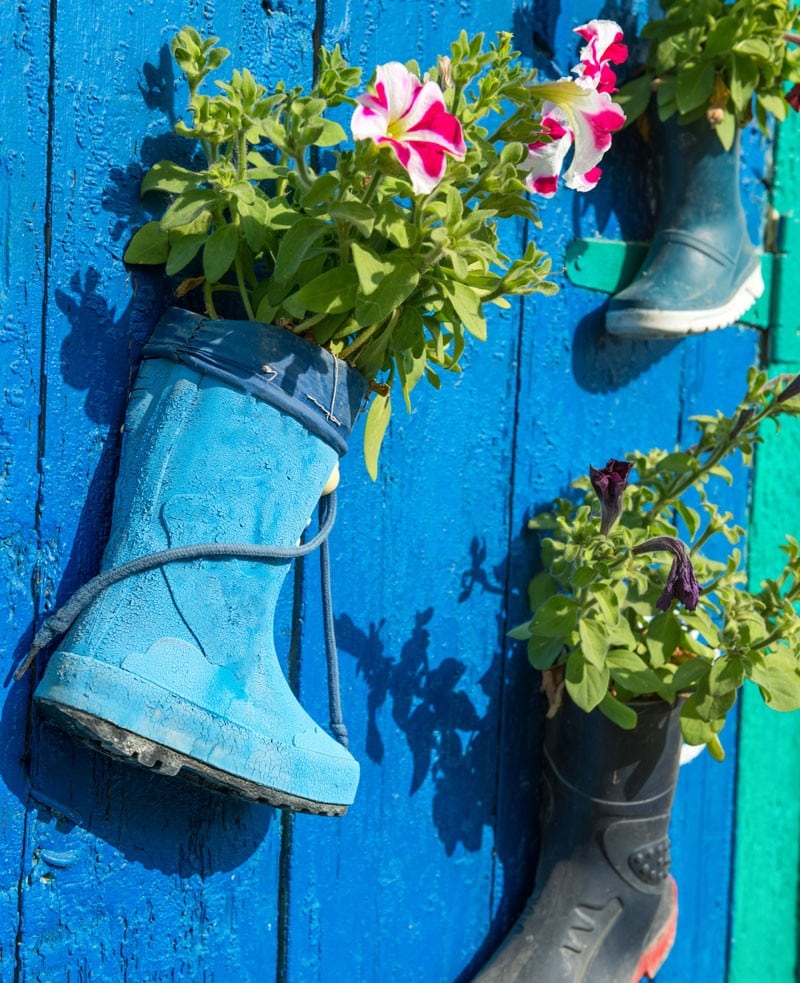 You will need:
• Some old wellington boots
• A drill
• A few pebbles
• Compost
• Seeds or plants you want to grow in your wellies (I used pansies but small plants such as herbs work great too)
Step One
Wash the wellies you're going to use with warm soapy water and dry off with a towel. You want your wellies looking their best if they're going to be on display!
Step Two
Secure your boots sole facing up to a work bench and drill a few small holes in the soles of your boots and around the edges.
This is so that water will be able to drain out of your boot evenly when you water your plants.

Step Three
Fill the bottom of the boot with some pebbles to help with water drainage. This step is optional but recommended as it will also help hold the boot in place on more blustery days.
Step Four
Add compost to your boot and press down gently, ensuring the compost fills right down to the toe as well (or down to where the pebbles start).
Fill to about two inches from the top.

Step Five
Plant your seeds or plants, top with a little more compost and then a sprinkling of water.
Add some waterproof labels to help you remember what you've planted if you like.

You're now ready to position your new planters wherever you like – check the seed packet to find out if your particular plant prefers shade or sun, and then position accordingly.
You can try hanging your
welly planters up along fences if
you're short on floor space. 

Other creative ways to recycle your old boots:
• Why not try making one large Wellington boot into an umbrella stand? Simply wash the boot, fill the base with sand. The sand will prevent it from toppling over and absorb the water too. Then stick it by the front door to make a quirky feature for storing your umbrellas!
• Garden clogs are often the gardener's shoe of choice for quickly popping outside. You can easily cut the tops off your old wellies to convert them into a waterproof pair of garden clogs.
• Old walking boots can be fastened toe-facing-down to a tree to make a quirky bird house. Small birds will love the cosy waterproof interior. Tie the shoelace up tightly to make a small hole for their entrance and exit.

So now you have plenty of ideas to up-cycle your old shoes and find a loving home for them. This guide to creating welly planters will have you thinking of other unusual containers you can create.
Let me know if you can think of any other creative ways to recycle your old garden things. It's always a cheaper alternative to buying new and can be a really fun way to teach the kids about caring for the environment and get them into the garden more.
David Domoney is a Chartered Horticulturalist, Broadcaster, and Author. David has worked with a number of the UK's leading garden retailers as a plant buyer and strategic consultant. With more than 30 years experience, in horticulture, David is as passionate about plants now as he was when he bought his first plant at a village fete.