With the common name coming from the appearance of the flowers that resemble a ruffled beard-like shape, these flowers will add height, depth and sometimes fragrance to the mix. Planting the rhizomes in autumn is the first step to getting wonderful spring and summer blooms. So, here's how to plant bearded irises…
Bearded irises can be planted any time between October and April. Choose a spot in full sun in well-drained soil.
Irises grow from rhizomes, and when planting its important to ensure that the rhizome sits above soil level where it can get sun for more of the day. It's vital that it gets sun to ensure it flowers, therefore a South facing position is best. Pick a space where they aren't overcrowded with other plants because this could affect how much sunlight the plant gets.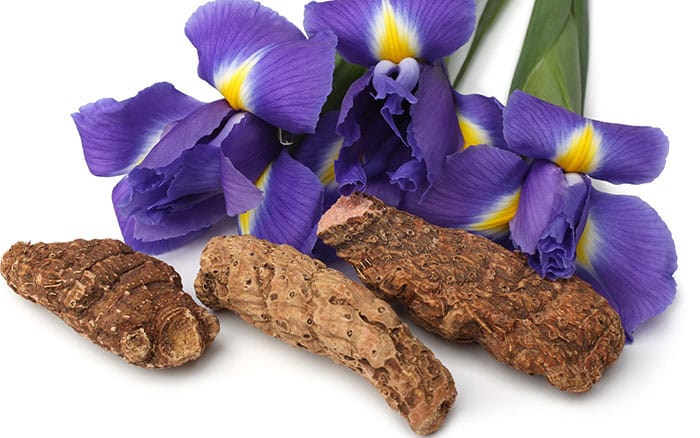 You can either buy bearded irises as potted plants or as bare rhizomes. If you buy as potted plants, plant them into place at the same depth as they were bought in the pot. However, if you have a bare rhizome, before planting soak it in water for a few minutes before planting.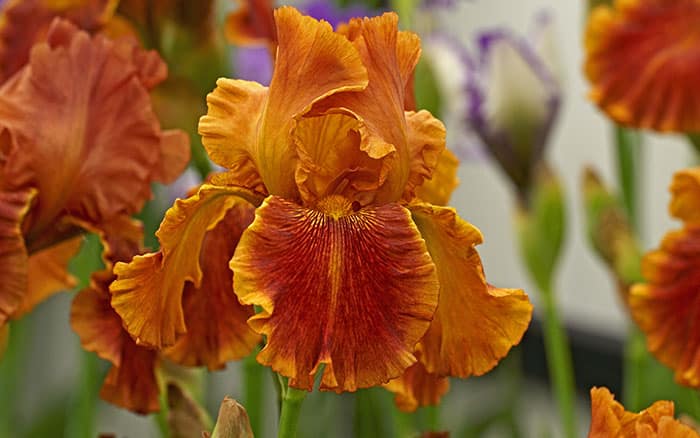 Keep on top of care by deadheading spend flowers and you might be rewarded with a second flush of flowers. Come autumn, tidy up the foliage by trimming it back.
It's also ideal to ensure there are no weeds growing as these will compete for moisture and nutrients. Although you can provide extra nutrients for a boost in spring with an all-purpose fertiliser.
Every three years it's ideal to diving the clumps which will help them to keep growing their best. Do this by lifting the rhizome our of the ground after flowering, then cut off the healthy young rhizomes that have grown at the edge of the plant.
You can get rid of the woody centre that has hardened and become unproductive. Then, the new rhizomes can be replanted immediately, and the foliage can be cut back to about 12cm long.

'Dusky Challenger'
The dark purple-blue blooms of this iris will bring some drama to your borders. In early summer these plants will rise on strong stems, having a wonderful effect within herbaceous borders, or making a statement in a gravel garden.
Flowers in summer
Fully hardy
Grows up to 1.2m tall
Moist but well-drained soil
Full sun
Exposed or sheltered

'Bold Print'
The ruffled flowers of this variety are white with purple margins, adding depth to the planting scheme. With a delicate appearance, this iris looks great in borders, gravel gardens and also as cut flowers too.
Flowers in summer
Fully hardy
Grows up to 75cm tall
Moist but well-drained soil
Full sun
Exposed or sheltered

'Sable'
This variety is sure to add bold colour with it's deep purple-black tones. Not only with it add depth with its colour, but the flowers are fragrant too. Attractive to bees, they are a worthwhile addition to a wildlife garden through the summer.
Flowers in summer
Fully hardy
Grows up to 90cm tall
Moist but well-drained soil
Full sun
Exposed or sheltered

Add some bold texture and colour to your garden by planting bearded irises this autumn. Suited to many garden styles, they will bring some charm to your borders or look fantastic when dotted around gravel gardens.

David Domoney is a Chartered Horticulturalist, Broadcaster, and Author. David has worked with a number of the UK's leading garden retailers as a plant buyer and strategic consultant. With more than 30 years experience, in horticulture, David is as passionate about plants now as he was when he bought his first plant at a village fete.