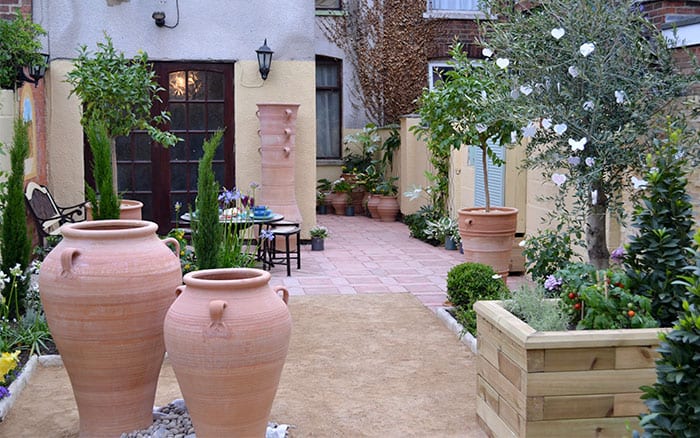 We created a beautiful Mediterranean garden for Maggie in episode six of Love Your Garden. It was designed as a retreat for her, but with hidden spaces for children to play too.
The garden used terracotta paving and pots to evoke Italian style and colourful yellow and purple planting. We also put in lots of fragrant plants and tall evergreen structures too.
Here's how to get the look with our planting list!
Trees

All gardens need trees. They offer height, shade and privacy. To fit in with our Mediterranean theme, we planted large olive trees. Large specimens in sheltered gardens should be frost hardy, but smaller trees can be damaged by low temperatures. If you just want a small olive tree, grow it in a pot and move it into a greenhouse over winter.
We also added lemon trees in pots – these too need bringing into a cool but frost-free environment over winter. A greenhouse or porch is ideal.
For foliage and evergreen structure, we also planted bay pyramids and tall, thin Italian cypress trees. Then we added hostas, fatsia japonica and stachys byzantina.
It's important to get foliage into a garden design. It provides a rich green backdrop to highlight flowers and keeps the garden looking green when the blooms fade in autumn.
Flowers and herbs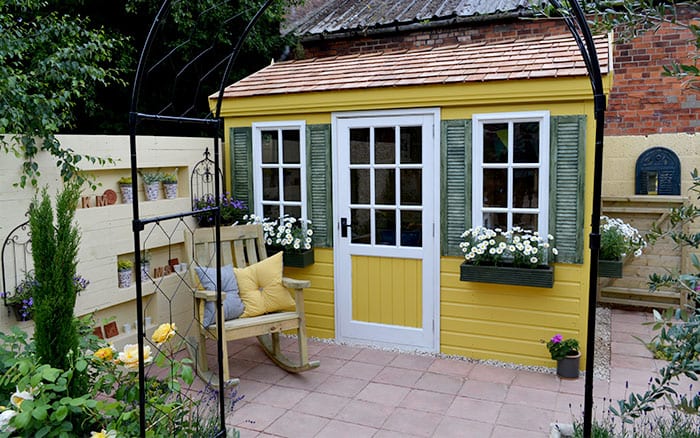 Maggie's garden was designed to be bright and colourful to suit her personality, so we planted lots of flowering varieties. We used French and English lavender for a mix of colour and scent. And we put in three rose varieties: Rosa 'Charlotte', Rosa 'Tranquility' and Rosa 'Golden Celebration'.
Then we added flowering plants including salvia, gerbera, geraniums, gladioli, agapanthus, antirrhinum, osteospermum and erigeron karvinskianus.
To cover the walls, we planted the climber trachelospermum asiaticum and sunflowers for the children to grow. Sunflowers are a great choice to get kids gardening because they are hardy and really quick-growing.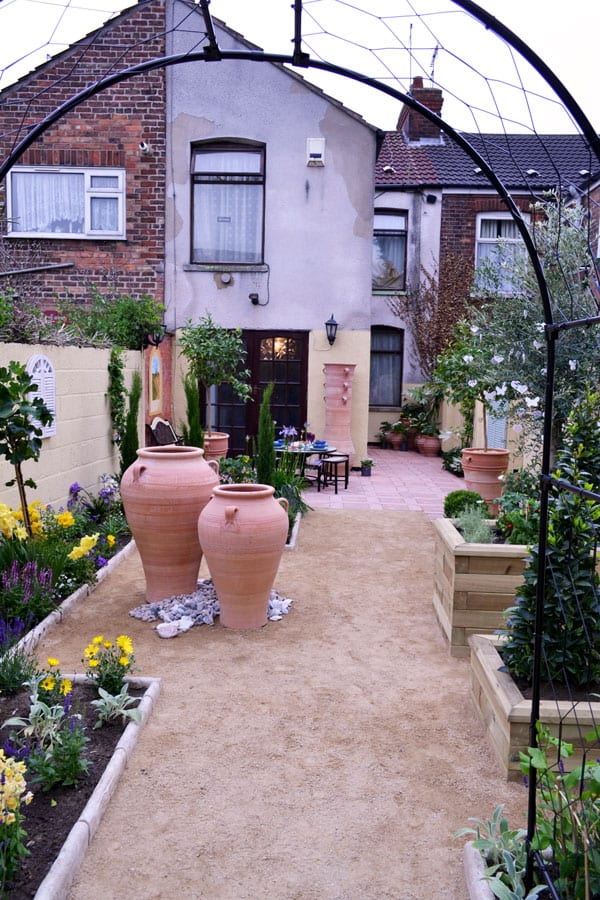 Finally, we added extra scent with herbs: thyme, basil, oregano, rosemary and the curry plant. Grow scented plants at the edge of borders and along paths – they will release the scent as you walk past.
Alan designed the flower beds to be planted in diagonal rows. It evokes the fields of the Mediterranean and has a great effect.
To recreate the look, make sure to plan the rows so you have a succession of colour and flower shape. But avoid repeating plants in the same order or you will simply create stripes.
Lay the pots out on the surface before planting anything so you can see how it looks.

David Domoney is a Chartered Horticulturalist, Broadcaster, and Author. David has worked with a number of the UK's leading garden retailers as a plant buyer and strategic consultant. With more than 30 years experience, in horticulture, David is as passionate about plants now as he was when he bought his first plant at a village fete.