It was another great Love Your Garden episode for series 4 – here's what we learned from the show this week. Plus find out how to create that formal look at home!
1 Formal can be fun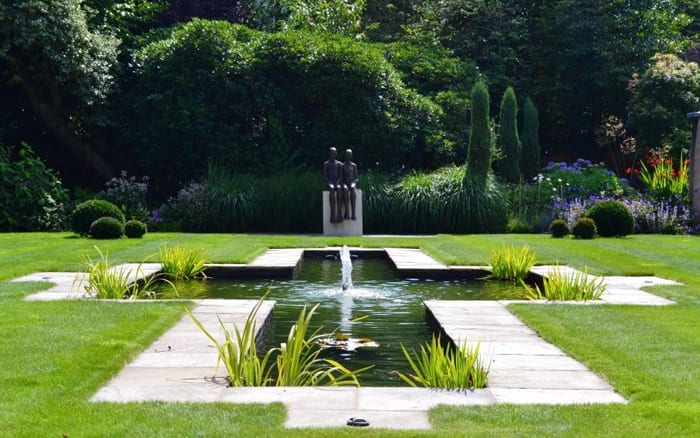 Hands up who thought formal gardens were just for stately homes? I hope we showed you otherwise! The formal style is just as effective in everyday gardens, and it is great for people who want things clean and simple.
Use symmetry and sharp lines, and keep the shapes simple and well-defined. The result is plenty of open space, making the garden feel calm and balanced. It's modern and yet timeless too.
Use strong focal points to pull the eye through the garden, and keep the colour scheme simple. Make triangles – three is a visually pleasing number because it's strong and even.
Get the Love Your Garden look

We created a green and white garden, in the style of Sissinghurst. The white flowers included star jasmine, white lavender, White Cloud climbing rose, Hydrangea arborescens 'Annabelle', Agapanthus africanus 'Albus' and Echinacea purpurea 'White Swan'.
Then we used green foliage like Cupressus totem and Buxus sempervirens alongside green and white foliage like Hosta patriot and Euonymus harlequin.
2 There's a science to steps
Many gardens have a slight incline that is best broken up by steps. But if you want to install some new steps, make sure you do the maths.
First, measure the incline. Hold a piece of string horizontally from the top of the slope to measure its height and length. Then divide this figure evenly to decide the number of steps and their size. The minimum tread (length of the step surface) is 250mm, and the minimum rise between steps is 150mm.
3 The best gardens have year-round structure

There's nothing worse than a garden that looks great in summer and bare the rest of the time. Permanent plant structures give the garden height and shape, even in the depths of winter. Trees are ideal for this, as are conifers and hedges like laurel.
You can also take a tip from Alan and use topiary structures. Box is easier to shape than people think! Use one in a pot, so you can put it up on a table and turn it round to check it looks even. You can buy metal cages that help you define the shape, or use Alan's string guide trick. Prune in early summer and again in autumn to keep it looking neat.
4 Edging is the icing on the cake
Edging is the easiest way to give your garden a professional finish. If your lawn edge is curved, used a plastic strip. It's easy and inexpensive, and it stops grass growing into your border. Dig a trench slightly deeper than the edging, push it into the soil and backfill the trench.
If you want something broader, use edging tiles. They are very shallow bricks, meaning you don't have to dig too deep to get them in. Aim to get them flush with the lawn, so it's easy to mow over. And remember to point them properly or the grass will grow between them and make it look unkempt!
5 Building a border is just maths

Build a cohesive border by using repetition. Borrow forms from other parts of the garden. If you have lots of circles, use plants with spherical forms like alliums and hydrangeas.
Now repeat the colours. Different shades of the same colour is more effective that lots of different colours. And don't just think in terms of flowers – there's a huge range of colourful foliage out there.
You can also repeat plants too. Using the same varieties again further up the border, or in the border opposite, will bring the planting scheme together.
Finally, don't forget about seasonality. You need to have a mix of plants that flower at different times. If the entire border flowers in June, it will look bare in September. Mix in evergreens and long-flowering varieties to make sure it always looks good.

David Domoney is a Chartered Horticulturalist, Broadcaster, and Author. David has worked with a number of the UK's leading garden retailers as a plant buyer and strategic consultant. With more than 30 years experience, in horticulture, David is as passionate about plants now as he was when he bought his first plant at a village fete.