With the return of National Insect Week in 2020, we're celebrating insects big and small and all the good they do for our garden and green spaces.
You and your family can get involved from the 22nd to 28th June! This week is so important because it encourages people of all ages to learn more about insects. Take a look at the website nationalinsectweek.co.uk which has loads to offer in way of information, tips for insect photography, competitions and the giant art project called "Insect Isles" is open to enter now. To get involved, just submit artistic insect creations to them and it will be added to a large tapestry of submissions from around the country. These can be drawings, paintings, sculptures, cakes or photos—as long as it's insect-themed, it will fly.
There are over 24,000 known species of insect in the United Kingdom—that's a lot of bugs! And they all have a part to play.
Some contribute to the food web, in that they are food sources for larger animals, like birds and hedgehogs, that need the insects in order to thrive. Some insects actually pollinate our flowers and crops.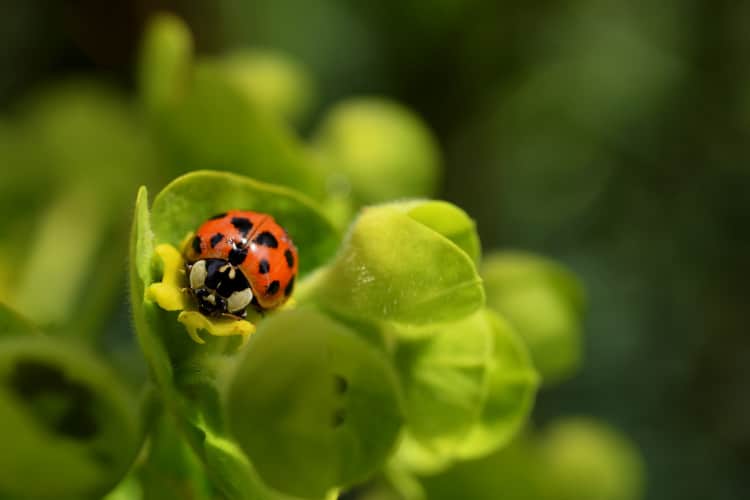 Many insects play an important role in feeding on living and dead matter, while some are predators that here to keep other populations in check.
All species are instrumental in helping to breakdown waste to help the natural world. So you can see that although we may think of insects as pests, most of the species are not and actually help to keep the balance of nature.
 As they play so many important roles for the balance of our intricate eco-system, it's important that we all help to look after their populations wherever possible. Without them, our world would be very different. From the soil, up to the birds in the sky, we are all affected positively by the insects that call our plant Earth their home.
Many insects get a bad reputation when they're found in the home, but these insects are only trying to look after their own survival. So, why not build them their own insect hotel out in the garden instead. These work by providing cracks and crevices for some insects to hibernate and reproduce.
You can easily build your own bug hotel and it will give the insects in your garden a place to stay safe so that they can keep on doing the work that they're doing to keep the garden ticking along.

The RSPB sell insect homes on their online shop which gives you a quick way to support the insects in your garden.
Or, if you'd like to give building one a go, you can find more on how to do this in my step by step guide. This is something that's quite a good group activity. An adult will need to construct the outer structure, but filling the middle with bric-a-brac can be done by all ages.
The right materials will create little creases and nooks for the insects to enjoy. Toilet roll tubes, pinecones, broken flower pots, twigs, straw and logs can all be positioned to great effect.
Or pick plants that are perfect for pollinators, to invite the bees to your garden.

The best thing about this national awareness week is that there are loads of resources out there to help us better understand the native insects that live among us. Gaining an understanding of them and being able to appreciate their worth in our gardens is a major driver of the campaign.
 Some ideas of how you can get involved during this week include hosting your own kids explorer party complete with a mini beasts hunt!
The great thing is that little ones enjoy running around the garden when scavenger hunting and this is both fun an educational for them.
The more we can embrace educating budding gardeners to appreciate our nation's insect populations, the better informed the next generation will be in maintaining our delicate ecosystem. So, this National Insect Week, get outside and enjoy immersing yourself and your family in the weird and wonderful world of insects.
David Domoney is a Chartered Horticulturalist, Broadcaster, and Author. David has worked with a number of the UK's leading garden retailers as a plant buyer and strategic consultant. With more than 30 years experience, in horticulture, David is as passionate about plants now as he was when he bought his first plant at a village fete.