The clock has struck twelve—we are officially in the new year of 2019! Now that the parties, fireworks and celebrations have burnt out, it's time to nurse our hangovers and focus on those new year's resolutions we promised to make.
The trick to achieving your new year goals is to set yourself realistic objectives. Small lifestyle changes can have a big positive impact in the long run and can help you achieve your larger aims, whether that be getting healthier, losing weight or learning Mandarin!
In this blog, I'll be talking you through the ways you can make eating healthily your resolution for 2019 and how your garden or outdoor space will help you achieve this goal.
Eating healthy food does not have to be a difficult task and we can still enjoy many of the foods we love without feeling guilty. One of the main things to look out for is calorie content and it is recommended that women should have an intake of 2,000 calories per day and 2,500 calories for men.
Most people eat more calories than they require, so cut down by consuming less sugar, processed food and saturated fats. If you do happen to step over the limit, then increase the amount of exercise you are doing to burn some unwanted calories away.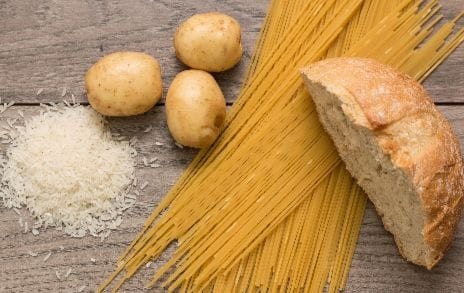 There are many types of food we should strive to include in our diets, such as wholegrain starchy carbohydrates (potatoes, bread, rice and pasta), oily fish (salmon, mackerel, trout and herring) and of course—fruit and veg.
It is recommended that we eat at least five fruit and veg per day, as the vitamins, minerals and fibre we get from them are greatly beneficial to our health, reducing the chance of getting diabetes, strokes, heart disease and cancer, while also lowering blood pressure, cholesterol and aiding normal bowel function.
Growing fruit and vegetables at home or on an allotment is a great way to ensure you are getting the most in terms of nutritional value, from your fruit and veg. This is because supermarket produce is often intensely grown, stored for lengthy periods of time and throughout this process, can lose more than half of the healthy nutrients that make them good for us and tastier too.
Not only is the food you produce healthy, but the process of growing it can double as a great form of physical exercise, helping you keep fit and burning off any extra calories.
In January we can plant broad beans outdoors, and indoors we can grow windowsill herbs, which are high in antioxidants and make a lovely fresh addition to home cooking.
Spinach is an amazing leafy green that is easily grown from February onwards.
It has an impressive nutrient profile, containing substantial amounts of vitamins A and K, alongside antioxidants that have been associated with a decreased risk of cancer and lower blood pressure.


Carrots are simple to grow and are packed full of vitamins A, C and K plus cancer reducing antioxidants, potassium and retinol, which is the source of the famous saying 'carrots can make you see in the dark' as it can improve a person's ability to see in low-light conditions.
While most larger carrot varieties can be grown from March onwards, baby carrots can be sown in February and will be ready to eat by May.
As we move towards spring, there will be greater opportunities to plant vegetables like tomatoes, onions, broccoli and much more.
You can prepare for the year with my vegetable growing planner which will tell you what to plant and when, giving you a range of healthy vegetables to eat each season.
Planting trees and bushes for fruit and berries can enable you to get that perfect balance between fruit and vegetable, while also working towards the essential five-a-day minimum.
Apples are probably the easiest to grow and can be planted as trees into the ground between November and March.
Apples are rich in antioxidants, flavonoids and dietary fibre, meaning there is some truth in the common saying: 'an apple a day keeps the doctor away. Strawberries can be planted under cover in January to provide an early crop in time for summer.
They are an excellent health-food, with one serving containing more vitamin C than an orange. Some fruit trees need to be grown in pairs in order to pollinate so check this out before committing to grow them.

Each strawberry is completely free from fat, sodium and cholesterol and only becomes unhealthy when we slather them in cream and sugar.
Take a look at my fruit growing guide for more information on how you can improve your diet by growing your own delicious fruits and berries.

If growing fruit and vegetables is not an option, then there are plenty of easy ways to stock up on produce that is just as healthy as what you would be growing at home. Try visiting local farmers markets, or better yet, community garden and allotment shops.
These will stock fresh vegetables that haven't been exposed to masses of chemicals or stored for great periods of time—meaning that they will be better for you nutritionally, plus they probably taste better too!
Check out the Cultivation Street Website to find an award-winning community garden near you!
Health under the microscope
The human body contains more microbes than it does human cells and some of the most important of these, are found in our digestive system. These microbes are able to send signals to the intestines which allows your body to adjust to the information it receives and is a vital factor in the functioning of the human immune system.
A bad diet can alter our mood and sleep patterns, as the microbes are unhealthy and cannot carry out their duties as effectively. It can affect the amount of mucus in our bodies and the production of vitamins B and K, so feeding these amazing creatures with the right food is extremely important.
Look after your gut biome by incorporating microbe-friendly foods, such as artichokes, kale, cabbage, beans, blueberries and bananas. These fruits and vegetables have a positive effect on your digestive system and boost your microbes, resulting in better mental and overall health.

Fermented foods like miso, kefir and soy are also great as they encourage your microbes to grow.
Keeping to your resolution
Sticking to your plan shouldn't be difficult. By breaking it down into easy chunks, or gradually building up to it, you are much more likely to reach your goals and the sense of achievement that comes with it. It's also important not to beat yourself up if you struggle.
Just keep a positive attitude and tell yourself to try harder in the future. Why not gain support by bringing friends, family and colleagues in on your resolution? Together you will be stronger and eating healthily is a great way to socialise while doing something good for your future.

David Domoney is a Chartered Horticulturalist, Broadcaster, and Author. David has worked with a number of the UK's leading garden retailers as a plant buyer and strategic consultant. With more than 30 years experience, in horticulture, David is as passionate about plants now as he was when he bought his first plant at a village fete.