Pansies are sure to bring a burst of colour to your garden, and by picking different varieties, you can have pansies in your garden all year round. This makes them a great addition to your winter garden when you're searching for bright blooms.
Pansies bring the joy of spring to your garden in cold winter months. They are strong, hardy annuals and have one of the widest ranges of colours in the plant world. On top of that, they grow quite happily in borders and containers as well as providing great ground cover.
They are one the most popular bedding plants in the country – you can buy them in any garden centre. What's more, pansies can be found in a huge range of colours, including pink, red, purple, yellow, white, and blue, with bi-coloured varieties available too.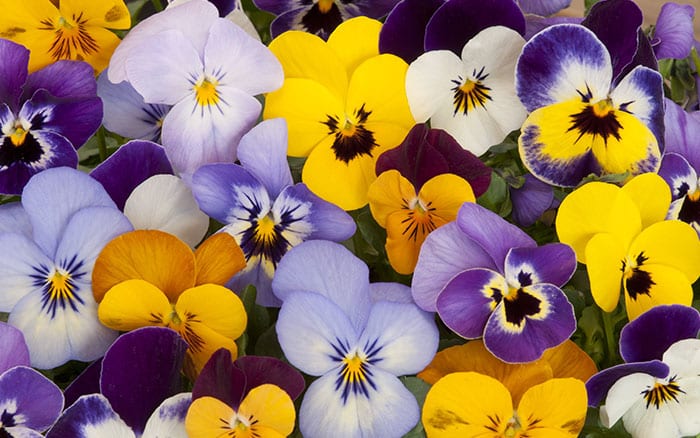 The botanical name for pansy is Viola x wittrockiana, which can cause a bit of confusion, and the words 'pansy' and 'violet' are often used interchangeably. But, there is a difference because pansies have four petals that point upwards and only one pointing down. Violets have three petals pointing up and two down.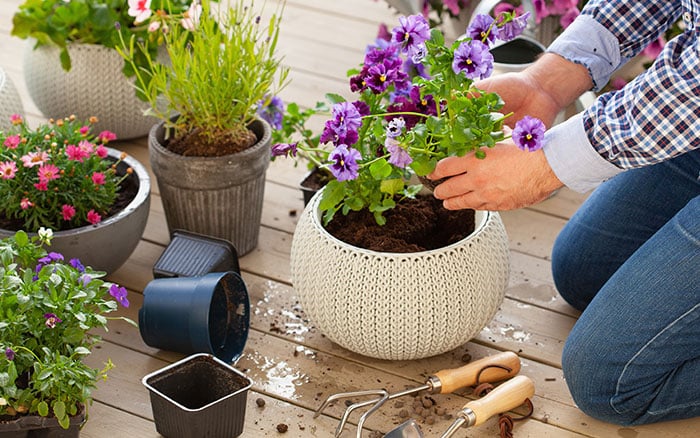 These bright little plants are easy to grow and can be added to beds and borders as well as containers like hanging baskets and window boxes.
Place them on your patio or near the door where you can see them and enjoy their long, colourful flowering season.
Plant them in moist, well-drained soil in a spot with good sunlight. Pansies prefer cooler temperatures and need watering regularly.
Deadheading spent flowers will ensure the plants look great and will also encourage more flowers to grow.
Pansies can easily be grown from seed too. Simply sow the seed under cover from February to April and you'll have blooms in spring to autumn. On the other hand, if you are growing pansies for autumn and winter colour, sow seeds from May to July.
• 'Tiger Eyes' have lovely golden coloured flowers and each petal has thin black stripes, hence the name. When planted up for summer, the flowers contrast beautifully with the green foliage and would look fantastic next to other plants with fiery orange and red tones.
• 'Joker Light Blue' are bright and cheery and will bring something special to your container with their striking blue flowers. Sow in February to March for flowers from May to October.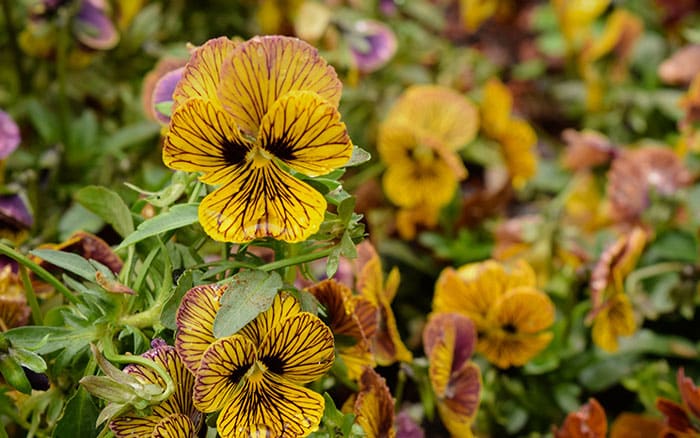 • 'Ultima Morpho' has pastel purple flowers with yellow centres that will grace your garden through winter. The colour combination is beautiful and will bring joy to the front of a border.
Grow pansies in your garden for low growing bursts of colour within your beds, borders, and containers. With plenty of colours to choose from, you'll never grow tired of these.

David Domoney is a Chartered Horticulturalist, Broadcaster, and Author. David has worked with a number of the UK's leading garden retailers as a plant buyer and strategic consultant. With more than 30 years experience, in horticulture, David is as passionate about plants now as he was when he bought his first plant at a village fete.