The recent interest and fashion for houseplants has brought with it a renewed passion for dried flowers, particularly using them in floral arrangements. Some flowers dry better than others, retaining the colour in their petals well, whilst others produce great seed heads. Here are some suggestions of the best types to sow and grow this year with a view to creating some splendid, dried flower arrangements.
Xerochrysum bracteatum (strawflower or everlasting flower)
If you're looking for bright colourful flowers that last for months on end, strawflowers make great cut flowers, dry well and are easy to grow. They're classified in this country as half hardy annuals and are easy to grow from seed. There are now lots of different colour variations available, from whites to bright reds, yellows and orange, such as 'Forever Mix' and the beautiful pastel coloured 'Salmon Rose'.
Being half-hardy, they won't stand being frosted but you can sow seeds in February under cover for planting out in June once all risk of frost has passed. This will give you earlier flowers. When planting them outside, you can also sow any remaining seeds directly into your flower beds which will extend the period of flowering.
Flowers in summer
Tolerant of low temperatures, but not surviving being frozen
Grows to 90cm tall
Moist but well-drained soil
Full sun
Sheltered or exposed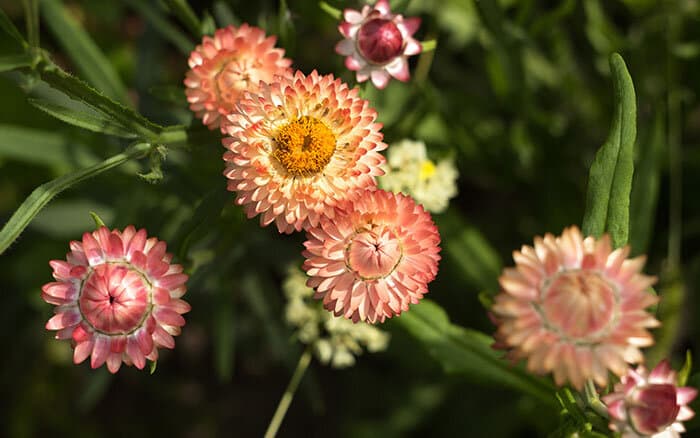 Limonium sinuatum (statice)
Another old, dried flower favourite from the 70s making a big come back is statice. Although it's available in a range of bright colours, it's mostly associated with deep blue violet-coloured flowers. These plants are also classified as half hardy, sun-loving annuals that dry well. Therefore, they are traditionally paired with strawflowers in dried flower arrangements.
Growing to heights of around 60cm they work well planted in the middle of a flower border. Seeds can be sown from February until April at a depth of 0.5cm in trays of seed compost, watered well and placed in a warm location such as a warm kitchen windowsill.
Bear in mind that the temperature should remain between 15-20˚C.  Again, keep the compost moist but not waterlogged whilst the seeds are growing and transplant to modules when the seedlings are large enough to handle.
Flowers in summer
Half hardy
Grows to 60cm tall
Well-drained soil
Full sun
Sheltered or exposed

When transplanting seedlings, always handle the seedling by the leaf not the stem.
This is because if you inadvertently break a leaf when lifting it out of the tray a new leaf can grow in its place. However, a broken stem is game over for the seedling.
Remember also to gradually accustom young plants to cooler outside conditions before finally planting them out in the summer.  Do this by placing the young plants outside during the day and bringing them back into either the greenhouse, cold frame, or your house in the evening for seven days before planting in the flower border.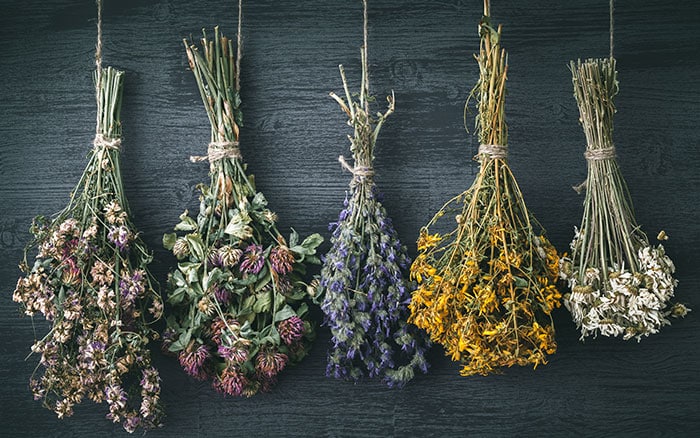 Cortaderia selloana (pampas grass)
Finally, another favourite from the 70s, but now with a twist is the good old pampas grass. The twist is that there's now a dwarf variety available and its seed head plumes are really popular in dried flower arrangements.
The variety is called 'Tiny Pampa' and is billed as the world's first dwarf pampas grass, reaching just 60cm in height. The small size means it can be safely planted in a border amongst other flowering plants without crowding them out.
Flowers in summer
Hardy
Grows to 60cm tall
Well-drained soil
Full sun
Exposed or sheltered

Hop on the dried flower arrangement trend by growing flowers and foliage that you can bring into your home to last. The dried foliage adds another element of nature into your home, to complement houseplants in other areas.

David Domoney is a Chartered Horticulturalist, Broadcaster, and Author. David has worked with a number of the UK's leading garden retailers as a plant buyer and strategic consultant. With more than 30 years experience, in horticulture, David is as passionate about plants now as he was when he bought his first plant at a village fete.