Early-flowering geraniums bloom during spring, but there are some varieties that can continue to flower through midsummer, especially with the right care. Pruning geraniums can elongate flowering periods and give a second round of blooms.
Hardy geraniums are commonly known as cranesbill – not to be confused with tender summer flowering Pelargoniums which are also commonly called geraniums. Hardy geraniums are a fantastic group of perennials, perfect for bulking up a border fast. Most of them will grow happily in sun or partial shade too, so they're not very demanding.
Hardy geraniums are tough and will flower for months.  Some easy growers that will put on a show are 'Rozanne' which has purple blooms that contrast wonderfully with the green foliage from June all the way to September. Deadheading the spent flowers regularly will encourage further blooms too.
Another one to try is Geranium x oxonianum 'Wargrave Pink' which are pink with a slight purple tinge. Growing up to 60cm tall, it will deliver blooms all through summer when positioned in a sunny or shaded spot.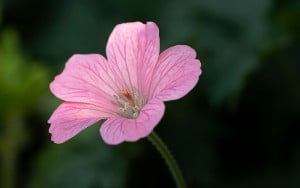 Pruning  geraniums and other perennials
A top tip when growing hardy geraniums, like other perennials such as delphiniums, is about pruning. When flowering has finished, pruning these back to ground level will encourage a late round of flowers in the latter part of summer and also fresh foliage too.
Throughout the season, it's important to deadhead spent flowers to encourage new ones. Then, only when the last few flowers have faded should the stem be removed.
Likewise, if there is any leggy growth that's looking a bit worse for wear, pruning back can help to encourage more shoots. This can lead to denser and bushier growth for more impact.
Pinching geraniums can be done when a stem on a geranium plant is around 10cm long. Use a pair of scissors or your forefinger and thumb to punch off the end 1m of the stem. Do this to all of the stems to help the plant along to create a fuller plant. This can be done throughout spring for healthier looking plants.

Geraniums are a lovely plant to have at the front of your borders or in containers. So, make the most of them by encouraging new flowers later in the season by pruning geraniums down to the ground once flowering is done.

David Domoney is a Chartered Horticulturalist, Broadcaster, and Author. David has worked with a number of the UK's leading garden retailers as a plant buyer and strategic consultant. With more than 30 years experience, in horticulture, David is as passionate about plants now as he was when he bought his first plant at a village fete.