No doubt some of you know that I'm a beekeeper. I got my first colony in 2014 and now have three hives. Bees are vital for the environment and ecosystem as pollinators, and so much fun to keep!
But beekeeping is not just about looking after your own bees. Sometimes bee colonies set up home in the wild, often in houses, sheds and gardens. Experienced beekeepers can rescue wild bee colonies and move them to safety in a managed hive.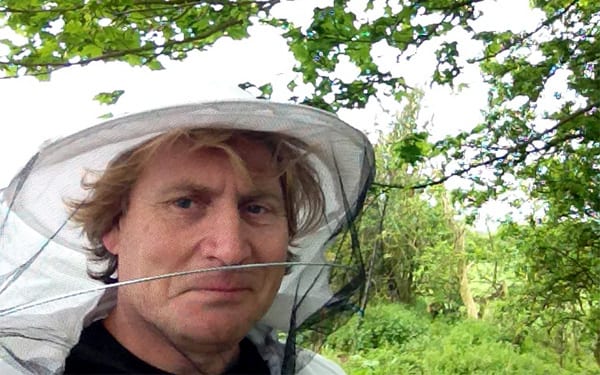 Rescuing a wild bee colony

Just last week, a farmer found a wild colony when he was cutting a hedge along a roadside near Stratford-upon-Avon. He chopped off the top and discovered an active colony nestled among the branches.
He contacted a beekeeping farmer, who put him in touch with Brian Donley, chairperson of the Stratford and District Beekeeping Association.

Brian set out to visit the colony to assess the situation and what equipment was needed. The next day he returned and cut some of the hedge away. Then he was able to lift out the combs.
He placed it in type of beehive called a national hive with a double brood chamber. It's a large one to take the length of the six combs the colony had built.

The cold weather meant that the bees remained tightly clustered and none of them flew out to try and defend their home. You can see them between the combs in the image below.
The colony is now back in Brian's apiary with a big block of baker's fondant on top. The bees were close to starving after spending so long withstanding frosty temperatures in the hedge. Now they have a safe home and plenty of food to build up their strength.

Brian estimates that the bees had probably been living in the hedge since last summer, because the comb was still a white-yellow colour and pretty clean.
It is unusual for a wild colony to set up home out in the open like this. And even more so for the bees to have survived this long into the winter, especially with all the wet and freezing cold we have had recently.
What should I do if I find a wild bee colony?
Finding a wild bee colony in a hedge is fairly rare. Bees usually build hives in hollow trees, but there aren't many of those left today. Most of the time when people find a wild bee colony, they have set up home in a brick cavity in a house or down a chimney.
But if you do find wild bees in your house, garden, property or on your land, Brian's advice is to leave them well alone! Contact your local beekeeping association with the details from the British Beekeeping Association website (BBKA).
It's a charity that will send a volunteer beekeeper to check over the site and safely remove the colony.
How do I become a beekeeper?
Beekeeping is immensely rewarding for gardeners and I love it! You don't need any formal qualifications to become a beekeeper, but you should join your local beekeeping association – find the details on the BBKA website.
The associations run local training courses to help you get set up. They will be able to put you in contact with other beekeepers so you can ask for advice and learn from them. They also run taster days throughout the year so you can go along and give it a try.
If you live locally, come along to the Stratford Association's Introduction to Beekeeping Course starting in February.
Alternatively check out the BBKA's list of events to find out what's on near you.

David Domoney is a Chartered Horticulturalist, Broadcaster, and Author. David has worked with a number of the UK's leading garden retailers as a plant buyer and strategic consultant. With more than 30 years experience, in horticulture, David is as passionate about plants now as he was when he bought his first plant at a village fete.