Whether you're planting hedges for privacy, protection from cold winds or just garden beauty, there is a plant that's perfect for you.
Fantastic for supporting hedgehogs, birds and other local wildlife, hedgerows are a great garden addition and flourishing nature reserve all-in-one.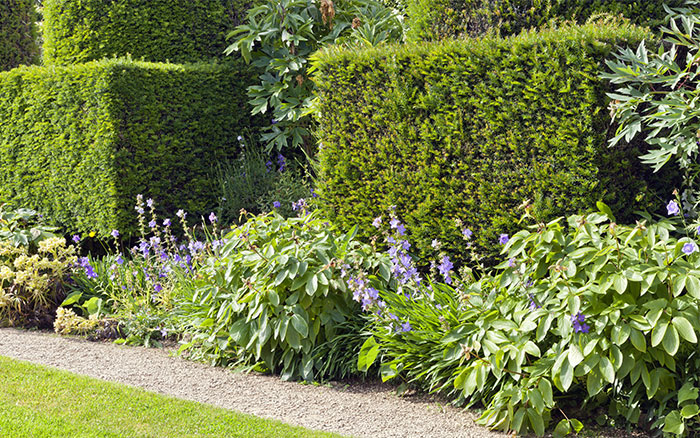 Manicured hedges carved into fancy geometric shapes, flowing archways or topiary animals can add a real sense of style to your property. These are delightfully fun and easy to create with thick foliage varieties like Taxus baccata (yew) or Buxus (box). These hardy evergreens offer elegance year-round.
Trimming once annually in mid to late summer will keep them neat and tidy, while trimming once in June and once in August will maintain crisp lines all year long.
Yew is a timeless favourite for formal hedging. It can be trained to different heights to suit your needs. Happy in sun or shade, the only no-no is waterlogged, compacted soil.
If you have the choice, buying bare-rooted plants under two-foot-tall will give best results – these tend to establish well and grow into healthy, full bushes quickly once in position, but they can be expensive and slow growing.
Hedges like this work fantastically as barriers to block out external sounds or sights from your green space.
The garden is a place in which you can unwind and drown out the pressures of everyday life—thick and formal undergrowth in a front garden will filter out road emissions and invite the uplifting sounds of wildlife to the area instead. Dense hedgerow Thuja plicata 'Atrovirens' has emerald green foliage which is fast growing to provide great ground cover and nesting sites for birds, so there's much to be gained from having formal hedging like this.
Fagus sylvatica (beech) is another formal hedging option but is deciduous rather than evergreen – meaning it loses its leaves in winter.
Unfussy about growing conditions, both green and purple beech varieties will thrive wherever you pop it and if you trim it annually in August, it will retain dry leaves throughout winter to create an attractive year-round screen.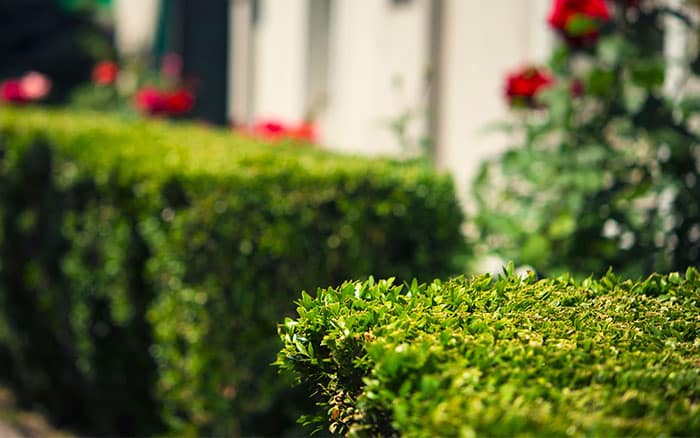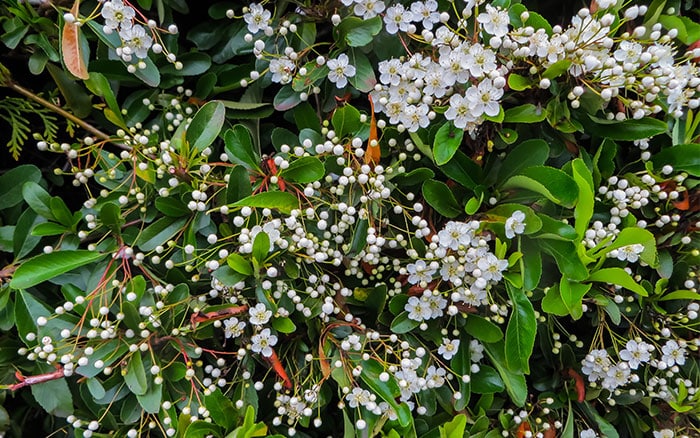 If you want a more relaxed display, gorgeous informal hedging choices abound. An informal garden is a space which is less structured and symmetrical to make way for a rustic and naturalistic arrangement.
Viburnum tinus (laurustinus) is a great option for soft, year-round foliage. It is an unfussy, hardy evergreen shrub that will thrive in any light and soil conditions as long as soil is well-drained and regular trimming will keep it prosperous and looking shapely.
Variegated cultivar 'Variegatum' gives a gorgeous mid-green leaf trimmed with peppermint cream or opt for cultivars with colourful flowers and berries, like that of 'Lisarose' which has red buds, white flowers and glossy blue berries from autumn through to spring.
Laurustinus flowers are popular with pollinators, while their berries are a great food source for berry-loving birds, so you'll be doing the local wildlife a favour as well – a double plus!
Crataegus mongyna (common hawthorn) is a superb choice for informal hedgerows. Unlike Viburnum, it is deciduous, but its dense, twining twigs still offer some screening and protection even in the coldest months of the year.
Glossy green leaves combine with delicate sprays of white flowers which turn to fabulous lipstick-red berries in autumn.
Pop it anywhere in well-drained soil and it will pack a colourful punch for three seasons out of four, but it will need pruning to keep it well-formed and flourishing.
Alternatively, mix and match informal with formal hedging choices and get the best of both worlds. Ultimately, you need to pick a hedge that works for you.
For instance, you might choose to opt for shrub roses and Pyracantha (firethorn) as these make brilliant burglary deterrents due to their thorny growth.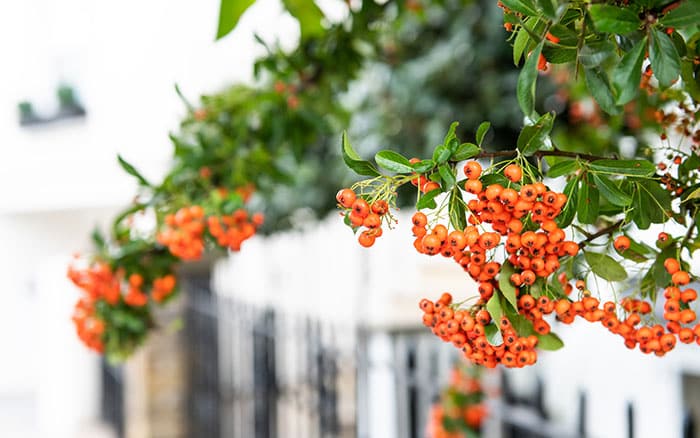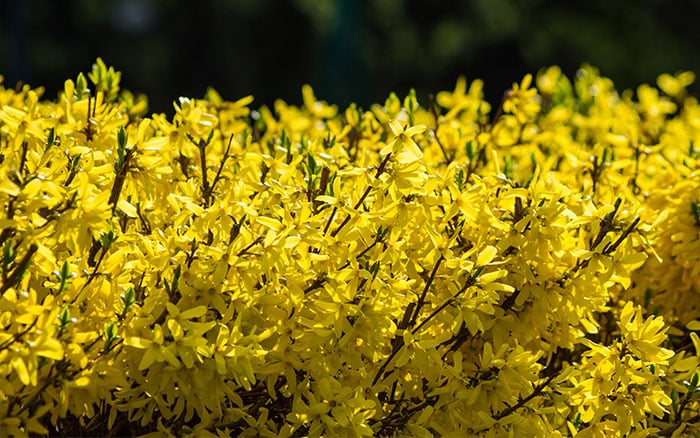 When it comes to ornamental hedging, you can't beat flowering foliage.
Forsythia and Ribes offer a flurry of flowers in spring to awaken spaces and add seasonal interest. Planting hedging plants can either be done from 'bare root' or 'container-grown' specimens.
Bare root versions are cheaper because they are ground grown and only available to buy in dormant season from November to March.
They are usually quicker to establish when planted from September to October, while soil is still warm to encourage root growth through winter. If, however, you want instant impact, container-grown plants are more expensive but can be planted all year round.
So, whether you're after immediate privacy in a new home or to plug a gap in an existing hedge without waiting, pot-grown plants are a great solution.
Choosing the right hedging option now will stand you in good stead for a healthy hedge that keeps on giving as the years roll on.
Happy hedging everyone!
Tip:
Drill drainage holes in
the bottom of old boots and
use them as fun planters
for the kids.
David Domoney is a Chartered Horticulturalist, Broadcaster, and Author. David has worked with a number of the UK's leading garden retailers as a plant buyer and strategic consultant. With more than 30 years experience, in horticulture, David is as passionate about plants now as he was when he bought his first plant at a village fete.