Orange plants were a big trend at this year's Chelsea Flower Show. They add a bright zing to any garden border and look great planted alongside other 'hot' colours like red and yellow.
To make such a bold colour work in your own garden, buy a few of the same plants and repeat them through the border.
Geum 'Princess Juliana'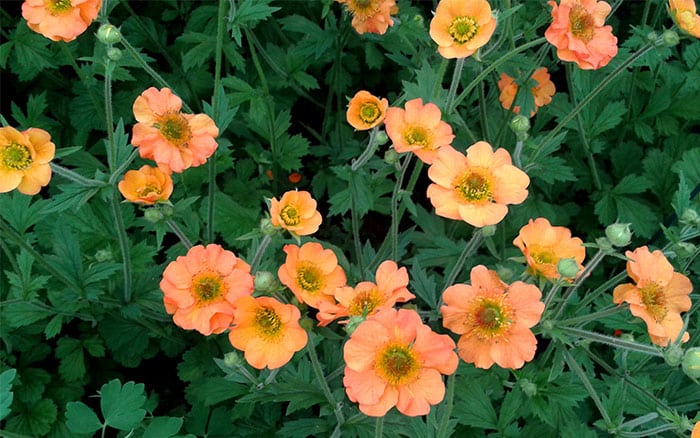 A stunning plant that would look at home in any garden. It's also widely used in the show gardens – see the gallery here.
Dahlia 'Bishop of Oxford'

This striking plant has rich orange petals and deep black foliage. It would make a great talking point and give depth to a border.
Tulip Ballerina

I love these pointy petals – they look like flames. Perfect for adding some spring colour to your garden.
Primula Bulleyana

These delicate orange flowers will bloom for months on end in the garden. They are ideal for window boxes and other containers, and give good height to rock gardens.
Rose 'Easy Does It'

This lovely orange rose has deep shiny leaves. The flowers start off red, and fade through orange and apricot to end a light pink shade. Stunning.
Alstroemeria Flame

Fantastic speckled petals give this plant a real wow-factor. Alstroemeria are great as cut flowers too.
Nasturtium Tropaeolum Majus Alaska

A mix of nasturtium colours, from yellow and orange to a deeper red. It has lovely variegated foliage and the flowers are edible too!
Libertia Ixioides 'Goldfinger'

This is a striking grass for something a little different in the garden. It will add texture to a border and make a great backdrop for warm-toned flowers.
Begonia Jessica

This begonia bears huge orange flowers with silky petals. It's a real showstopper and should be given pride of place in the garden.
Dahlia Ludwig Helfert

What a fantastic flower! I love the slim petals – they look like flames licking up into the air. I also love any plant with a name as fun as this one.
Need more Chelsea inspiration? Check out the new brand new plant varieties from the show!