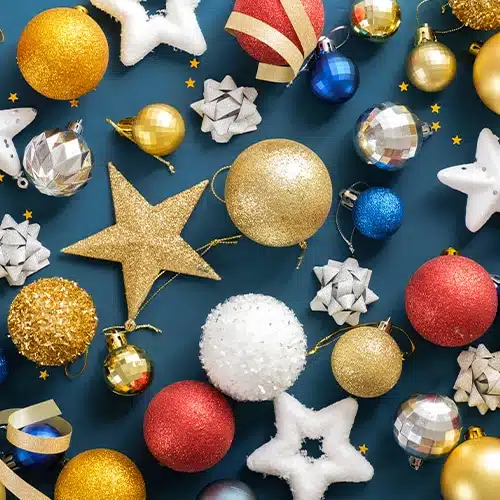 Christmas is a time for celebrating all that we have and adorning our homes. But many of us don't look to the garden for inspiration. After all, it's dormant and uninspiring in winter.
But there are some plants that offer up festive treats for decorations. Evergreen plants that keep their leaves in winter were once seen as magical and form part of many myths and traditions.
Lots of us have a real Christmas tree, but there are loads of other ideas for decorating your house with greenery. Plus plants give us berries, pine cones and woody branches to embellish our homes.
Here are some great ideas for festive plants and Christmas decorations to be found in the garden or foraged on woodland walks.
Holly
Holly is the iconic Christmas plant, with its glossy, spiky leaves and red berries. The word 'holly' even comes from the same root as 'holy' in Old English. Early Romans used it as decoration, and it is now said to symbolise Jesus' crown of thorns, with berries as drops of his blog.
Create Christmas decorations with holly by cutting short branches with berries on. I like to add them to wreaths and garlands. You can also place sprigs around candle displays and on windowsills and mantelpieces. And tie a few small clusters together with ribbon and hang it up or attach it to gift wrapping.
Ivy
Ivy is another classic Christmas decoration and many of us grow it in the garden. Carefully pull out some long tendrils and cut them off.
Wind the branches through wreaths and lay them along the mantelpiece with baubles. You can also bunch some trails together to create a swag. Decorate it with baubles and ribbons and hang it from the mantelpiece with butcher's hooks.
Fir
Often, you need to remove the lower branches of your Christmas tree to balance it out. But don't throw them out – use the stems to make more decorations. You can also cut some branches off a fir tree in the garden. Yew, pine and even conifer can all be used to decorate.
Tie leafy bunches together with ribbon and hang on doors or walls. Or create a wreath by using a thick wire ring base. Tie the ends of small branches to the ring at intervals with florist's wire, making sure the needles all point the same way.
You can also push small sections or fir branches into an oasis cone to make a mini 'Christmas tree' for table decorations.
Pine cones
Pine cones make great decorations and can be used in lots of ways. Attach a few to your wreath or swags with wire or pile into bowls and jars with baubles and battery-powered fairy lights.
You can also spray paint them to make cheap baubles – gold, silver and white colours all look great. Or paint glue onto the ends of the bracts and sprinkle with glitter for a child-friendly Christmas decorating project.
Bay
Bay or laurel leaves are often used to make a crown in religious symbolism, so create a bay leaf wreath. Be careful when harvesting bay not to take too much – the trees are slow-growing.
Rosemary
Use long stems of rosemary tied together into a ring to make miniature wreaths. And hang sprays near the fireplace – the heat should release the scent. Again, be careful not to harvest too much rosemary as the plant is dormant in winter.
Mistletoe
This has been a popular decoration since pagan times. Its plump white berries and evergreen leaves are meant to symbolise fertility, which is why we kiss underneath it.
It grows wild on trees as a parasite, but if you're lucky enough to have some growing near you, cut off a few sprigs. Tie them into a bunch and hang from doorways or lights. You can also buy mistletoe if you can't forage it.
Twigs
This is one the easiest and cheapest ways to decorate for Christmas. Simply cut some twigs and branches and stick them all in a pot or vase. Hang little baubles or pine cones off the ends.
Look out for unusual twigs like twisted hazel, or the coloured stems of cornus. You can also spray paint the twigs and sprinkle on glitter for a showier display.
Also look out for colourful berries, interesting seed heads and evergreen stems. Cut them off and use in bowls and around ornaments for naturalistic Christmas decorations.
Other great Christmas inspiration:
How to plant a festive winter outdoor planter
The 5 best Christmas houseplants
David Domoney is a Chartered Horticulturalist, Broadcaster, and Author. David has worked with a number of the UK's leading garden retailers as a plant buyer and strategic consultant. With more than 30 years experience, in horticulture, David is as passionate about plants now as he was when he bought his first plant at a village fete.