Everyone has different uses for their garden, but sometimes you may want to create a relaxing retreat where you can immerse yourself in nature and connect with it. So here are some factors to bear in mind when creating a yoga garden.
The most important thing to consider is that you have a practical place where you can actually do yoga. So, you'll need to mark out an area or two where you can put your yoga mat. The space will need to be flat and be a comfy enough surface to practice with the yoga mat. The surface can be the grass, patio, wood, or stones. Of course, this will depend on the structure and layout of your garden, but bear in mind that situating the spot on the grass will mean you may need to put more upkeep into the area by mowing regularly through spring and summer to ensure the space is right.

A large part of being able to relax outdoors is being able to immerse yourself in plants and nature. Therefore, you want to be able to satisfy all the senses with the choice of plants.
Ornamental grasses like Pennisetum alopecuroides (Chinese fountain grass) will provide structure, height, and beauty to the space. This grass is a lovely evergreen that turns shades of brown through winter. As well as offering beauty, they can add sound to the space with the whispering of the rustling foliage in the wind. Another benefit is that they can soften harsh landscapes which can help to create a soothing space.
Choose a couple of fragrant plants that can enhance the relaxing nature of the yoga garden. Lavender and rosemary are great for this, because the fragrance of this evergreen can help to relax to feel fully immersed in nature. Similarly, jasmine, and chamomile can be a great backdrop for the garden.
Add structure with larger plants such as Acer palmatum (Japanese maple). These are great for many sized gardens and grow well in containers. With many varieties to choose from, there are a whole host of leaf shapes available. The foliage turns incredible shades or red, purple, orange and gold through the year, helping you to be aware of nature and natural changes and cycles in the world.

There are so many benefits to incorporating water into your garden design. Within meditation gardens, water can help to relax the mind. There's something magical about being near water. The tranquil trickling sound, the cool refreshing feel, and the sight of the water dazzling in the sun, it satisfies all the senses. In addition, the sound of flowing water can hide and drown out exterior sounds of neighbours, traffic, or noise from within your home. This will make your garden a welcome retreat from unwanted commotion.
A birdbath, small bubble fountain, or a water wall won't take up much space but will give you the added dimensions of movement and sound.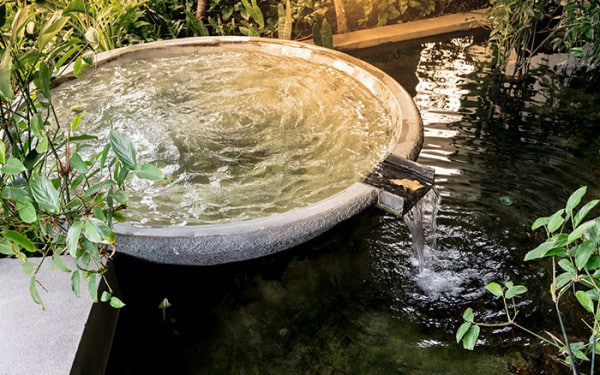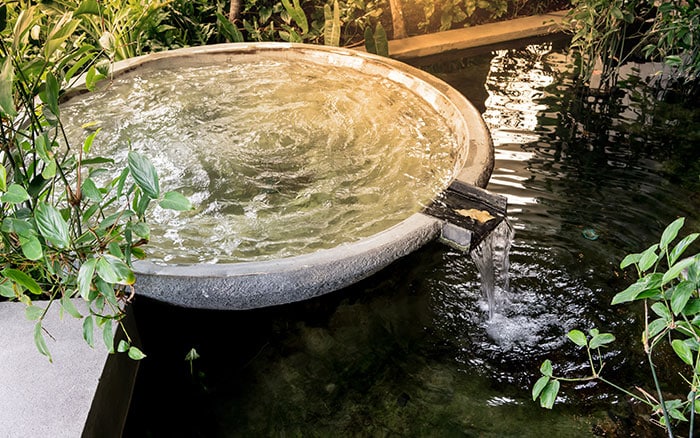 Of course, you want to be able to practice yoga in a quiet and private space which is why it's beneficial to consider how you can create privacy boundaries around your space.
Pleached trees are a great way of getting privacy in the garden whilst not taking up lots of valuable floor space. They're like hedges on stilts and can help to create boundaries.
There are many different trees that can be chosen to adapt to this technique. Some evergreen choices include cherry laurel and magnolia grandiflora. Or go for hornbeam as a deciduous choice.
For other hedging options, you can choose Viburnum opulus (guelder rose) which is a handsome plant with scented white flowers in spring, gorgeous red leafed autumn colour. Following this are bright red berries much loved by birds, so it will attract our flying friends to your garden too.
Similarly, Crataegus monogyna (hawthorn) has prolific white flowers in spring, and delightful red berries during summer. This hedging plant is perfect for anyone wanting bird friendly hedging as it supports more than 150 species of insect which in turn provide rich food for blue tits and wrens. The branches are covered with sharp thorns, making it a safe place for birds to nest in. So you can enjoy the sound of birds singing too.

When it comes to adding soft furnishings or decorating your space, it can be ideal to stick to neutral and pastel shades to reinforce the calming nature of the yoga garden. As well as this, adding elements like boulders, large stones, concrete structures, or statues can help to highlight a feeling of stability and firmness.
With these tips, you can have a relaxing yoga garden. It'll be a space to relax and recharge whilst connecting with nature.
David Domoney is a Chartered Horticulturalist, Broadcaster, and Author. David has worked with a number of the UK's leading garden retailers as a plant buyer and strategic consultant. With more than 30 years experience, in horticulture, David is as passionate about plants now as he was when he bought his first plant at a village fete.