In our ever-growing cities and urban spaces, there are an increasing number of apartments, flats and therefore an increase in rooftop gardens. These spaces can be utilised as productive spaces to grow flowers, fruit, and veg, as well as a place for residents to relax and get access to some green space.
However, these spaces tend to be smaller and more concentrated areas, so it's important to weigh up the purpose of the space and the practicality before getting started.
Firstly, it's ideal to keep the weight of materials at a minimum. So, steer clear of paving the area as this will add lots of weight.
Whatever the weight restrictions on the roof, it's wise to keep them down by choosing plants with shallower roots that only need a small amount of soil.
Also, opting for a lightweight potting soil rather than garden soil will also help to keep the weight down.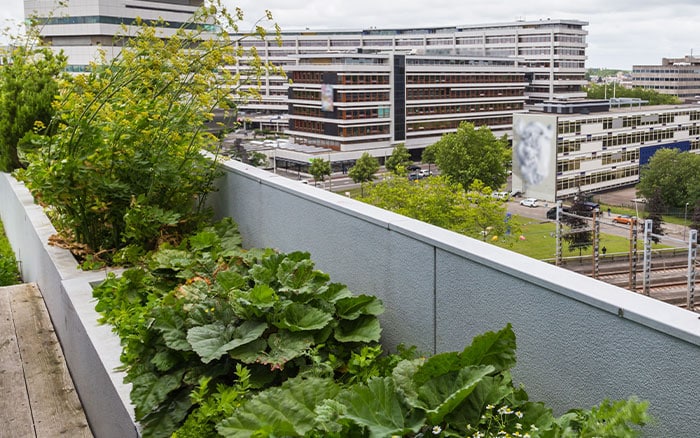 When choosing containers and furnishings, consider lighter materials such as plastic. Having a rooftop container garden is easy. You can use butter packaging, Tupperware, and yoghurt pots as places to plant. So, it doesn't even need to be expensive either.
In addition, rather than adding rocks to the bottom of planters as drainage, choose a lightweight version such as polystyrene trays broken into crocks instead.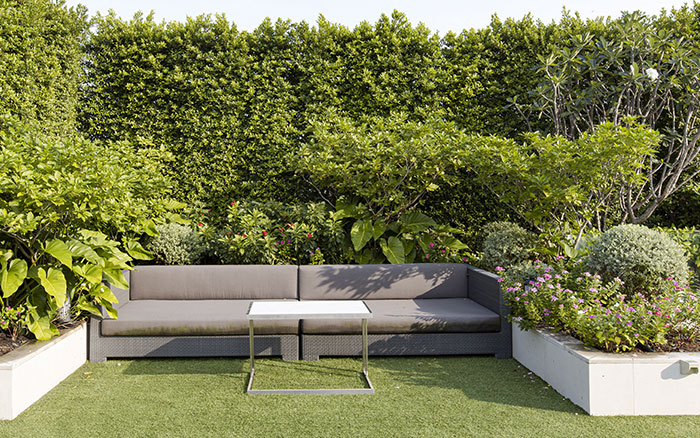 Also, it's important to remember that a rooftop garden will be windier than our gardens on the ground. Consider adding windbreaks to reduce the gusts in the garden.
However, choose trellises and structures that allow some airflow rather than solid windbreaks. Solid windbreaks will be more likely to topple over in strong winds. Bear in mind that any windbreaks need to be securely tied into position.
Another practical consideration is to look at how you will water the garden. Is there a tap and water system already install for convenience, or will water storage need to be added into the design and accommodated in terms of the weight?
Roof gardens can get a lot of sun; therefore, containers can dry out quite quickly. It's important to bear this in mind and ensure the plants are getting the right levels of moisture.
With the spaces typically being small, it's easy for the area to become cluttered when adding furniture, plants, and embellishments. Therefore, stay minimal with materials and colours to create a cosy and accessible place that feels light and airy rather than chock-full.
Planting schemes made up from ferns and ornamental grasses can have a really soft and elegant impact.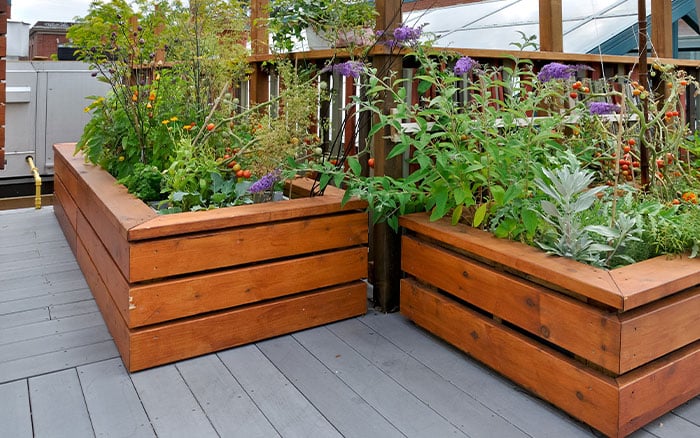 The minimal colouring is a great way of ensuring the space doesn't feel cluttered. When adding flowering plants, choose ones that fit with the style and colouring. For example, plant alliums among ornamental grasses for a burst of purple colouring, texture, and height.
Low-growing plants are also a good option because they will not be as impacted by the wind.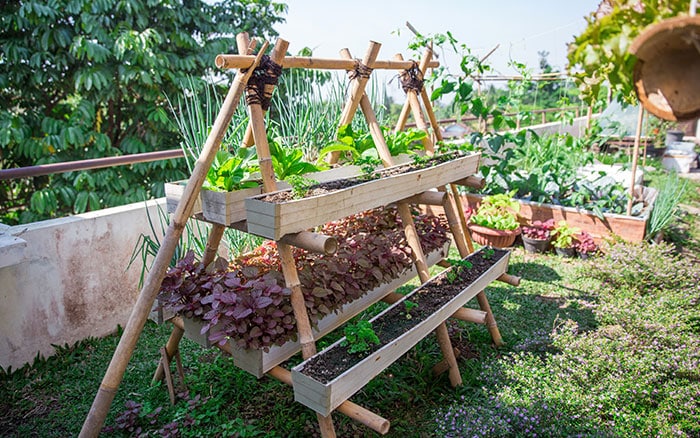 The rooftop garden is also an opportunity for a grow your own area, making it a productive space as well as a pretty one.
Grow a mix of fruits, veg, and herbs and you can have lots of crops to take home to use in your meals. Chillies, tomatoes, salads, beans, radishes, and peppers are just some of the crops you can grow in your rooftop garden.
So, transform your rooftop into a functional and inviting space where you can relax, recharge, and even grow your own goodness.

David Domoney is a Chartered Horticulturalist, Broadcaster, and Author. David has worked with a number of the UK's leading garden retailers as a plant buyer and strategic consultant. With more than 30 years experience, in horticulture, David is as passionate about plants now as he was when he bought his first plant at a village fete.