The credits are now rolling for Season 8 episode 6 of ITV1's Love Your Garden, and for those of you who are still hungry for more, here are my top 5 plants featured in this week's episode.
5. Cirsium 
'Trevor's Blue Wonder'
This spectacular plume thistle certainly caught my eye during filming for episode 6. It is a herbaceous perennial that exhibits striking pink and purple prickly flower heads, which will bloom beautifully from April until August. It prefers moist soil or damp ground and should be planted in a very sunny spot. Pollinators, like bees, love Cirsium plants, which means that having this plant in your garden will make it both beautiful and beneficial to the natural world.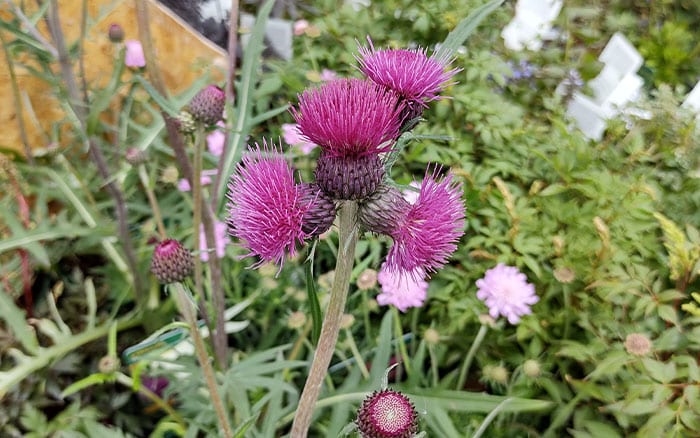 Up next is this stunning bulbous perennial herb, which is a member of the tall clump-forming Caerulea family. The elegant spiked stems give bloom to beautiful star-shaped flowers in shades of violet, moody purple and creamy white, with small yellow pistils at the centre. They make the perfect addition to borders with moist but well-drained soil and exposure to full or partial sun. They also make fantastic cut flowers. With the correct conditions, a successful Camassia can grow to up to an amazing 1.5 metres!
The large heart-shaped evergreen leaves of this plant really set it apart from the others in this episode. Silver like my Granddad's hair, with intersecting bold green veins tracing a pretty pattern across each leaf, this foliage is nothing less than show-stopping. During spring, Brunnera has sprays of minuscule blue flowers, which add to its interest and intrigue. It is superb for use as ground cover in a woodland garden and thrives in the conditions found in natural woodland – that is, full or partial shade in damp, but well-drained soil. Place it beneath the canopy of a tree and keep it well-watered and it'll be happy all year round.
2. Carex testacea
Also known as Orange New Zealand Sedge, this graceful clump-forming grass has narrow arching leaves which are an olive-green in summer and develop into an attractive coppery-orange in winter. It also bares insignificant, but delightful brown or green flowers in mid-summer. This plant grows well in full sun or partial shade and does well in banks, sloped beds, containers and coastal gardens. It is winter hardy and will continue to provide magnificent interest in all seasons. Just be sure to pop it in a sheltered spot as exposure to cold winds can make Carex testacea unhappy.
The winner this week is the beautiful, fragrant Clematis, which stunned everyone with its mass of beautiful bell-shaped flowers and winding stems. The flowers of this plant exhibit a quaint mixture of bright or creamy white petals tinted with a light green. The stamen in the centre can be a mixture of yellow or green and will develop into decorative fluffy seed heads as the flowers die away. The winding stems are accompanied by a distinctive evergreen foliage that thrives beneath the light flowers, making for a perfect colour contrast.
Early flowering, this Clematis produces its first blooms in March when little else is on display. As the name suggests, these blossoms are also scented, so planting near a doorway where the scent can be enjoyed early in the season is a great way to welcome spring. The climbing stems will normally reach between 2.5 and 4 metres and the width is usually around 1-1.5 metres. There is usually no need to prune, although it can be pruned if it spreads beyond your desired boundary.
For best results, plant this drainage-loving Clematis in a gritty well-drained soil in full sun or partial shade. If your soil is not freely draining, layer the planting hole with a couple of inches of horticultural grit from your garden centre before popping the plant in place. This cultivar grows well in containers or cool greenhouses and is generally disease-free, although it may be affected by Clematis Wilt. This is where the leaves suffer from brown spots and eventually die off. Generally, the problem is caused by root stress, to which Clematis plants are very susceptible. Protect them by planting them in deep soil, mulching the roots and keeping them well-watered.
This variety is relatively hardy, but it will benefit from some frost protection in the depths of winter. It also prefers to be in a sheltered spot, where it is not exposed to cold breezes.
It is always difficult to pick my favourite plants from each episode as there are so many amazing varieties to choose from. Here are some fantastic additional plants that featured in episode 6:
Saxifraga 'Alpino Red'
Meaning 'stone-breaker' in Latin, these are small plants with a big impact and work great as ground cover or as part of a rock garden.
A hardy and interesting herbaceous perennial, this plant will grow small clusters of yellow flowers in summer and autumn.
Geum 'Borissi'
A pretty carpet-forming perennial with red flowers and prominent yellow stamens that will bring warm colour to your garden.
A perennial whose leaves change from green to bronze in spring and which bears gorgeous pink and white flowers.
Potentilla verna 'Nana'
This hardy plant is perfect for alpine arrangements, with vivid yellow flowers on refreshing mounds of green foliage.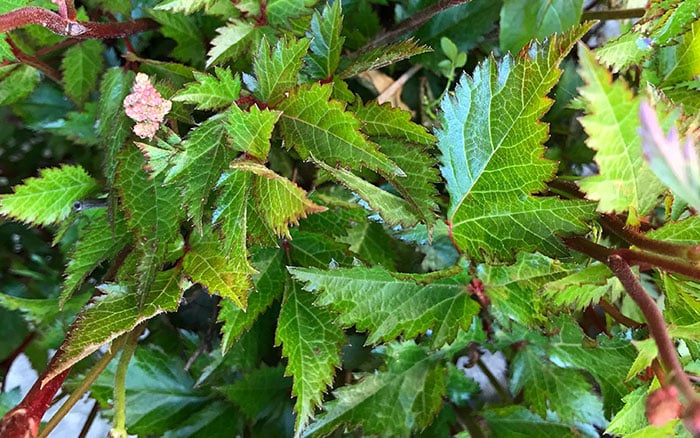 Also known as False Goatsbeard, after the unique appearance of its creamy-white flowers and glossy green foliage.
I hope you've enjoyed this in-depth look at some of my favourite plants from Love Your Garden season 8 episode 6. Tune in to ITV1 each week at 8pm on Tuesdays for the latest episode and come back here for my weekly update on the plants used in each week's show.
I will also be appearing on Facebook Live after certain episodes to discuss some of the plants in detail, share my top horticultural tips and take questions from you, the viewers. Join me again soon for lots more Love Your Garden fun!
For more plants from Love Your Garden, see:
Or check out my Pinterest board for more ideas: