Top 5 fruit to grow in March
There's nothing quite like the taste of fresh fruit especially when you've grown it yourself; not to mention the money saved too. There's a wide range of fruit that can be grown even in the smallest of spaces. Some fruits can be successfully grown amongst your flowers, especially if you buy half or quarter standard fruit bushes such as gooseberry and redcurrant. Here are a few examples of fruit to plant and grow in March, in readiness for a summer bounty.
1. Strawberry 'Cambridge Favourite'
The first fruit to grow are strawberries. There's nothing better than the taste of a juicy, sun warmed strawberry picked fresh from the garden. There are many varieties to choose from; fruiting early, mid, and late season and there are even varieties marketed as perpetual bearing.
If you love the thought of making strawberry jam then this well known, mid-season fruiting berry with delicious flavour is one of the best.
It will crop well on all different types of soil and with a bit of luck you should be picking fruit from your plant this year and many more years to come.
Fruits June to July
Hardy
Grows to 20cm tall and 30cm wide
Fertile, well manured, free draining soil
Full sun
Sheltered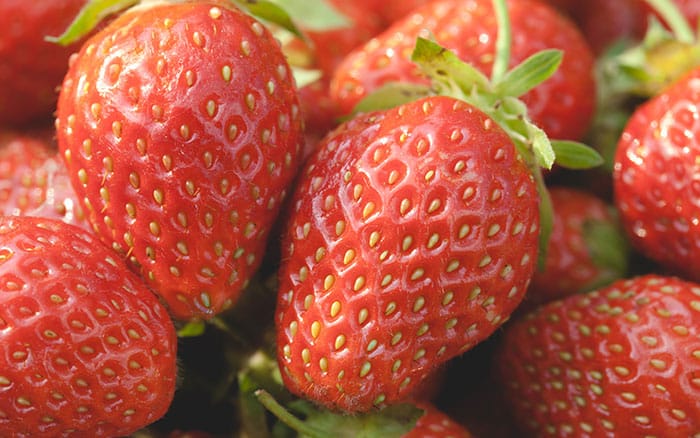 2. Rhubarb 'Timperley Early'
This easy to grow, well-loved perennial is technically a vegetable but known to us all as a fruit. Give it rich soil and plenty of water during the growing season and you'll be rewarded with masses of beautiful deep red tinge stalks.
'Timperley Early' is, as its name suggests, one of the earliest rhubarbs to produce stems for picking. But you'll need to be patient as you shouldn't harvest stems until it's been growing for at least 14 months…well maybe picking one stem won't harm the plant!
The upside is you'll then have plants that will give you fruit for years to come.
Fruits April to May
Hardy
Grows to a height of 140cm tall and 140cm wide
Fertile, well-drained soil
Full sun
Exposed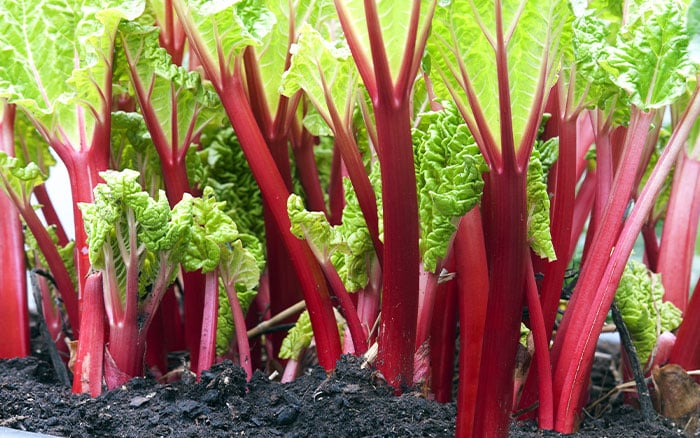 3. Raspberry 'Autumn Bliss'
There are two major types of raspberries: summer and autumn fruiting. The easiest type to grow are the autumn fruiting ones such as 'Autumn Bliss'. Simply cut all the stems down to the ground in early spring and wait for the new canes to grow, flower, and produce fruit at the end of the summer.
This variety is compact, making it a great choice for smaller gardens, but rewards you with heavy crops of large berries starting from August.
Keep the base of the canes weed free, weeding gently because raspberry roots grow very close to the surface.
Fruits August – September
Hardy
Grows to 100cm tall and 40cm wide
Fertile, well-drained soil
Full sun
Sheltered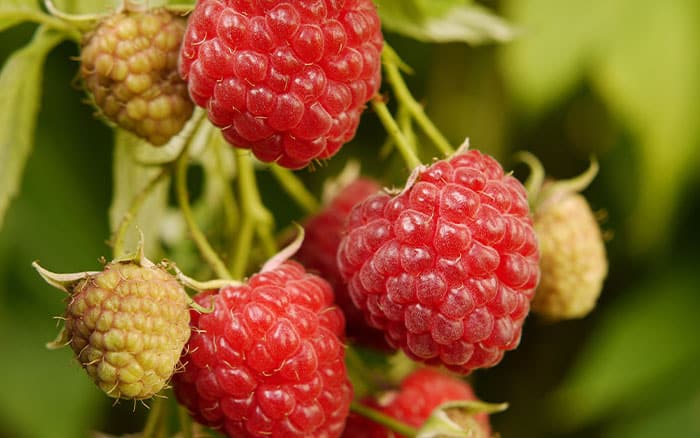 This famous cooking apple has one of the highest vitamin C contents of all the cooking varieties. 'Bramley 20' is a less vigorous variety of the original and so more suitable for the average size garden.
If your space is limited look for it grown on a dwarfing or semi-vigorous root stock. If you plant one now you may be lucky and get some pink flush white blossom this spring.
The tree blossom will need to be pollinated to produce fruit. So, unless you're in a very urban area, there's likely to be other trees within a 3-mile radius for pollinating insects to visit ensuring you get fruit in future years.
Fruit in September
Hardy
Grows to an ultimate height of 250cm tall and 200cm wide
Fertile, well-drained soil
Full sun
Semi-sheltered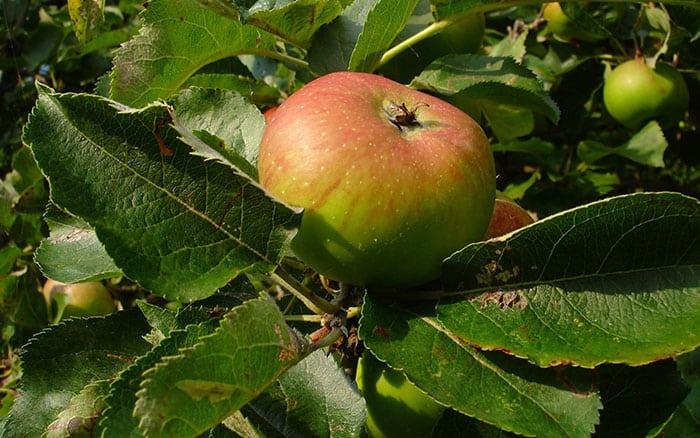 Blueberries have gained the reputation as being the ultimate 'super fruit' due to the high amounts of anthocyanin contained in each berry. They need acidic soil to grow well so, if in doubt, grow in containers in an ericaceous compost and this compact variety is an ideal one for growing in pots.
It produces delicious, unusual teardrop shape fruits, is semi-evergreen and self-fertile. You may have to net the plant to stop the birds taking them, although if you do, ensure the netting is fine enough for birds not to get trapped in it.
Plant now in March and you should have some fruit to pick by mid-summer!
Fruits May to July
Hardy
Grows to 60cm tall and 60cm wide
Fertile, acid to neutral moist, well-drained soil
Full sun
Exposed
Get growing season off to a flying start using this list of fruit to grow in March and you'll have plenty of tasty crops. I'd love to hear what you're growing this month over on Twitter, Instagram, and Facebook.

David Domoney is a Chartered Horticulturalist, Broadcaster, and Author. David has worked with a number of the UK's leading garden retailers as a plant buyer and strategic consultant. With more than 30 years experience, in horticulture, David is as passionate about plants now as he was when he bought his first plant at a village fete.