To truly make the most out of your patio this summer, you need to maintain the space to make it as inviting as possible. Done right, your outside patio will offer opportunities for al fresco dining, garden parties and family gatherings.
To get your patio really looking polished you need to know that material it's paved with, as maintaining each of these surfaces will differ. If the floor is concrete paving, it doesn't tend to last as long as natural stone or porcelain, but is a cost-effective way to pave.
However, I would recommend that all concrete slabs are sealed to protect them from stains and algae—if you're revamping concrete slabs then start with this because it will make your hard work all worth it.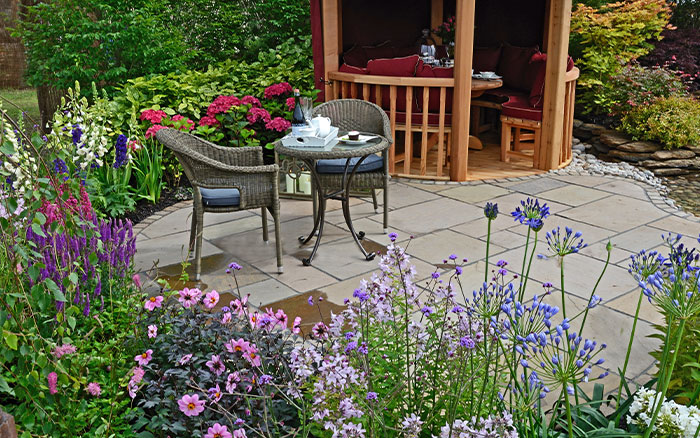 Natural stone will need a jet wash at least twice a year, at the beginning of summer and again at the end of the season. So, if you haven't done so already, give your patio slabs a once over with a powered washer like the Aquajet from Yard Force. This handy garden gadget is also cordless and that makes it easy to get to even the hard to reach areas.
Porcelain tiles are particularly low-maintenance. If you've already got these in place, you can get away with a light sweep just to clear away debris as they are frost and algae resistant. A quick tidy up can make all the difference to maintaining a well-ordered and organised garden patio.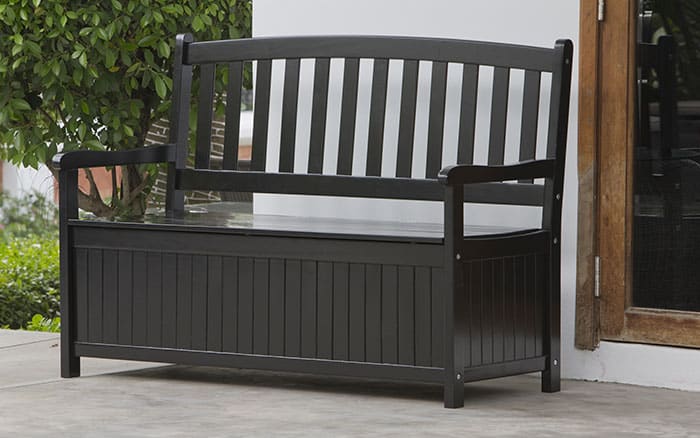 As well as clearing away any fallen leaves that may make the patio look cluttered, you might decide to relocate day-to-day items like rubbish bins, recycling boxes that we sometimes house here so that they're to hand. If you want to balance functionality and form, you might consider a tidy cover for your refuse bins.
These can be delivered to your door flat packed and then you can erect them at home. Simply placed over the bins, the cover will ensure that they are no longer unsightly or needing to be tucked away.
A deck box is really handy for storing all manner of garden tools and accessories. The other benefit is that they provide additional seating once paired with some cushions. Inside you can store your garden hose, tools, and outside furniture accessories so that they are accessible but not out on display.
Clearing shelves and surfaces free of clutter and storing them safely away keeps this outside space as one to relax and socialise in, but also protects your gadgets from weather damage.
A really simple way to keep your patio a place for relaxation is to accessorise it to make it feel homey. If you're dusting off garden furniture for the first time this year, household dish detergent can be used to clean over wooden and wicker furniture of all dust and grime that's collected over time.
Your guests will feel more relaxed and comfortable if part of your summer spruce involves adding some style and flair.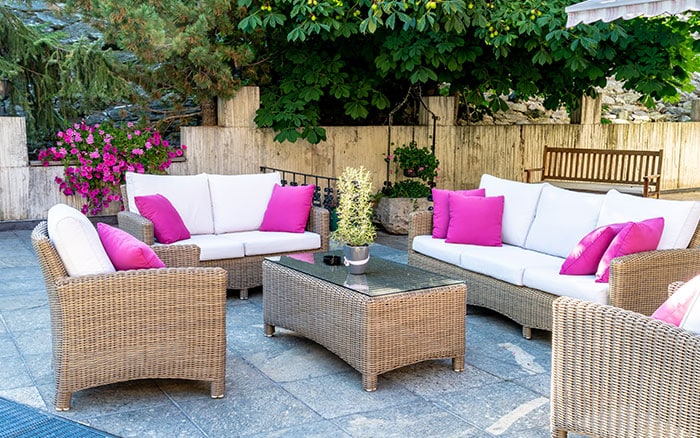 Avid gardeners tend to spend a lot of time carefully positioning and tending to plants in order to enjoy their ornamental value, but the spaces in which we sit back to enjoy our garden are just as important.
You really don't have to spend too much money when revamping your patio with a new summer look. Brightly coloured cushions, blankets and a parasol will really set the tone and you can colour coordinate your flowerpots by painting them in colours that match your décor.
Plus, the kids will really enjoy getting stuck in with this task as well. Find yourself some acrylic craft paint, preferably for external use, and put the whole family to work.
To seal, get yourself a sprayable acyclic sealant for ease and give yourself plenty of time so there's no time pressure for it to dry before planting up.
Patio maintenance comes is many little things that add up to a big difference. It's all about keeping the space useable and inviting for the family and for visiting friends. After all, the garden is supposed to be enjoyed and your patio is the perfect place to do just that.

David Domoney is a Chartered Horticulturalist, Broadcaster, and Author. David has worked with a number of the UK's leading garden retailers as a plant buyer and strategic consultant. With more than 30 years experience, in horticulture, David is as passionate about plants now as he was when he bought his first plant at a village fete.