While we are out in the garden making the most of our green spaces in the summer sun, our eyes can't help but dart over to our tired-looking garden bench. You can make sprucing up your bench a fun summer project and here's how.
Whether made of iron, stone or wooden, there's a quick fix to get your bench looking its best.
Wooden garden furniture will naturally age to a silvery grey colour. A lick of paint or oil will give it a new lease of life and help protect it come the winter too.
Start by cleaning it down by removing all cobwebs, dirt and dust. Any weathered patches can be lightly sanded and then you will want to clean it using a bucket of soapy water.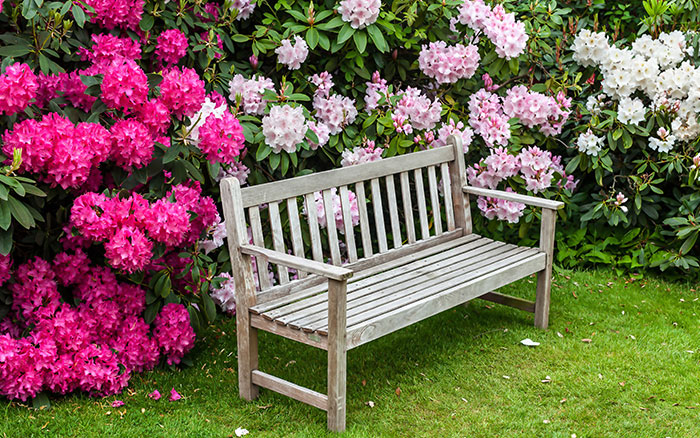 Finally, some good quality teak oil will really brighten up the look of your hardwood furniture and help to shield it from the elements. Apply the oil by using a rag and rubbing it in gently whilst following the grain. Follow the instructions on the pack. More often than not, you can add more than one coat for a deeper finish—just ensure the first coat dries before you apply the next.

Though your wrought iron furniture can live outside year-round, they are prone to rust. Gently rub off any rust by using a wire wool pad and then scrub it down with soapy water to remove any residue.
Once it's dried and sanded sufficiently, you can begin to refresh the paintwork so that it looks tiptop—and what a difference a fresh coat of paint can do.
Exterior-grade enamel paint can work just fine for such a job, but you can buy specialist paint which is applied directly to the rust to create a tough barrier that helps repel moisture. This will help to prevent rust build-up in the future. Now's an opportunity for you to play around with paint colours as well. A fresh forest-green shade may be just the thing to revamp your furniture into wrought-iron reverie, so try something new to lift the look of your patio.
A stone garden bench can look really striking, but you may find with time that it begins to look weathered. Giving it a quick once over is fairly straightforward and can make a marvellous difference.
You want to rinse down your stone bench until it is thoroughly wet as this will prevent it from reabsorbing any residue which may be leftover.

Take a scrubbing brush and, using a pH-neutral detergent, work over the surface removing stains as you go.
Brushing in a circular pattern will help to breakdown lichens, moss, or algae that are growing on the surface. They naturally appear over time but you can buy special algae-removing solutions which will help remove them with very little elbow grease—this one is water-based so it's safe to use on a multitude of stone surfaces.
Garden furniture gives us a great opportunity to spend quality time in our gardens. So, for a bench that beckons you to rest your bones, keep on top of these easy restoration tips and you can sit and watch your garden grow.

David Domoney is a Chartered Horticulturalist, Broadcaster, and Author. David has worked with a number of the UK's leading garden retailers as a plant buyer and strategic consultant. With more than 30 years experience, in horticulture, David is as passionate about plants now as he was when he bought his first plant at a village fete.