Celebrate the first day of spring coming up this month by planting a selection of spring beauties to brighten the dullest of days. Use colourful, or delightfully scented flowers, from my following list of the top ten for this month.
1. Camellia 'Water Lily' (Camellia)
Evergreen camellias are wonderful shrubs with shiny leaves and a mass of colourful spring flowers.  'Water Lily' is no exception with its deep pink, double, highly scented flowers.  It's best planted in front of a wall to protect it from the harsh elements and do make sure the soil around it stays reliably moist as dry roots in the summer can adversely affect its flowering the following year.  If your soil is too alkaline it will happily grow in a container filled with ericaceous compost and should ideally be watered with rainwater as tap water is generally alkaline.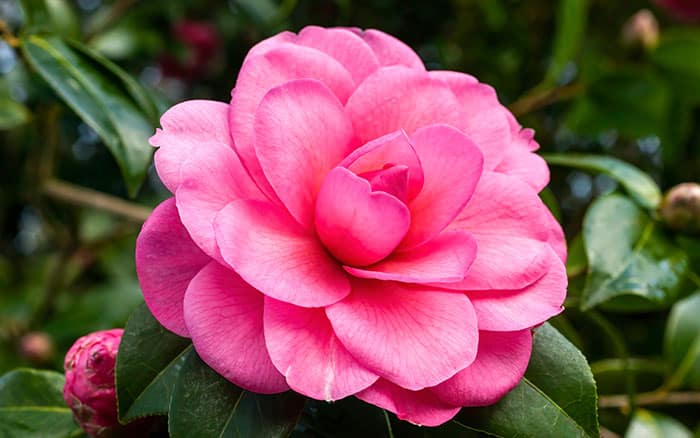 Flowers March to May
Hardy
Grows to 600cm tall and 300cm wide
Acidic soil
Full sun to dappled shade
Sheltered
2. Daphne mezereum (Daphne)
The joy of this plant is that its pretty, violet, lilac-pink flowers appear as early as February and is one of the earliest daphnes to flower.  The scent is exquisitely sweet, making it a delightful cut flower.  Although classed as a shade-loving woodland plant, it will grow well in full sun as long as the roots stay moist, but not water-logged.

Flowers March to April
Hardy
Grows to 150cm tall and 150cm wide
Well drained, light, sandy soil
Dappled shade to full sun
Exposed
3. Pulmonaria rubra 'Bowles Red' (Lungwort)
There are many different coloured flowering cultivars of this earliest of spring flowering perennials.  Sprays of funnel-shaped coral-red flowers appear on plain-green leaves of this low growing, easy to grow, evergreen plant from March until April.  Plant towards the front of the border to best appreciate the lovely flowers.

Flowers March to April
Hardy
Grows to 30cm tall and 30cm wide
Well drained soil that stays moist
Sun to shade
Exposed
4. Magnolia stellata (Magnolia)
This is the ideal shrub to grow if you love magnolias but only have a small garden.  Its flowers are beautiful, and star shaped, with a slight perfume.  They're pure white and appear very early in the spring, again before the leaves.  Plant in a sheltered spot to give it protection from strong winds and frost.

Flowers March to April
Hardy
Grows to 300cm tall and 400cm wide
Likes heavy moisture retentive soils that don't become waterlogged
Full sun to dappled shade
Sheltered
5. Fritillary meleagris (Snake's head fritillary)
The nodding, bell-shaped flowers on these hardy bulbs are beautifully marked with shades of purple, plum and pink on a white base creating an unusual, checked pattern.  They naturalise well in grass, creating delightful colonies and are ideally suited for a wildlife garden.

Flowers March to May
Hardy
Grows to 30cm tall and 10cm wide
Free-draining, moist soil
Full sun to semi shade
Exposed
6. Omphalodes verna Alba (Navelwort)
Navelwort are trouble free, easy to grow, ground-cover perennial plants, ideal for shadier parts of the garden, with the added bonus of pretty star-shape, small flowers in early spring.  This cultivar produces bright white flowers which really stand out in shade and grows well in most soil types.

Flowers March to May
Hardy
Grows to 15cm tall and 45cm wide
Well drained soil
Shade to part shade
Exposed
7. Bergenia 'Eroica' (Elephant's ears)
These tough, evergreen plants are fantastic for suppressing weeds and perfect for edging a border.  'Eroica' is taller than most other elephant's ears cultivars, producing sprays of rich, deep-pink flowers on red stems from late winter until late spring.  The handsome, deep green leaves turn a deep red during the autumn and winter months.  To keep plants looking good remove older leaves as they die back and divide when woody growth appears in the centre.

Flowers March to May
Hardy
Grows to 45cm tall and 30cm wide
Well drained soil
Full sun to shade
Exposed
8. Hamamelis x intermedia 'Diane' (Witch hazel)
Other scented delights at this time of year are witch hazels; deciduous shrubs, many of which produce scented flowers between late winter and early spring before the leaves appear. 'Diane' delights with clusters of scented copper-red flowers and, in the autumn, its bright green leaves brighten the garden as they turn shades of orange, red and yellow. Plant close to a path to fully appreciate the scented flowers.

Flowers March to April
Hardy
Grows to 400cm tall and 400cm wide
Acidic well drained soil
Full sun to part shade
Exposed
9. Hyacinthus orientalis 'Woodstock' (Hyacinth)
Few can resist the charm of a heavily scented hyacinth and this cultivar is no exception with its gorgeous, fragrant dark, maroon-purple flowers.  Planted en-masse towards the front of a spring flower border, it looks and smells magnificent.

Flowers March to May
Hardy
Grows to 30cm tall and 15cm wide
Will grow in most well-drained soil types
Full sun to part shade
Exposed
10. Cornus mas (Cornelian cherry)
This is another easy to grow shrub with spring flowers and colourful autumn leaves.  Small, pretty, bright yellow flowers appear in early spring, before the leaves, dotted all along the stems.  Come autumn the leaves turn handsome shades of reddish-purple and small, bright, red, edible fruits make an appearance.

Flowers January to March
Hardy
Grows to 500cm tall and 500cm wide
Most well-drained soil types
Full sun to part shade
Exposed
Get ready for a bright and colourful garden this March with my top ten plants.
David Domoney is a Chartered Horticulturalist, Broadcaster, and Author. David has worked with a number of the UK's leading garden retailers as a plant buyer and strategic consultant. With more than 30 years experience, in horticulture, David is as passionate about plants now as he was when he bought his first plant at a village fete.