The addition of decorative stones can emphasise the natural feeling of your garden, and depending on the style, colour, and where they're used there is an option for any garden design.
Large pebbles are a low maintenance and attractive option. They may not be the most practical for walking on, but they can look great at the base of a tree or as edging between areas in your garden.
Slate gravel can be a classic choice for a contemporary garden where the dark tones can contrast with the soft elegance of the foliage of your plants. When paired with lighter paving, this can have a really eye-catching and sophisticated effect.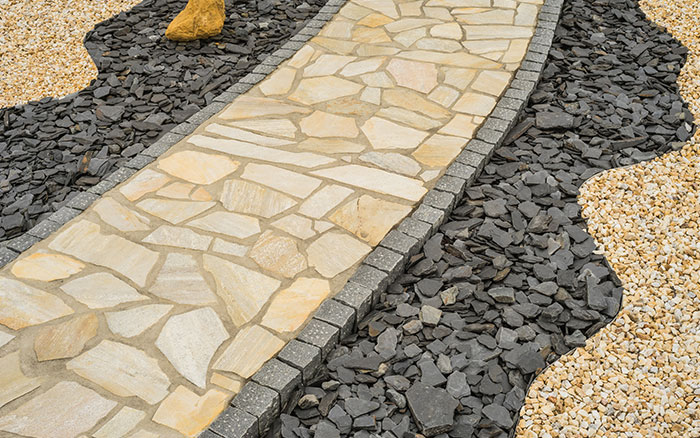 Similarly, create a cohesive design by colour co-ordinating the stones with the rest of your garden. For example, if you have created raised beds or retaining walls with grey walling, add grey stones to the base for a seamless design through the space.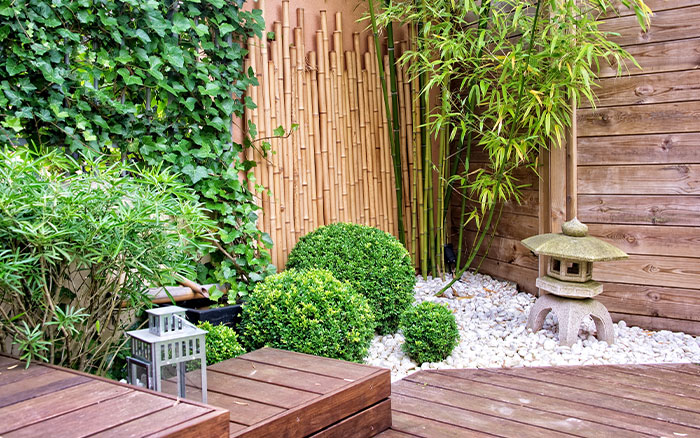 To achieve a zen atmosphere, bright white stones will deliver. The colour adds an air of peace and tranquillity, so your garden is more of a relaxing space. Then embellish with statues or structures to fit the theme.
Either on the stones or nearby, add a water feature so the light colouring is complemented by the soothing and serene sound of trickling water for the full zen experience.
Why just choose one type of stone? Instead, you can mix and match types and tones to accentuate the different shapes in your garden. Create meandering pathways with white stones with larger black stones within to create a steppingstone effect.
Utilise different textures within your garden to create an impact. For example, contrast smooth stones with spiky plants such as Festuca glauca (blue fescue) or Phormium (New Zealand flax).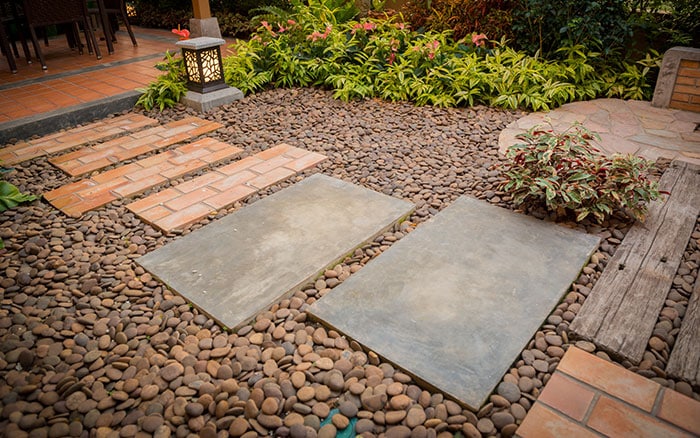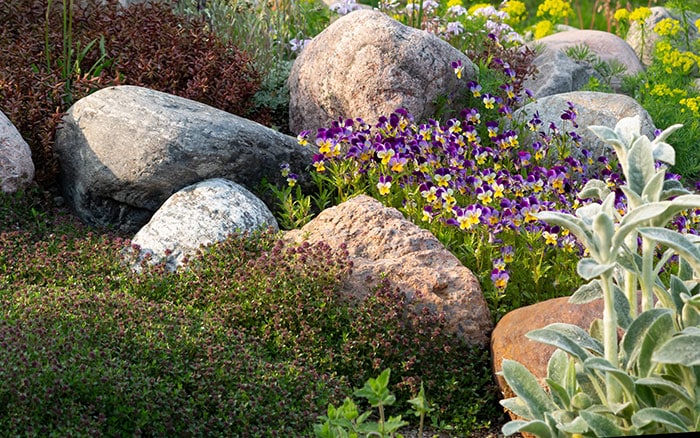 You can even build a rockery in your garden to fill with low maintenance plants that won't demand much. To create a rockery you'll need plenty of grit and sand to aid drainage.
The selection of plants can then be finished with the boulder features that are available in many shapes and sizes. Choosing different varieties will create a dramatic look, whilst adding height and interest to the space. You can find out more about creating an alpine rockery feature here.
Adding decorative stones to your garden design can give a finishing touch to the area to complete your garden look. By opting for colours, styles, and sizes to match your garden style, they can create quite the impact.

David Domoney is a Chartered Horticulturalist, Broadcaster, and Author. David has worked with a number of the UK's leading garden retailers as a plant buyer and strategic consultant. With more than 30 years experience, in horticulture, David is as passionate about plants now as he was when he bought his first plant at a village fete.