Revamp your winter planters with seasonal stunners this Christmas. It's a great way to make the garden more festive. Plus seasonal pots make great gifts too!
There are plenty of plants that look their best right now, so there is no excuse for bare and boring containers.
Christmas container
Set the tone with a great plant pot. You can buy plastic or ceramic pots in red or white to make perfect presents, or simply jazz up your existing containers.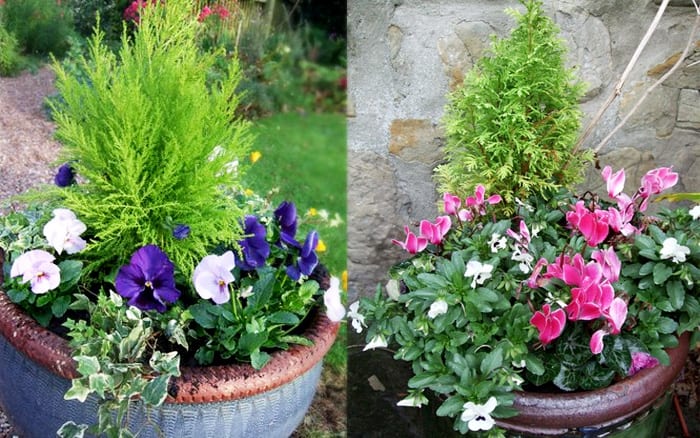 Paint wood and terracotta pots to give them a lift. Or wrap them in beads, tinsel or big bows for a glittering effect.
Prepare the pot
Just remember to check there are plenty of drainage holes. Waterlogged roots is the number one reason that container plants die in winter. Make extra holes if necessary, and fill the bottom with stones or broken pottery.
Add peat-free compost until the pot is about half full.
Pick the plants
I tend to choose one structural evergreen plant as a centrepiece for containers in winter. Try a dwarf conifer like Ellwood's Gold or Picea albertiana 'Conica'. They look like mini Christmas trees! You can even decorate them.
Then add some seasonal colour around the outside. Gaultheria, sometimes called pernettya, is a good choice for its rich red berries. For flowers, try cyclamen, winter heather or winter-flowering pansies.
You can also add trailing plants like ivy around the edges to make the container feel like it is overflowing.
Now water everything in. You may need to top up the soil a bit, but leave an inch between the soil surface and the container lip. This ensures that it doesn't overflow every time you water it.
Hopefully this has inspired you to plant up your winter planters. I'd love to see your finished containers, so send me photos on Facebook, Instagram and Twitter.
David Domoney is a Chartered Horticulturalist, Broadcaster, and Author. David has worked with a number of the UK's leading garden retailers as a plant buyer and strategic consultant. With more than 30 years experience, in horticulture, David is as passionate about plants now as he was when he bought his first plant at a village fete.