December is the time of the year when several large gardens and parks around the country offer 'Winter Wonderland' experiences, full of atmosphere and seasonal sparkle. They're magical places to visit and there's no reason why you can't create your own personal winter wonderland style garden. So, here are a few suggestions on how to easily achieve that.
Start by planting a selection of different size evergreens to create a backdrop to maximise the winter wonderland experience. Evergreen plants will provide year-round interest as well as the structural elements to the garden area.
An evergreen hedge such as yew makes a fantastic dark backdrop to start to create your magical space. But, if you don't have an existing hedge, not to worry. Instead, plant upright columnar clusters of Irish yew in close groups to provide contrast for lighter colour plants placed in front of the dark leaved evergreens.
Contrary to common belief, yew plants grow quickly when they're young which makes this a cost-effective way to create your dark background.
Include a selection of evergreen plants of different shapes and sizes to create year-round interest, but also add to the atmosphere of the winter wonderland. Viburnum tinus will grow tall and wide.
Pittosporums are easy to maintain evergreens that grow well in shade. Cultivars such as the dark green leaved 'Golf Ball' will grow in a neat mounded shape. So does 'Irene Paterson' which, by contrast, has bright white speckled leaves.
Adding evergreen topiary plants is a great idea as they look stunningly sculptural when coated with a light dusting of frost or snow.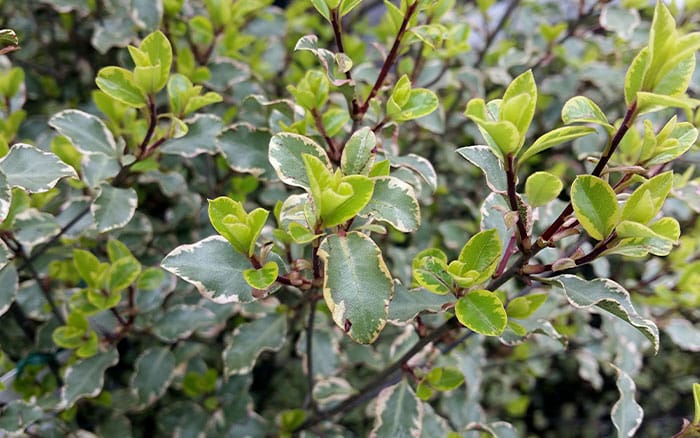 If you're looking for a real silvery, white Narnia effect then your first choice has to be the wonderful, tall growing, silvery blue needle Cedrus atlantica (blue atlas cedar) 'Glauca'.
For the ultimate theatre, consider adding the weeping variety, Cedrus atlantica 'Glauca Pendula'. Using this at either side of the entrance to your winter wonderland garden area, means you can push aside the hanging silvery branches to reveal and enter into your magical creation.
For slower growing, mid-size silver blue leaf conifers, Picea pungens (Colorado blue spruce trees) are a great choice.

Once you have your evergreen backdrop, think about adding contrasting deciduous trees with coloured bark for winter interest. These trees can be used to hang lanterns and sparkly ornaments.
Multi-stem trees look particularly effective as their side branches start from ground level.
There are many cultivars of birch trees with different coloured bark.  For white stems, choose Betula utilis var jacquemontii. Or a more subtle, soft cream bark, choose ermannii.
For contrasting dark coppery tones, Acer griseum (paperbark maple), has a wonderful winter look. It has peeling, light brown copper bark. Prunus serrula (Tibetan cherry) also has peeling bark revealing a wonderful, shiny, polished bronze covering which becomes shinier the more it's touched.
To achieve mid-level interest during the winter months you can't beat coloured stem dogwoods. There are a number of different coloured stem cultivars available. There's the bright red stems of Cornus 'Baton Rouge' or the fiery orange of 'Anny's Winter Orange'. Then, there's the deep, dark, almost black stems of 'Kesselringii'. They are also very easy to grow and maintain and a great choice for this type of garden.
There are several ground-level plants to line the edge of paths and borders. The deep, dark, strap-like leaves of the 'black grass' Ophiopogon planiscapus 'Nigrescens' look fantastic planted under and around white stem birch trees.
Bulbs such as snowdrops will add the ultimate, atmospheric, snowy carpet. Then, white flowering hellebore plants will extend the flowering season into early spring.

Adding a feature such as a decorated shed can not only give you somewhere to shelter in if the weather is bad but can also be a beautiful focal point in your winter wonderland. Especially if it's decorated with outdoor lights and lanterns.
Lighting is the ultimate atmosphere creator, especially when the night draws in early during winter months.
There are many different types of outdoor lighting available now. From plug and play sets on spikes to light the bottom of trees, to simple solar strands which can be draped over shrubs, tree branches and outdoor features.
Solar lights on spikes can also be used to outline and light up a meandering, magical pathway around the garden.
Follow these simple tips and you should end up with a winter wonderland style garden to enjoy throughout the colder seasons to draw you outside, or appreciate from the comfort of an armchair with a nice hot drink.
David Domoney is a Chartered Horticulturalist, Broadcaster, and Author. David has worked with a number of the UK's leading garden retailers as a plant buyer and strategic consultant. With more than 30 years experience, in horticulture, David is as passionate about plants now as he was when he bought his first plant at a village fete.