Garden lighting is becoming more and more popular – and it's glaringly obvious why.
Products and technology have advanced so far that you can create stunning effects with very little effort and without breaking the bank. Illuminations can provide some amazing effects, especially with mood lighting, and help pick out individual plants, borders and shrubs. Some options will even extend the hours you can enjoy your garden.
Professional designers increasingly see lighting as equally important as where to put flower beds, lawns, patios and other features. It has become a big part of the garden mix. The other advantage is for security purposes. Decent outdoor lights will generally discourage most opportunist burglars and even garden pests.
Solar solutions
Solar lighting is more and more popular. It is easy to install, doesn't need wiring and will power itself from the sun. Plus it is fairly robust. These are relatively cheap from supermarkets or garage forecourts and are great fun to use for barbecues or garden parties. The downside is they won't give you a huge amount of light and they have a short lifespan.
I have also seen some fantastic solar-powered fairy lights that can be used to add a bit of mood lighting or bring out the contours in trees and shrubs. The alternative is mains electric lights. You can buy these from DIY stores and wire them in yourself, though it will be safer to hire a qualified electrician.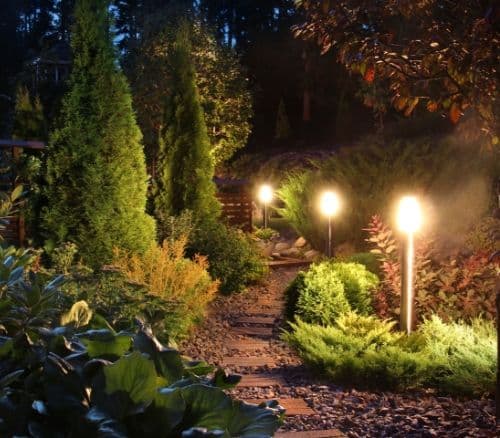 Dramatic impact

These fittings are pricier but they are a lot more permanent and the effects can be quite dramatic. Uplighters can be used to pick out individual shrubs and trees and give a variety of effects. They work well on steps and patios and can be embedded into decking. If you angle them to shine across a path, the effect can be stunning. Borders can also benefit from these. Shop around for the size, style and price tag that suits you best.
Moonlighting is another popular option. Choose a tall tree and angle the lights to shine down into the garden. It will light the ground beneath beautifully. And with certain types of foliage it will look like moonlight. Beautiful. You can find lighting that changes hue and there is a range of coloured bulbs, so be creative.
Light the way
Pathways, pergolas and gazebos all make great candidates for a bit of colour. Then of course there are practical lights for around patios and for security on gates, sheds and doors. These are also useful for working outside when it is dark, so look for a model with a switch as well as a movement sensor.
Security will be improved too. You need a timer and sensor to ensure you are not woken up every time a fox walks across the lawn. Angle and set the lights to come on only when there is a sizeable intruder in the garden. I would love to see some of your creative garden lighting ideas.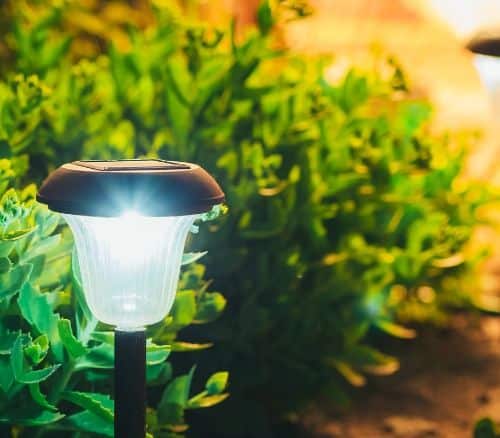 David Domoney is a Chartered Horticulturalist, Broadcaster, and Author. David has worked with a number of the UK's leading garden retailers as a plant buyer and strategic consultant. With more than 30 years experience, in horticulture, David is as passionate about plants now as he was when he bought his first plant at a village fete.