Fast-growing shrubs provide a hit of 'instant' impact in the garden, perfect for filling space while slower-growing varieties get established.
If you're looking to plug some gaps in your existing garden, or you're starting your garden from scratch, the following shrubs will put on plenty of vigorous growth to fill bare corners quickly with their lush leaves and beautiful flowers.
These options are fast growing and full of colour so there will be minimal waiting time between planting and enjoying their beautiful displays. Plus, many of them are really easy to grow and suit many soil types and positions, so are perfect for beginners.
Top ten fast-growing shrubs
Spirea japonica
(Japanese spirea)
Spirea japonica is a bushy deciduous shrub whose stems produce clusters of delicate pink flowers in summer. Fairly fuss-free, this shrub is happy in a sheltered or exposed spot, in almost any soil type, and will grow well in either full sun or partial shade. For fantastic colour changes year-round, look for the variety 'Firelight' which has red and bronze-tinged leaves in spring, turning a sensational and seasonal green colour in summer and red-purple in autumn.
Hydrangea macrophylla
(hydrangea)
Hydrangeas can be deciduous shrubs, evergreen shrubs or self-clinging climbers. Their displays are full of showy flowers and bring wonderful autumn interest to a garden. Most prefer a sheltered spot in partial shade, but they will tolerate almost any soil type and can grow in full sun if the soil is kept moist. Look for the cultivar 'Enziandom', whose mop head flowers are sapphire blue in acidic soils, cerise pink in alkaline, and whose leaves turn red-brown in autumn.
Ribes sanguineum
(flowering currant)
Ribes sanguineum is a fantastic fast-growing shrub for instant impact in the garden. It's a deciduous plant usually with hot pink tubular or bell-shaped flowers in spring that are sometimes followed by colourful berries. Grow in sheltered or exposed spots in any type of soil, ensuring the place you have chosen gets plenty of sun. I really like the variety 'Pulborough Scarlet' for its aromatic leaves, deep crimson flowers, and beautiful blue-black berries.
Forsythia
(forsythia)
This striking fast-growing shrub has woody branches and profuse sunshine-yellow blossom in spring, borne before leaves appear in summer. Like currants, most Forsythia varieties will grow under any conditions as long as they are in a sunny location. They make for great hedging or feature plants and give your garden real colour punch when in bloom. Herald the arrival of spring with 'Spring Glory', which bursts into plentiful flowers alongside the daffodils in early spring.
Mahonia x media
(Oregon grape)
Mahonia is generally an evergreen shrub with deep green glossy leaves and wonderfully contrasting sprays of fragrant yellow flowers in spring, occasionally followed by clusters of black or purple berries. Completely unfussy, mahonias grow happily whether sheltered or exposed, in any soil type, and in sunny or partially shaded spots. Watch out for my favourite variety 'Charity' which can grow up to four metres tall, with striking cup shaped flowers borne in long racemes in autumn and winter – bringing you a splash of sunny yellow over the colder months.
Buddleja davidii
(buddleja)
Buddleja davidii (commonly known as 'the butterfly bush') is a fantastically fast-growing deciduous shrub, which is brilliant for adding masses of colour, scent and wildlife to your garden. The classic Buddleja bears long cones of purple flowers in summer that bees and butterflies love. It is delightfully easy-going, growing well whether sheltered or exposed, in any type of soil and in full sun or partial shade. While there are varieties of Buddleja available in white and gold, you can't go wrong with the cultivar 'Panache', whose deep purple blossoms will charm humans and insects alike.
Photinia
(Christmas berry)
Photinia is a quick-growing evergreen shrub that's great for creating privacy as a hedge or serving as a standout border feature. The young leaves sprout rich red in spring, providing an amazing contrast against more mature deep green foliage. Its sparse white flowers in spring are usually followed by red berries. Photinia shrubs prefer a sheltered position but will tolerate almost any soil and grow well in full sun or partial shade. For a Photinia that performs well in UK gardens, look for 'Red Robin'.
Cornus alba
(dogwood)
Cornus alba is a fantastic fast-growing deciduous shrub that is very versatile in the garden. It is usually grown for its vibrant displays of bare stems in vibrant yellow, orange or red during winter. It has pale green leaves throughout the summer and flat white flower heads in spring. Happy under most conditions, Dogwood spurns only chalky, alkaline soils. The cultivar 'Sibirica' has attractive red stems year-round, turning bright crimson in winter, with white flowers and green foliage in spring and summer.
Philadelphus
(mock orange)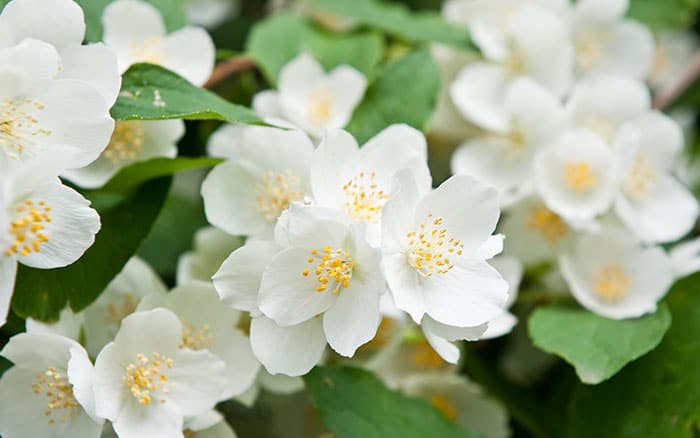 These scented shrubs offer a spectacle of foaming, white, cup-shaped flowers from early summer. Tolerant of most soil types if they are well-drained, ideally positioned in full sun or partial shade is best as they are well suited to a woodland setting. Philadelphus 'Beauclerk' is a medium sized shrub with single white flowers that bloom in summer with a purplish tinge near the centre, growing up to 2.5 metres, it's a beautiful choice for a low maintenance garden.
Pyracantha
(firethorn)
Pyracantha is an evergreen shrub with unassuming cabbage-green leaves and corymbs of white flowers in the warmer months. It is often chosen for its magnificent displays of red, yellow or orange berries in autumn or winter, giving your garden real colour 'pop' when other plants may be dying down. An extremely hardy plant, Pyracantha flourishes whether sheltered or exposed, in full sun or partial shade, and in any soil type. Choose the variety 'Cadange' for a hit of sprightly orange berries in the winter months.
Want more low-maintenance plant ideas? Check out this blog:
Or check out my Pinterest board for more ideas: