The epitome of English countryside, cottage gardens are a relaxed and informal style. With an emphasis on wild planting schemes and quaint pathways and fencing.
They work perfectly in small spaces as well as large ones and are great for unusually shaped gardens. A classic cottage garden will surround the house from front to back, with plants spilling over walls and fencing and onto pathways.
Looking Back
In the past, cottage gardens have been reserved for quaint countryside dwellings. But their popularity in recent years has led to a surge of the style being implemented to complement any style of house. Even the incredibly sleek and modern ones.
The plants found in a cottage garden will be an invasion on the senses. Strongly fragrant and vibrantly coloured blooms will tangle together amongst lush green foliage. Whilst bees can be regularly found bumbling busily amongst the vast array of nectar-rich plants.
No cottage garden would be complete without an English rose or two. Preferably a climbing or rambling, strongly fragrant variety such as 'Madame Alfred Carrière'.

Go for a romantic creamy white, red, or pink when choosing a rose. And feel free to add more than one plant. Letting them tumble over walls and fences and plugging any gaps in your beds and borders.
Some other plants that will look right at home in a cottage garden include:
Foxglove: The tall unmistakable stems of foxglove with their speckled bell-shaped flowers are a delight for the bees. And look especially striking rising from the foliage below.
Lupins: Lupins are well-known for their spectacular flower spires that bring wonderful height and a huge variety of colours to your beds and borders.

Hollyhock: pretty funnel shaped flowers appear amongst the jumbled foliage of hollyhock, which can be found in lots of colours to suit any planting scheme.
Wisteria: perfect for pergolas and archways, the luxuriously draping habit of wisteria is a fantastic feature in a cottage garden.
Peonies: the romantic peony is a classic cottage garden plant that offers beautiful double blooms in white, pink or red.
Sweet peas: the frilly flowers of sweet pea are wonderful for adding lots of colour and fragrance and will scramble up pea sticks or other supports.
Traditionally, the small amount of land surrounding a house or cottage was used as a functional growing space to cultivate produce for the family who live there. This meant the gardens were often enclosed and divided by pathways and fences.
Today, the style is replicated using curving stone or gravel pathways to divide borders from each other and any small patches of lawn.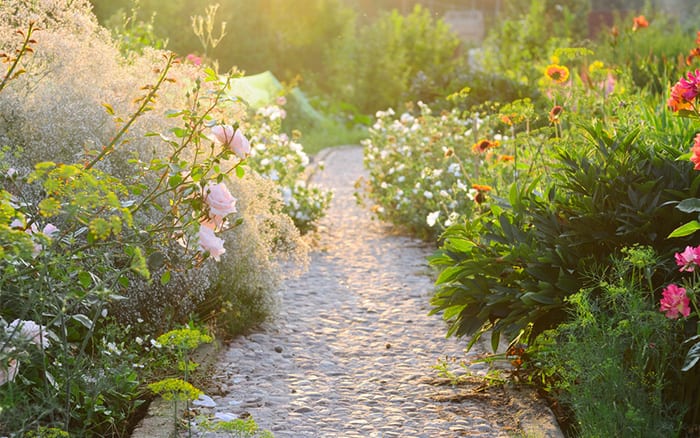 Removing the lawn entirely in favour of more flower beds is definitely one way to go. But if you have a larger space you might want to keep some lawn sections in one piece. Just be sure to break up any large sections with planting and pathways.
Alternatives
You can always try lawn alternatives such as chamomile or creeping thyme to enhance the cottage look and bring extra fragrance.
Step On
Steppingstones are a great way to add some cottage charm to your lawn and join up different areas of the garden.
Always plant close to the path or lawn, with unruly, fragrant plants like lavender spilling over and softening the edges.
Border planting
To help fill your borders, try mixing fruit and vegetable plants such as redcurrants, rhubarb, and gooseberries. Peas, beans, and cabbages also work well inter-planted amongst your flowers.
As cottage gardens are often fairly small, the style of fence you choose will have a big impact on the look of the entire garden. Try a pretty picket fence or a trellis drenched in climbers.
Rustic stone walls are also a good choice but again, just remember to embellish with pretty climbing plants, or perhaps a fan-trained or apple or pear espalier fruit tree.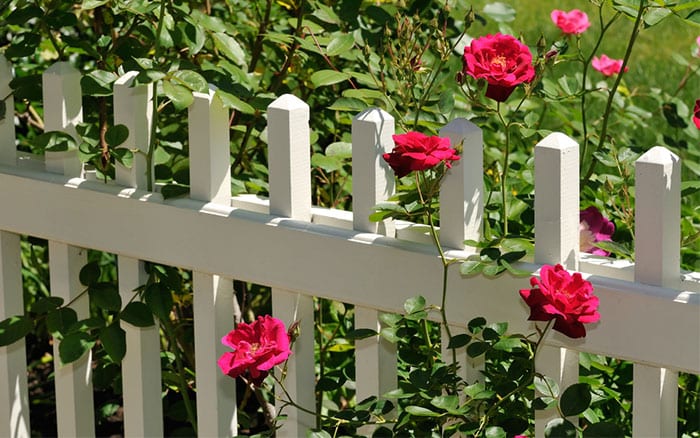 Archways and pergolas are often used as a feature in cottage gardens and are excellent for bringing shelter and privacy to your space. A bistro table and chair set underneath a pergola draped in honeysuckle is the perfect place to enjoy a coffee in the mornings.
Every available space in a cottage garden is somewhere new to plant, especially around the house itself and up the walls. Planting climbers to surround your front door will help to finish the cottage look.
Old wheelbarrows, bikes, watering cans, buckets and carts all make great features, especially when filled with compost and used as quirky planters.
This informal style of garden is great for a low maintenance space but remember to keep plants in check every now and again to prevent it from becoming too wild and unruly.

Don't forget to add furniture to your space, old rustic styles in cast aluminium work much better here than modern rattan or wicker dining sets.
David Domoney is a Chartered Horticulturalist, Broadcaster, and Author. David has worked with a number of the UK's leading garden retailers as a plant buyer and strategic consultant. With more than 30 years experience, in horticulture, David is as passionate about plants now as he was when he bought his first plant at a village fete.