Hostas are a fantastic foliage plant that are popular within beds and borders, as well as acting as a buffer in containers. The beauty of hostas is that they are incredibly useful in the garden because they grow in shade, making them perfect to brighten up a darker corner. Here's how to grow and care for hostas in the garden.
Hostas or plantain lilies are native to Asia, specifically China, Japan, Korea and Eastern Russia. It's believed that there are around 45 species of hosta, but there are debates around the classification of species and cultivars.
Today, they are widely grown for use as shade tolerant plants, and are extremely popular in many garden designs and styles because of their interesting foliage shape and colouring.
Mostly grown for their foliage, they also have blooms that appear in June to July. The blooms tend to be purple or white in colour and bloom on tall stems. These are a nice addition to a foliage plant, though the flowers can look shabby after a few days. The flowers can be deadheaded to conserve energy. Alternatively, stalks can be left on the plant until autumn when the foliage also dies back.
Although hostas are grown as ornamental foliage plants, they are also edible. In fact, in parts of Asia they are grown as a vegetable. The leaves have a taste similar to lettuce, whilst the shoots have an asparagus-like flavour. Use in stir-fries and salads, or large shoots can be boiled or used like any other vegetable.
The flowers are also edible but aren't eaten as often because they don't have much of a flavour. They can still make a good garnish if you want to add a natural finishing touch to your dishes.
However, bear in mind that they can be toxic to pets if ingested.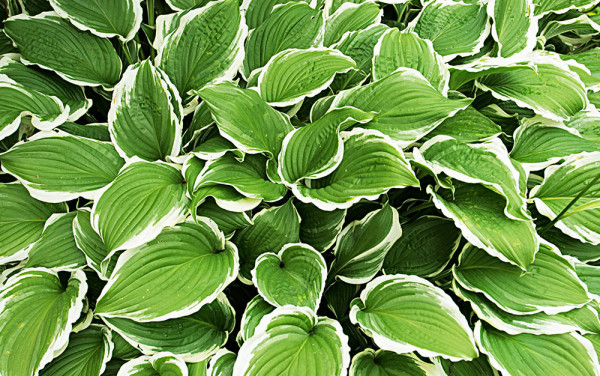 Plant a hosta and you'll have a happy plant growing in your garden for years to come.
They can be planted at any time of the year but during spring and autumn are the best times to plant. It's ideal to avoid planting in summer because it's likely that there has been little rainfall and the soil may be too dry for the plants to establish.
Choose a spot with moist but well-drained soil with partial shade to help them thrive. Generally, these are the conditions that all hostas enjoy, however there are some yellow leaved cultivars that do prefer a sunnier spot.
Mulching the hostas with well-rotted organic matter like homemade compost is great to conserve moisture and supply the plants with extra nutrients.
If growing in containers, choose a large container and fill it with peat-free compost, placing the plant so the rootball is at the same height as it was in the previous container.
Throughout growing season, give the hostas a feed with a well-balanced liquid feed.
Give the foliage a tidy up in autumn by removing any dead, diseased, or damaged foliage.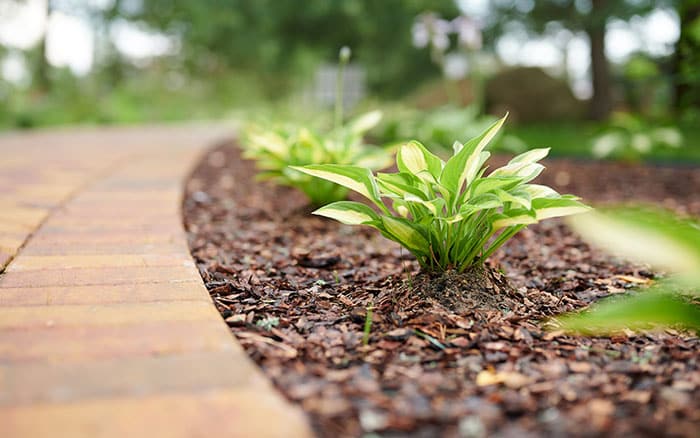 Generally, hostas are trouble tree if they are positioned in a shaded spot with moist but well-drained, fertile soil. However, the main problem when growing them is slug and snail damage. Growing them in containers can reduce the likelihood of slug damage.
Adding a plant food like Miracle-Gro® 2 in 1 Nourish & Protect Flowers, Fruit & Veg Plant Food which feed the plants whilst simultaneously protecting from unwanted slugs and snails.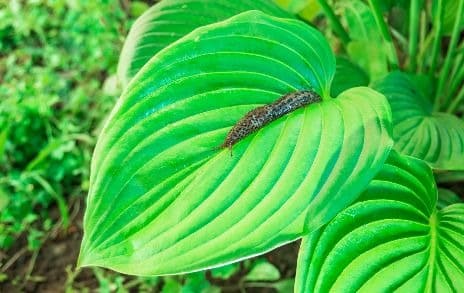 'Canadian Blue'
The blue-green leaves of this variety have an enchanting appearance, and the blue only gets deeper in colour as they mature. Well suited to courtyard gardens, woodland gardens, or containers, they will grow up to 50cm tall.
Flowers in summer
Grows up to 50cm tall
Moist but well-drained soil
Partial shade or full shade
Sheltered

'Devon Green'
The dark, glossy, ribbed leaves of 'Devon Green' are less likely to get eaten by slugs and snails. The heart-shaped leaves look fantastic in a border, but can also look great in cut flower bouquets. In summer, pale lilac flowers bloom with a lily-like appearance.
Flowers in summer
Grows up to 50cm tall
Moist but well-drained soil
Partial shade or full shade
Sheltered

'Magic Island'
The eye-catching foliage is green and yellow, with a thick, leathery texture. In woodland gardens, this is fantastic at the front of a border where it grows up to 30cm tall. Its wide growth makes it a fantastic low-grower for next to a path or patio to soften harsh corners of paving.
Flowers in summer
Grows up to 30cm tall
Moist but well-drained soil
Partial shade or full shade
Sheltered

Increase your stock of hostas for your own garden or to gift to loved ones by diving the plants in spring or autumn.
Do this by digging up the clump of the hostas and cutting the clump into smaller sections that consist of buds and roots.
In separate pots, plant up the new individual clumps with peat-free multipurpose compost. Firm the plant in and water well, then position in a sheltered and shaded spot.

Hostas are an asset to any garden style or size. Typically grown for their foliage, there are many options to choose from with blue-green and yellow foliage choices.

David Domoney is a Chartered Horticulturalist, Broadcaster, and Author. David has worked with a number of the UK's leading garden retailers as a plant buyer and strategic consultant. With more than 30 years experience, in horticulture, David is as passionate about plants now as he was when he bought his first plant at a village fete.