Now, late autumn has reached us, and summer bedding plants have finished flowering. So, it's time to consider refreshing your borders and containers with bright and bold winter bedding plants to bring winter joy during the months to come.
It's ideal to plant them where the bright flowers can be seen from inside the house as well as outside the front door. This way, they can greet you and your visitors with a cheerful display of colour.
Types of winter bedding plants
Pansies and Violas
First, these are easy to grow plants that are perfect for creating a cheerful, winter border and container displays and will flower for months on end. Although they prefer full sun, they will also grow well in partial shade. The main difference between the two types of plant is that pansies have larger flowers than violas.
Modern hybrid Pansies and violas are best treated as annuals and replanted each year. However, if you have species violas, such as odorata or labarodorica, they will continue growing after they've finished flowering. They can also be easily divided to make more plants. Dig them up in spring, divide them, cut off all spent flower stems and trim the leaves before planting in a shady area until you're ready to feature them again from next autumn.
Viola (pansy) 'Frizzle Sizzle Mixed'
This variety has been selected not only for its mix of rainbow colours, frilly petals, and scent, but also because of its ability to flower from November right the way through until March the following year.
Flowers November to March
Hardy
Grows to 25cm tall and 30cm wide
Well-drained light sandy soil
Full sun or partial shade
Sheltered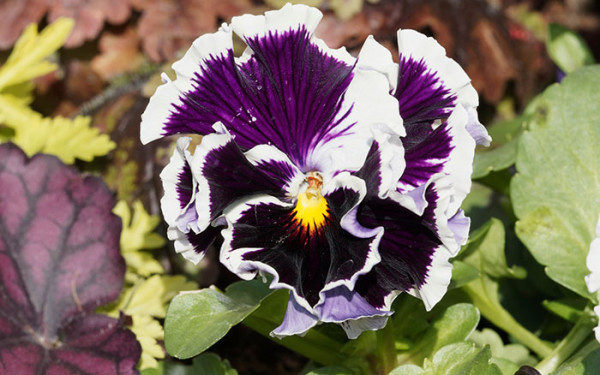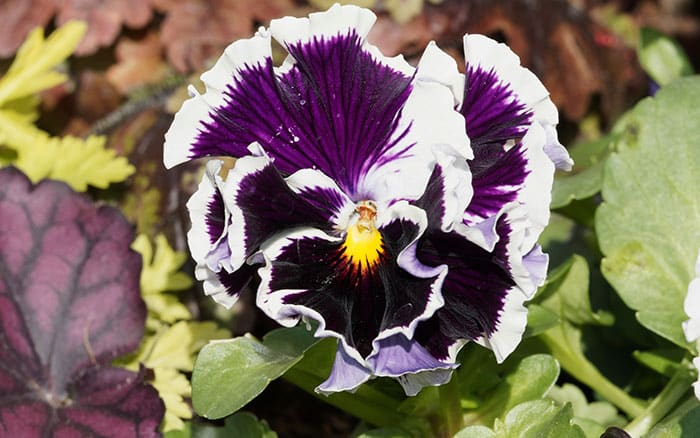 Viola (viola) 'Bunny Ears'
'Bunny Ears' will wow you with its super scent which some say is as sweet and pungent as the scent from hyacinths. The petals are unusually long giving rise to its cultivar name, 'Bunny Ears'. It doesn't usually start to flower until early in the year. But, if you're looking for highly scented, cute looking flowers to plant in hanging baskets, smaller containers or in rockeries, then this is the plant for you.
Flowers February to May
Hardy
Grows to 20cm tall and 20cm wide
Well-drained soil
Full sun or partial shade
Sheltered

Polyanthus
Polyanthus is another group of long flowering winter bedding plants that are easy to grow and come in a wide range of bright colours. They look very similar to primroses, the main difference being polyanthus produce their flowers in tight clusters.
Polyanthus will continue to grow and re-flower from year to year if you relocate them in spring once they've finished flowering to a shady part of the garden. You can plant them in containers or directly into the soil. Give them a balanced nutrient feed when relocating and thereafter a monthly seaweed tonic feed until you're ready to relocate them the following autumn.
Polyanthus (primula) 'Everlast'
Modern breeding has created an amazing variety of primula that flowers nonstop from autumn until spring. They pump out continuous flushes of pale yellow and white flowers that cover almost the entire plant. Their complete flower cover makes them a great choice for hanging baskets.
Flowers October to April
Hardy
Grows to 20cm tall and 20cm wide
Fertile, moist, well-drained soil
Full sun or partial shade
Sheltered

Cyclamen
Don't be fooled by this plant's dainty looking appearance. It's able to withstand tough, winter conditions and keep on flowering throughout the deepest, darkest days. An added advantage is the pretty, very varied, silver markings on their leaves. Traditionally said to prefer part or full shade, they can grow really well in full sun given the right soil conditions.
With cyclamen it's best to leave them in situ as they will self-seed and increase in numbers of their own accord. They become dormant during the summer months, which means their leaves die down and they disappear until conditions are right for them to re-appear next autumn. They appreciate a covering of leaf mould mulch during dormancy.
Cyclamen coum
Some species of cyclamen are not hardy, but this little beauty is fully hardy and should re-appear year after year. The flowers tend to be different shades of pink and light lavender and are another example of instant impact plants.
Flowers November to March
Hardy
Grows to 15cm tall and 20cm wide
Well-drained, fertile, moist soil
Full to part shade
Exposed

Get started by removing the last of the summer bedding plants. They can be discarded by either putting them on your compost pile or in the green waste collection bin.
Then, add a good layer of well-rotted organic matter to the soil, abut 10cm deep if you can.
On the other hand, with pots and containers it's best to replace the compost. There are a couple of good reasons for doing this.
Compost generally only contains enough plant nutrients to last for around 6 weeks. Even if you regularly fed your summer bedding plants, the plant food will get washed out of the compost during heavy rainfall and also when watered.
et. Therefore, if you see N10 : P10 : K10 that means the product has an equal amount of each nutrient in it.

Check for potential pests
Vine weevil larvae are a serious pest of plants grown in pots for any length of time. This is because they eat their way through the roots. Therefore, this is another good reason for changing the compost, to check whether there are any present in the pots.
If you see evidence of these, you'll need to dispose of the infected compost separately and not put it on your compost pile. You'll also need to thoroughly wash out the pot with hot soapy water before adding fresh compost.

Remember to water your winter bedding plants immediately after planting and occasionally during their flowering time. However, be careful not to overwater, as too much winter wet can rot the roots and cause the plants to die.
Maintenance of the plants is very easy. Remove flowers that have 'gone over' and this will encourage the plant to produce fresh ones.

As we step closer to the colder months, this guide to growing winter bedding plants will have you growing beautiful blooms through the chilly season. Having winter bedding plants in your garden is sure to brighten your space and put a spring in your step before the next growing season.

David Domoney is a Chartered Horticulturalist, Broadcaster, and Author. David has worked with a number of the UK's leading garden retailers as a plant buyer and strategic consultant. With more than 30 years experience, in horticulture, David is as passionate about plants now as he was when he bought his first plant at a village fete.