Potted plants will brighten up any corner of your garden, porch, windows or living room.
Shrubs, climbers, fruits, vegetables and herbs will all grow wonderfully in a container. And planting in resourceful and creative ways means the possibilities are endless.
There are an estimated 24 million gardens in the UK. Some are large lawns, others predominantly patios, but pots are always a versatile option. Ideal for all outdoor living spaces, pots can be easily moved and tailored to your needs.
Wonders
A potted plant will work wonders for enhancing your porch or front door to welcome your guests. If floor space is limited, adding different height elements such as hanging baskets to the front of your home has a brilliant effect.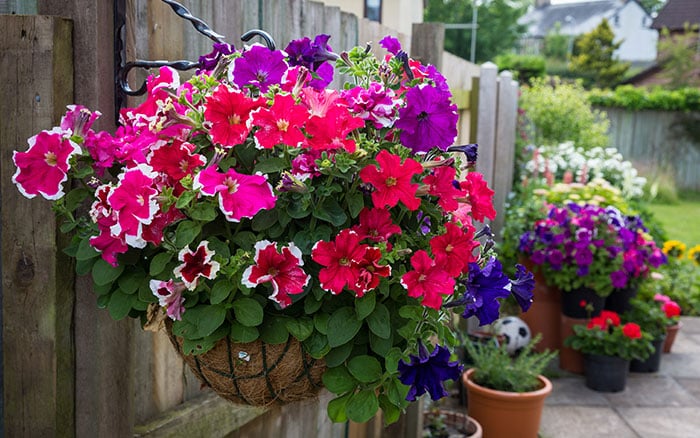 Sweet
Filling your basket with sweet, fragrant flowers will guarantee you get a lovely aroma whenever you pass by. Lobularia maritima (sweet alyssum) are a fantastic pick. They smell like honey and their fragrance will attract butterflies and bees.

Wall-mounted planters and window boxes are a great alternative if there is a shortage of floor space. Attaching them to the wall will add depth to the design. Plus you'll have plenty of scope to grow crops and herbs without taking up valuable ground. Not to mention the fact that they're at hand height, ripe for the picking when they're ready to harvest.
Fruit
Strawberries are ideal for window boxes as they can be grown in the smallest of spaces.
Try creating a herb garden in a window box. Thyme, rosemary, parsley and basil are all contenders that will readily grow in this environment.
Pots don't need to be plain, boring or expensive. In fact, they don't even need to be pots. They can be tyres, wellies, tin cans, even an old bath.
Personality
Give your garden some personality by adding some quirky pieces that are one of a kind. Cut the sides off plastic bottles and screw them to the wall. Fill it with herbs, alpines, evergreens and bedding plants.  This an inexpensive and easy means of adding new features to your garden.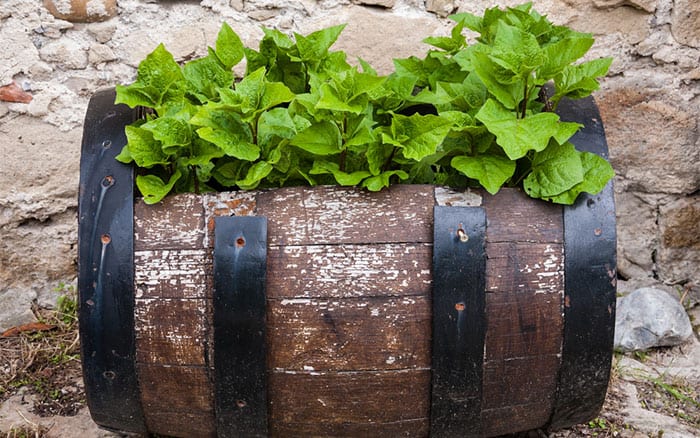 My top tip for adding height is to plant displays of your containerised plants on top of old materials like pallets, chairs or ladders. This will give you more structure to your space. Opting for containers that are an assortment of colours and textures will ensure your garden is bursting with charm.
Terrariums
And you can mimic this inside the home too. Hanging glass terrariums with Tillandsia (air plant) or ceramic pots with Sedum morganianum (burro's tail) adds a contemporary twist to your design indoors.
Whatever container you use needs to be large enough to hold the roots. But ensure that those with a small rootball are potted in a suitable sized container. Gradually increasing the pot size rather than setting them straight into a big pot.
Size
If you progressively increase the pot size, you are reducing the risk of the compost becoming waterlogged. This will damage your prized plants. Drill holes in the bottom of your container. Then place drainage material like stones over the holes will allow the plants to drain effectively.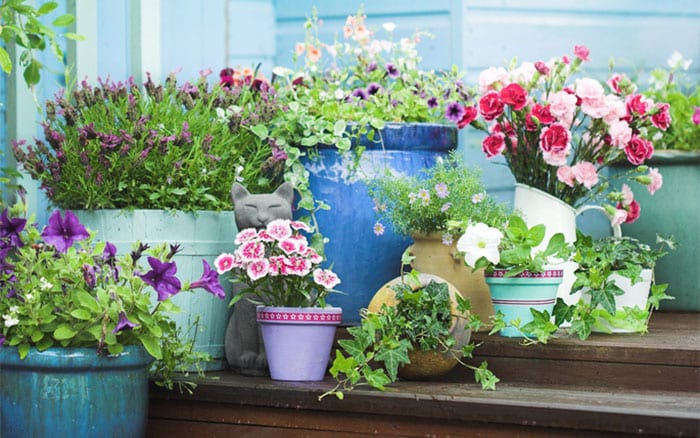 Choosing the right compost is an important decision. Miracle-Gro's All Purpose Compost absorbs up to 25% more water than ordinary compost. This will help your pot, container and basket plants to thrive, wherever they are. With the optimum balance of air and water, it will ensure the strong roots grow healthily.
Shake up your planting for the year ahead with oh-so-versatile pots and plants. Containers like this give so much scope for creativity. Plus they are a big tick when it comes to efficient growing too!

David Domoney is a Chartered Horticulturalist, Broadcaster, and Author. David has worked with a number of the UK's leading garden retailers as a plant buyer and strategic consultant. With more than 30 years experience, in horticulture, David is as passionate about plants now as he was when he bought his first plant at a village fete.