Roses are a classic choice in the garden, and for good reason. With over 30,000 varieties to choose from, there is sure to be a rose for every garden style and size. It doesn't need to be daunting when choosing the perfect rose for your space. So, here's my guide to the different types of roses.
As their name suggests, this type was created by crossing vigorous growing roses, Hybrid Perpetuals, with longer-flowering tea roses. From this, the hybrid tea rose was created which delivers with straight stems and large flowers. They tend to be repeat-flowerers, with mostly fragranced flowers.
These types generally have an open growing habit rather than dense, bushy growth. What's more, the structure of the flowers and stems makes them most popular for cut flowers.
It was in the late 1800s that hybrid teas became a new class of rose. However, it wasn't until the 20th Century that the popularity of modern hybrid tea roses started to increase.
To grow the best hybrid tea roses, plant in full sun or light shade in moist but well-drained soil that's slightly acidic.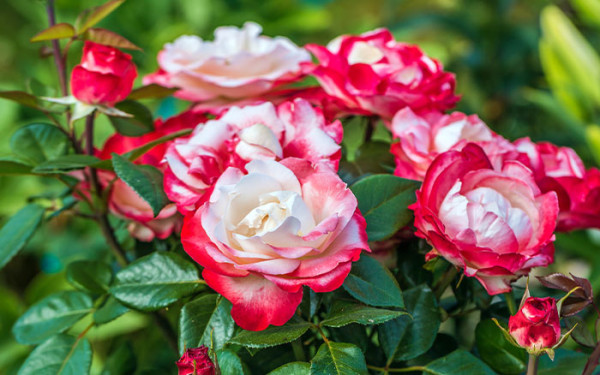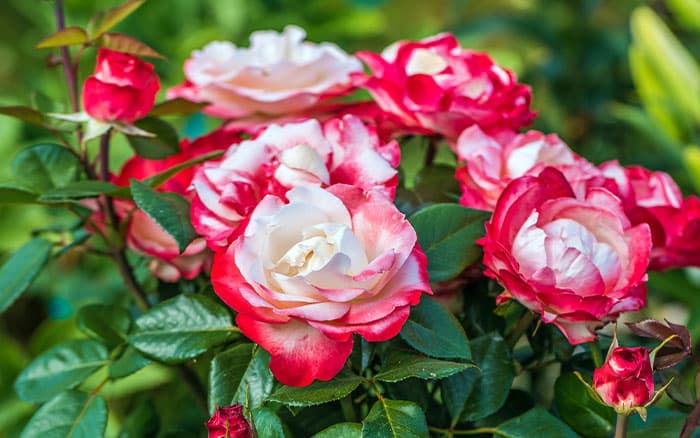 Floribunda is Latin for 'many-flowering' which explains the beautiful blooms galore that are guaranteed with this free-flowering type. The clusters of flowers can have flowers that resemble hybrid tea roses or flat blooms instead.
Their growth habit is usually low and has bushy, dense growth and are quite hardy. Their popularity is due to their continuous flowering throughout the growing season. The origin of floribunda rose was from crossing hybrid tea rose bushes with polyantha roses.
Within the selection of floribunda roses, there are low growing, compact types that suit the front of a mixed or rose bed, and there are also taller varieties that lend themselves well to hedges.

Next are polyantha roses that are compact, dwarf shrubs. The densely packed clusters of double or semi-double flowers create clouds of colour. Unsurprisingly, polantha, is Greek for 'many flowers'.  Back in 1875, wild roses were crossed to create polyantha roses. The first polyantha rose was called Pâquerette, a cross between Rosa multiflora and Rosa chinensis, natives to east Asia.
Their compact growth makes them ideal for edging borders, containers, or planting alongside pathways to join you on your journey through the garden.

Bred with size in mind, these types are grown with the outlook to grow well in containers. This makes them great for small gardens, courtyards, and balcony spaces. Repeat flowering with mostly fragrant blooms, their bushy growth and clusters of flowers mean they put on a big show, even in a small space.
When growing in a container, it's essential to ensure the roses get the right moisture and nutrients that they need. Get started by using a good quality peat-free compost, like the specialist Miracle-Gro® Peat Free Premium Rose, Tree & Shrub Compost.

Unsurprisingly, these roses are wider and spread more than they are tall. These can be great additions to the side of a path, next to patios, in rock gardens, or on banks and slopes. Not only will their foliage and flowers add colour to the base of your garden, but some are joined by a classic rose scent.
Though they are small, they tend to be hardy. In a sunny spot with well-drained soil, these roses will continue to grow happily.
To create a blanket of cover the stems can be pegged using wire. This dense growth is great for wildlife with the flowers, the rose hips that attract birds, and the foliage and branches that act as shelter for garden creatures.
Climbing & rambling roses
When exploring roses, it may be thought that climbing and rambling roses are one and the same. However there are a few differences between the types. Firstly, climbing roses are more structured, compared to rambling roses that have more vigorous rose. Secondly, climbing roses tend to be repeat flowering, whereas rambling roses have one single but spectacular show of flowers during the summer.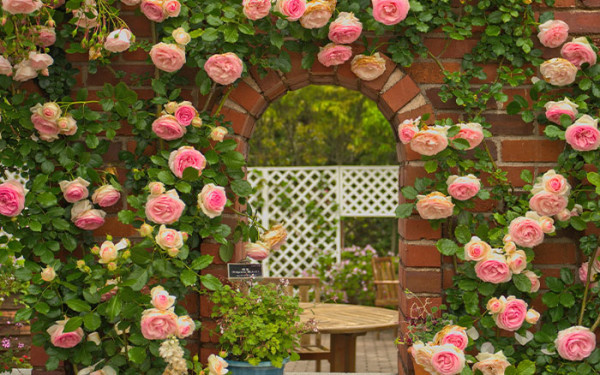 This group of roses are a very old type, native to the Middle East. They have open, airy growth, giving them a real elegant appearance in the rose garden. Well known for their fragrance, they are used for perfume. The flowers are also edible, and they are used over the world as a flavouring ingredient and spices. When grown for harvesting the flowers, damask roses are grown in hedges to protect the blooms from exposure and wind.
Within damask roses there are two further categories. The first is summer damasks that are larger and have flowers once a year, then there are autumn damasks that have more compact growth and flowers that repeat flower through the season.

Next are gallica roses that are fantastic within borders with the ruffled flowers. Native to Europe, these are hardy shrub roses with compact growth. In growing season, they'll flower once with a strong scent joining them. Within the group there are red, purple and maroon roses to choose from to add deep and dramatic colour.

This class of roses dates back to the Middle Ages. Alba roses are a fantastic option in the garden, renowned for their robust nature as well as having high disease resistance. An easy to grow rose, they don't demand much attention, including little pruning.
There are pink, blush, and white flowers, that bloom in late spring or early summer. Bear in mind when pruning that next year's flowers grow on the existing canes rather than new growth. Also, cutting back young shoots can impact the arched growth habit, so be careful to not overprune.

Recognised by the large, rounded, aromatic flowers, this shrub also has an open and airy growth habit. Also known as cabbage rose, the flowers of this type have overlapping petals that make it resemble the vegetable. This hybrid was created by Dutch breeders between the 17th-19th Century.
Centifolia roses are once-flowering, and the blooms sometimes have a nodding effect, due to the weightiness of the flowers.

Roses are well known all over the world, and there are plenty of types, varieties, and cultivars to choose from to pick the right roses for your garden. Using this guide will help you to know your roses so you're one step towards finding the right rose in the right style and size for your space. Let me know your favourite rose in the comments, or on Facebook, Twitter and Instagram using #RoseAwarenessWeek.

David Domoney is a Chartered Horticulturalist, Broadcaster, and Author. David has worked with a number of the UK's leading garden retailers as a plant buyer and strategic consultant. With more than 30 years experience, in horticulture, David is as passionate about plants now as he was when he bought his first plant at a village fete.