Autumn is in full swing as are the orange and reds of the season. Many plants begin to fade, but that doesn't mean your garden is finished until spring. There are a whole host of plants that keep giving you autumn colour through the season and into winter.
Deciduous trees come into their own in autumn. Their leaves change colour from greens to rich shades of red and orange too.
One particular favourite of mine is the Acer palmatum (Japanese maple) which undergoes breath-taking colour changes. What's more is they are compact so can fit in with any garden design or size, even tiny gardens.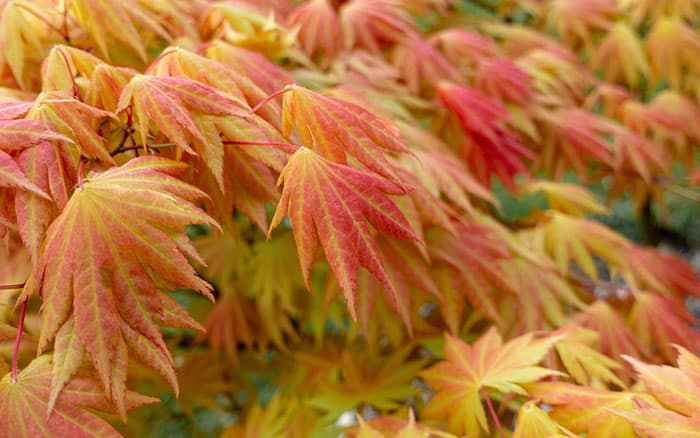 Also, the leaves of the flowering cherry trees like Prunus 'Kursar' turn deep orange in autumn before they fall. In spring, the pretty, pink flowers have a stunning impact in your garden.
Meanwhile, your evergreen trees like conifers become stronger and richer shades of green.

Autumn is a great time for shrubs because they offer up extra interest – berries! Pyracantha (firethorn) 'Golden Charmer' is a dense evergreen shrub that has sprays of white flowers in summer, followed by bright orange berries in autumn.
Symphoricarpos x chenaultii (snowberry) 'Hancock' is a beautiful deciduous shrub with ovate leaves that are joined by white fruits with a red tinge.
This shrub is not fussy and will grow in sun or shade and any soil type.
Cotoneaster are very popular shrubs with wild birds including blackbirds and thrushes that love to feast on its berries as tasty treats. 'Cornubia' is a large semi-evergreen shrub that grows well in full sun in any well-drained soil.  The white flowers bloom in spring, followed by the trusses of red berries in autumn.
Brighten up beds and borders with plants that flower late in the year or for longer.
The yellow daisy flowers of Rudbeckia fulgida (black-eyed Susan) make striking additions to the border. Flowering in summer and autumn, these are great late flowers for pollinators too.

Also, they'll look striking when contrasted with the delicate looking Verbena bonariensis (purple-top), that can grow up to 2 metres tall.
Asters and chrysanthemums will remain bright and cheery, as they continue flowering well into autumn. Heleniums and Kniphofia (red hot pokers) are also great for adding late colour to brighten up any borders with colour and texture.
Put life into your containers too with ivy, heather, polyanthus, winter-flowering pansies and primulas.

With grasses in your garden design, you can add height, movement and sound to your garden. Sometimes overlooked, their fluffy seedheads liven up borders and they can be used as a soft backdrop for other plants.
Miscanthus sinensis (Chinese silver grass) are attractive ornamental grasses with arching leaves.
. 'Malepartus' is topped with red-brown feather-like blooms that will add something special to a courtyard garden or gravel garden in full sun.
Another example is Calamagrotis brachytricha (Korean feather reed grass) which has glossy green leaves in spring which turn yellow in autumn. What's more is there's additional colour from the plume-like sprays of purple flowers that appear through summer and autumn.
Autumn is a great season for plants, and the added interest of orange, red and yellow tones joined by berries are not only beautiful, but they are beneficial to birds and wildlife. It's a win-win! So, use my tips and add some colour to your garden this autumn.

David Domoney is a Chartered Horticulturalist, Broadcaster, and Author. David has worked with a number of the UK's leading garden retailers as a plant buyer and strategic consultant. With more than 30 years experience, in horticulture, David is as passionate about plants now as he was when he bought his first plant at a village fete.