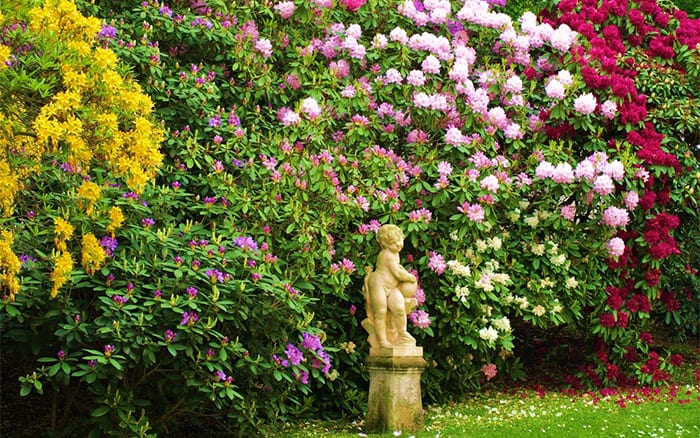 We've all heard of shrubs and know what they look like, but how many of us really know what the word means? And what is the difference between a shrub and a tree?
A shrub is defined as a woody plant which is smaller than a tree and generally has a rounded shape. The main difference between the two is that a shrub has several main stems growing from ground level, rather than one trunk.
There. Wasn't that simple?
The phrase 'smaller than a tree' can be misleading though. In fact, shrubs can vary in size from ground cover right up to huge bushes.
Why grow shrubs in the garden
Shrubs are a very important part of a garden design. They provide structure, colour and interest and also add a little bit of character.
From small border fillers to bold, statement shrubs, you can find a variety to suit any garden area or soil condition. Here's a list of my favourite garden shrubs to get you started.
Evergreen shrubs
There are a great many evergreen shrubs for year-round interest in the garden. Popular evergreens include Hebe, Pieris, Skimmia, Eleagnus, Camellia, Azalea, Euonymus and Rhododendron.
Even though different evergreen shrubs will come into flower at different times of the year, they will provide your garden with permanent colour and structure.
Low-growing shrubs
For smaller gardens or to punctuate the front of a border, you can plant low-growing shrubs such as Spirea and Caryopteris, both of which come in loads of varieties.
Buxus or Box is an excellent structural shrub which can be trained into almost any shape you like. Lavender, Euonymus and Gaultheria are also great low-growing shrubs for groundcover.
Flowering shrubs
Some popular medium-sized flowering shrubs for the garden include Cistus, Deutzia, Azalea, Buddleja, Forsythia, Hydrangea, Viburnum and Shrub Roses.
Large shrubs
Whatever size your garden, large shrubs will always make a statement. You can plant a feature shrub in a small to medium-sized garden, or have several large shrubs growing together to make a 'shrubbery' in a larger garden.
Mahonia, Camellia, Elaeagnus, Hypericum, Photinia and Rhododendron can all reach a good height to provide extra impact and a focal point to the garden.
Shade-loving shrubs
For that shady part of the garden you could choose from evergreens such as Aucuba, Skimmia, Berberis, Cotoneaster or Fatsia Japonica. Flowering shade-lovers include Camellia, Azalea, Heuchera and Epimedium.
Fragrant shrubs
And finally, to add a sensory dimension to your garden there are several fragrant shrubs to choose from:  Ribes, Lilac, Daphne, Myrtle, Lavender, Osmanthus, Escallonia, Buddleia, and Philadelphus or Mock Orange are all beautifully scented plants which will enhance the pleasure of your garden.
Plus here's why you should grow a tree in your garden!