There is no substitute for gazing at masses of beautiful flowers in July and choosing the right plants to fill bare corners is really easy to do. All being well, your garden should be absolutely bursting with seasonal colour in July.
This time of year is simply idyllic and makes way for floods of families and individuals enjoying their gardens whilst drinking in the sights and sounds of summer.
Read on to discover my top three plants for spectacular July colour.
1. DELPHINIUM (LARKSPUR)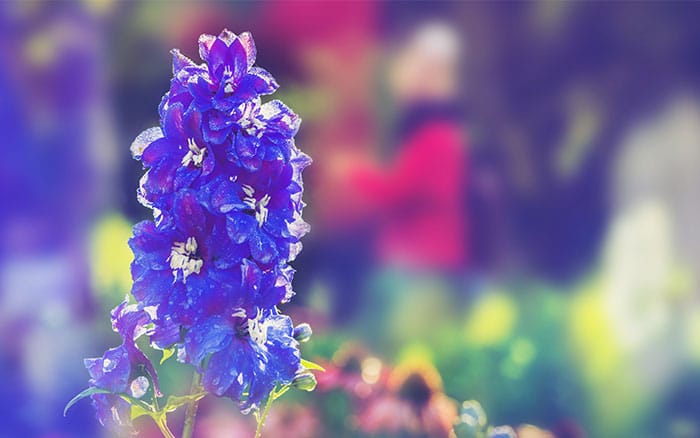 2. Nigella damascena

3. Phlox paniculata

On the top of the list is a plant to add purple majesty to your plot and larkspur is just the ticket. Inviting in a plethora of productive pollinators, this plant will not only put on a performance of its own but encourages insects to the benefit of your other plants.
This erect perennial has a lot to offer to informal and cottage beds and borders and is truly striking to look at too, with tapering spikes featuring deep purple double flowers – what more could you want.
Just make sure to position it in full sun within a sheltered plot away from strong winds and staking will help to keep the heavy-ended stems looking perky.
Nigella, also known as love-in-a-mist, are beautiful bushy annuals with light blue and white flowers in July; adding enchanting colour to any summer garden.
Love-in-a-mist will thrive in full sun, in a well-drained soil and need little maintenance, as they are generally pest and disease free. The 'Miss Jekyll' variety of Nigella has particularly beautiful feathery flower heads in bright blue throughout summer and this cultivar does exceptionally well in UK gardens.
So, add in these trouble-free unusual annuals; an abundant green space is what awaits you when there's luscious, lovely, love in a mist!
Phlox is an elegant plant which comes in a variety of sizes and colours and copes well whether in full sun or partial shade. This makes it a fantastic space-filler for borders as it is so versatile.
The flower clusters come in a range of shades from fresh white, bright pink and even deep lilac in colour and bloom all summer long, finally fading by mid-autumn.
For a tall variety perfect in the back of a border, look for 'Blue Paradise,' which grows to 1.2 metres tall. For a smaller variety which packs some punch in the colour department, look for the 'Peacock Neon Purple' cultivar.
So there you have it! Three tremendous plants for even more colour this summer.
Happy planting!
David Domoney is a Chartered Horticulturalist, Broadcaster, and Author. David has worked with a number of the UK's leading garden retailers as a plant buyer and strategic consultant. With more than 30 years experience, in horticulture, David is as passionate about plants now as he was when he bought his first plant at a village fete.