Gardening is essential in helping us with our physical and mental wellbeing. It has helped many people to live through social isolation that has impacted many through lockdown. It's a hobby that keeps on giving for 12 months of the year, so don't stop gardening, just because summer is over.
As we move from summer into autumn there's no need to stop because there's plenty of plants, fun tasks, and activities to get you right through to Christmas and beyond. So, these plants, jobs, and activities will keep you and your family busy over autumn and winter.
Us gardeners love looking ahead and planning for the flowers and fruits of the following year. If you've ever looked at other people's borders in springtime, bursting with blooms and wanted the same, yours can be like that too.
So, plant some hope for spring and get the kids involved too as flower bulbs are really easy to handle and plant and they can then have the joy of watching their own flowers bloom next spring and know they helped to make it happen.
Daffodils, tulips, crocus, snowdrops, hyacinths, and alliums are just some of the bulbs to get planting. Here are a couple of great ones:
Tulipa (tulip) 'Synaeda King'
The cheery colours of this tulip will be a joyful addition to your spring garden. Mixed in a border of orange and reds, the fiery tones will have a striking impact.
Sun – Full sun
Position – South, West, or East-facing
Exposure – Sheltered
Moisture – Well-drained
Soil – Loam, sand, or chalk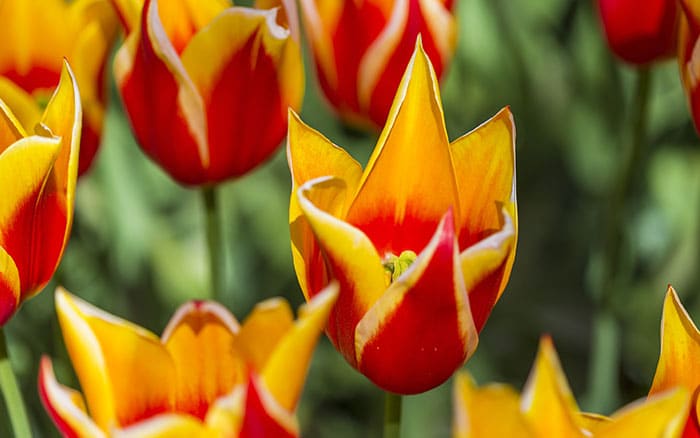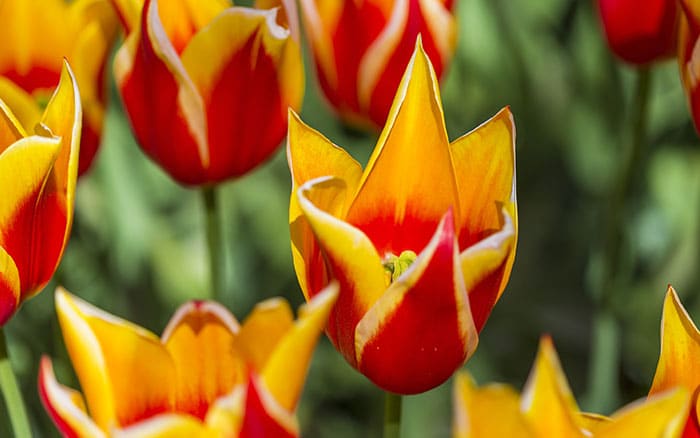 Allium (allium) 'Mercurius'
Growing to 80cm tall, the glossy green foliage is topped with clusters or purple-pink flowers that bloom in spring and summer. Perfect in a border in a cottage garden, they are hardy and have a striking impact.
Sun – Full sun
Position – South, North, West, or East-facing
Exposure – Sheltered
Moisture – Well-drained or moist but well-drained
Soil – Sand, loam, clay, or chalk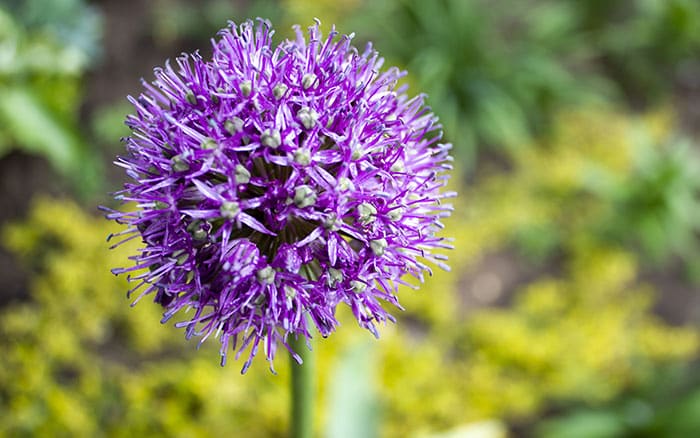 Keep your garden looking glorious in the autumn and winter months with these shrubs that provide colourful flowers, foliage and fruit and different times of the year. With plenty of evergreens in the mix, your garden will have constant structure and plenty of greenery and colour.
There are some great options like daphne, winter jasmine, as well as winter flowering pansies and heather.
Skimmia japonica (Japanese skimmia)
Firstly, this dense evergreen will bring structure and colour all year round with green foliage which is joined by white flowers in spring and bright red berries in summer all the way to when the flowers bloom again the following spring. What's more, their density makes them a great pick for hedging.
Sun – Full shade or partial shade
Position – South, North, West, or East-facing
Exposure – Sheltered
Moisture – Moist but well-drained
Soil – Sand, loam, or chalk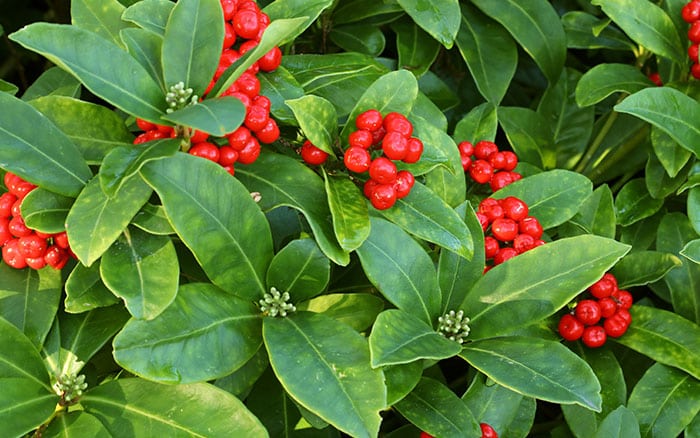 Viburnum tinus (laurustinus)
Next up is a large evergreen shrub with dark leaves that are joined by clusters of pink-white flowers in late winter and spring, which are then followed by blue-black berries. They like a sheltered spot, so will appreciate protection from cold winds.
Sun – Partial shade, full sun or full shade
Position – West, East, or South-facing
Exposure – Sheltered
Moisture – Well-drained or moist but well-drained
Soil – Sand, clay, chalk, or loam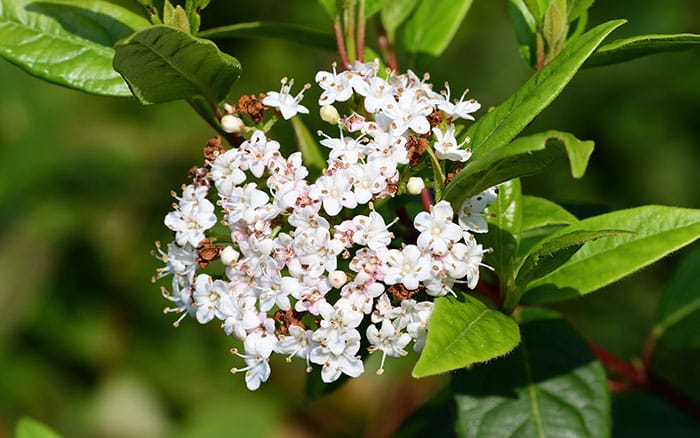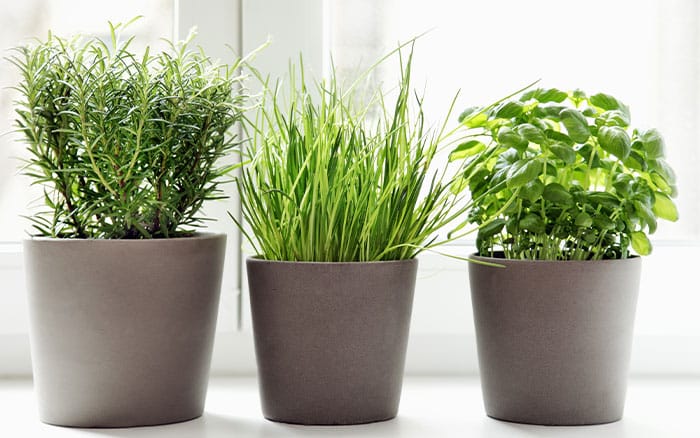 Growing your own food to add flavour and nutrition to your dishes doesn't mean you need a huge veg patch.
In fact, you can grow produce all year round, both indoors and outdoors. Your windowsill can be used to grow sprouting mung beans in jars by soaking them in water, draining them and leaving them to sprout in a dry jar, and you can also grow cress, basil, chillies and many more inside your home.
In your garden you can still grow winter crops like kale, perennial spinach, and the like as well as planting onion and garlic.
The season may be a little less sunny, but there's plenty that can keep the kids busy. These activities are fun, creative, and educational too, so their minds will be working.
Making fat-balls as food for birds is a great activity for the kids to get hands on and make something whilst learning about wildlife in the garden.
You'll only need a few things to get started: lard, bird seed, mixing bowl and an old, clean yoghurt pot.

• Mix the lard and seeds together to bind them and use the pot as a container to fill with the mixture.
• Use string to tie the pot to a branch and hang it on its side. In addition, putting up nesting boxes will encourage different species of birds into your garden too, depending on the type of box you choose.
Get the kids a magnifying glass and play animal detective or do a mini-beast hunt. They can make a tally of the beasts that they see from millipedes to beetles. Once they've spotted them, they can draw pictures of what they've found and keep notes on where they found each creature.
Let the kids get crafty and create animals using plant pots. Make a spider by painting the pot black, using pipe-cleaners for the legs, and sticking or painting plenty of googly eyes.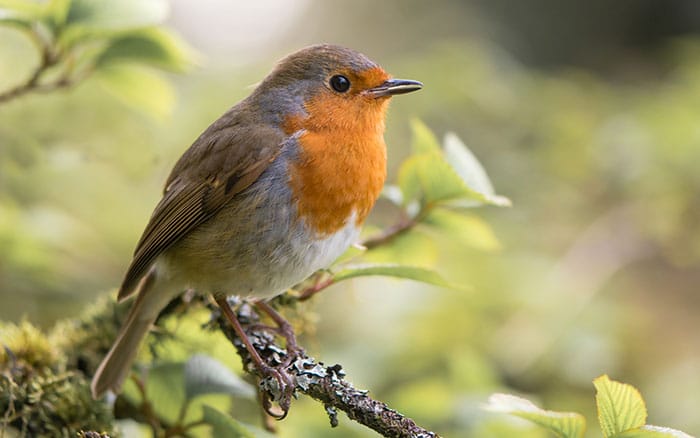 Autumn is a great time for getting out and seeing which creatures you can spot. Get comfy and see which birds are paying your garden a visit. In the UK, you'll likely see robins which are considered an icon of the winter. Starlings, blue tits, and sparrows may be spotted too.
Gathering twigs and leaves together and placing them in your border can provide a safe and cosy space for small mammals and invertebrates.
Over the cooler period there's no need to stop gardening. With activities to keep the whole family gardening and engaging with nature over the cooler months, you won't be short of things to do. So, join me and #DontStopGardening!

David Domoney is a Chartered Horticulturalist, Broadcaster, and Author. David has worked with a number of the UK's leading garden retailers as a plant buyer and strategic consultant. With more than 30 years experience, in horticulture, David is as passionate about plants now as he was when he bought his first plant at a village fete.