The quiet winter has crept by and your slumbering garden is about to spring back to life.
The thing is, after months of bad weather and less attention, our patches may be looking worse for wear.
So I have you made you a little list – seven simple tasks that will transform your garden and get it ready for months of outdoor living. Take the time to prepare now, and as the summer rolls in you will have more time to kick back and enjoy your beautiful outdoor space!
The first place you'll want to be when the weather picks up again is your patio area, so why not kick things off by giving it the spruce up that it needs? Patios can be the worst affected areas over winter, with wet wintry weather leaving a layer of dirt over your lovely paving stones and outside furniture
Start by giving the area a firm brush to sweep away any dirt or debris that has accumulated. You can then hose it down and use soapy water and a broom to scrub away the rest of the dirt. Use a jet wash like this Yard Force cordless pressure washer, they're great for really stubborn dirt or weather-beaten areas.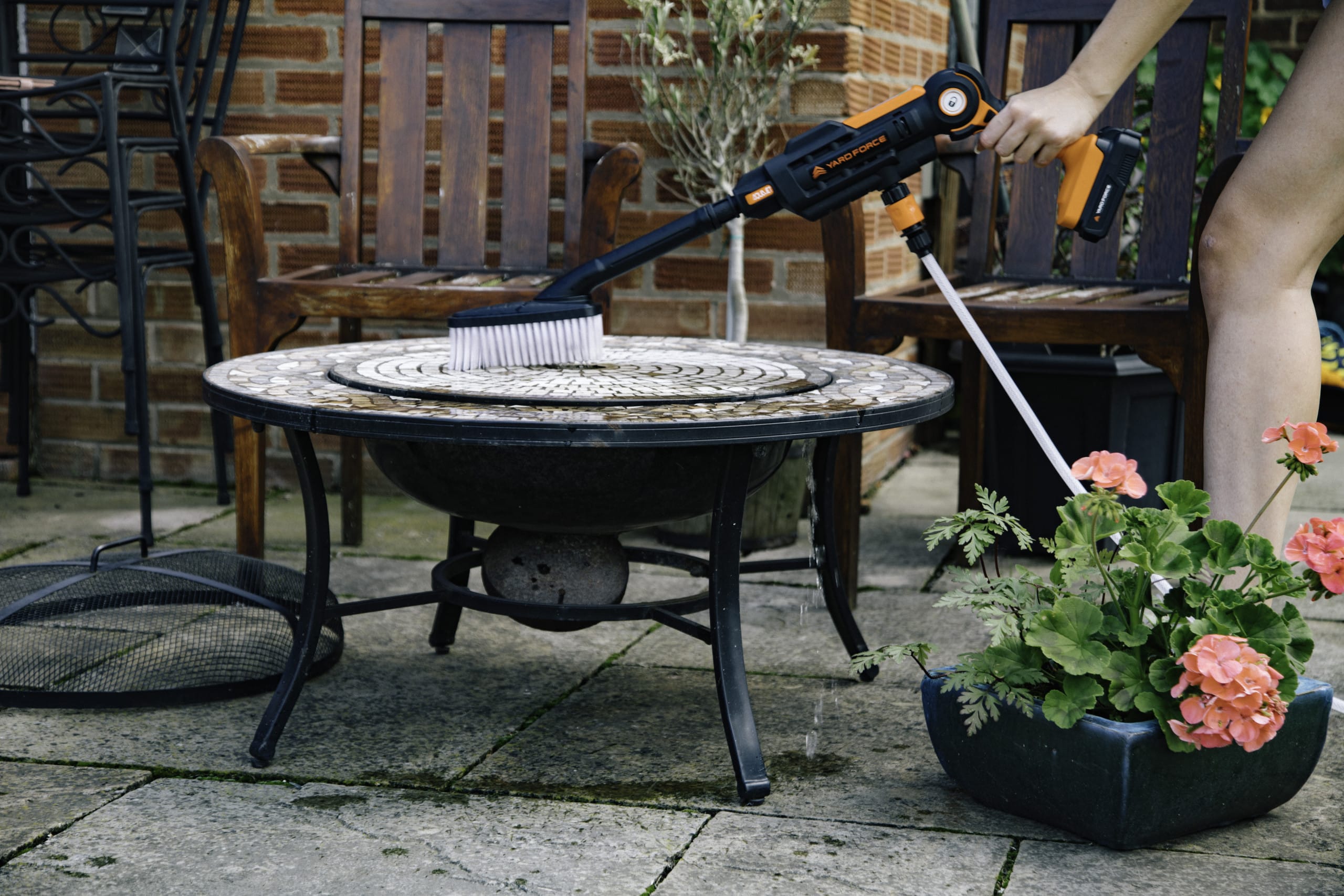 Weed between the stones with weedkiller or use a blunt knife to scrape it all out. Brush sand over to fill in the gaps.
Get your garden furniture out and give it a good wipe over with soapy water and a sponge. Check your patio cushions and wash them according to the manufacturer's instructions, making sure they are properly dry again before use. Clean the BBQ too, so you can fire it up for impromptu parties!
Grab your shears and give the hedges a good trim. You want to let plenty of light into the garden while it's still getting growing, and always remember to remove anything that is dead, diseased or damaged. Remove any winter-damaged canes from your roses.
Cut back ornamental grasses and other perennials that were left for winter interest. Even if they still look good, you need to make way for the new growth.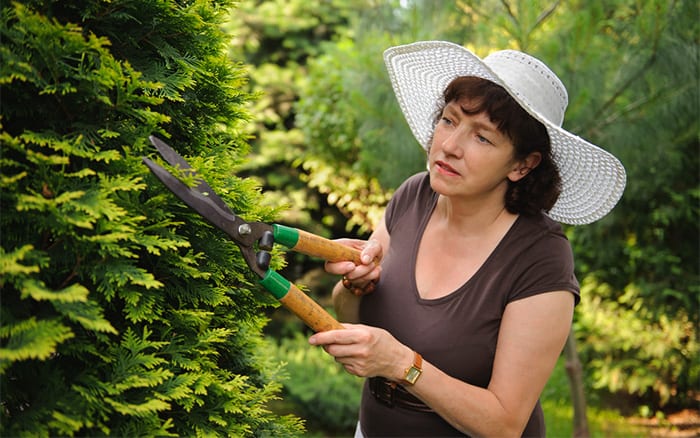 Make sure you tidy winter-flowering pansies and other winter bedding plants by deadheading them.
If you look after them and allow them to pour their energy into fresh blooms, your pansies will continue to brighten your days well into spring and even early summer.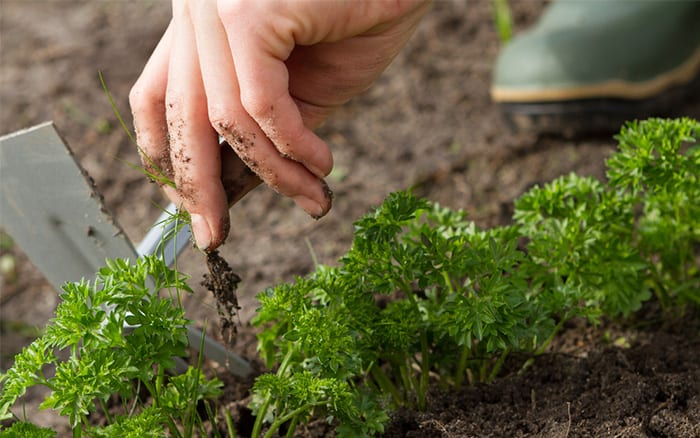 Give your borders a proper going over with a Dutch hoe or fork if they're really compacted.
Lift any perennial weeds now, keeping as much of the root system as possible intact. Getting on top of weeds before they set seed will save you hours of toil later on.
Mulching around existing bedding plants is a great idea because it will help prevent some weeds returning, as well as insulate roots against late frost.
A lot of plants will be enjoying a spring growth spurt as soon as the weather warms up. So now is the time to make sure they're properly supported, especially while we're still getting strong winds.
While you're at it, give your plants a good feed using a general purpose fertiliser. Spread granular fertiliser over the surface as if you're feeding chickens. This will break down slowly during the season and give your plants a real boost.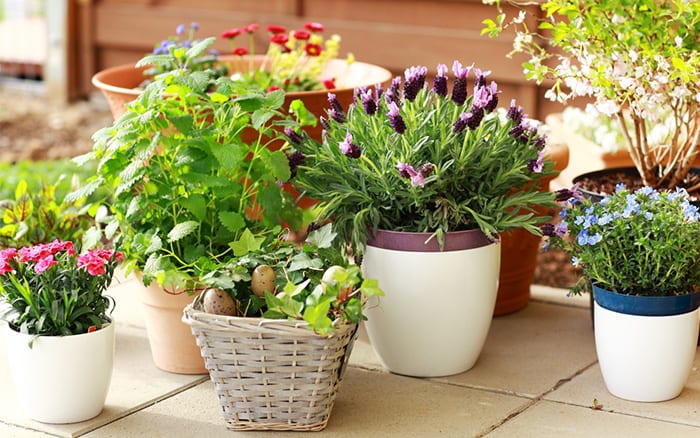 Check whether your containers need watering. I know April is famed for its showers, but pots that have been sheltered under the eaves or up against the side of the house could have missed the rainfall. They're the most vulnerable to drying out.
Don't be afraid to have a root around in the soil with your hands to determine if it is dry and flaky. If so, water immediately but don't drown them. There won't be a lot of evaporation at this time of year to take away excess water.
If the soil's looking a bit tired, now's the time to scoop out the top layer and replace with fresh compost and some pelleted chicken manure. Be careful not to get the soil surface any higher than it was previously.
Remember that as the garden is coming back to life, so too are pests and predators. As for slugs and snails, removing populations early can prevent them spreading later. And green and black fly can multiply rapidly during mild spells.
Keep an eye out for
pests
and you'll spot problems before they become serious – they are easier to treat before they become serious infestations.

And, finally, give your lawn a haircut. I tend to set the blades a bit higher if it's the first mowing of the year to avoid scalping the lawn and weakening the grass.
This cordless lawnmower is perfect as you simply charge it up and away you go.
Hold off if it's been very wet – give the grass a chance to dry out before you mow or you'll risk turning it into a mudbath.
Liberally sprinkle grass seed on any bare patches. As a general rule, you'll need more than you think for a good covering. Or buy a special product that's a mixture of seed and compost to really help the grass germinate.
Follow these simple maintenance steps and your garden will be tidy, well-prepared and pest-free in time for any sunny weekends!
David Domoney is a Chartered Horticulturalist, Broadcaster, and Author. David has worked with a number of the UK's leading garden retailers as a plant buyer and strategic consultant. With more than 30 years experience, in horticulture, David is as passionate about plants now as he was when he bought his first plant at a village fete.