IF YOU EVER WANTED SUPERPOWERS, NOW'S YOUR CHANCE!
In support of ITV's Eat Them to Defeat Them campaign, kids will be recruited the country over to use their super strength, skin, speed and smarts to beat the baddies…
Nearly half of parents agree that it's a battle to get their kids to eat more veg. But it's time to turn that battle on its head… with kids versus veg! Over the course of the next six weeks, this blog series will explore each vegetable and the superpowers that can be unleashed when kids brave the bite.
So, stay tuned for free downloadables, fun recipes and some super top tips to vanquish the veg…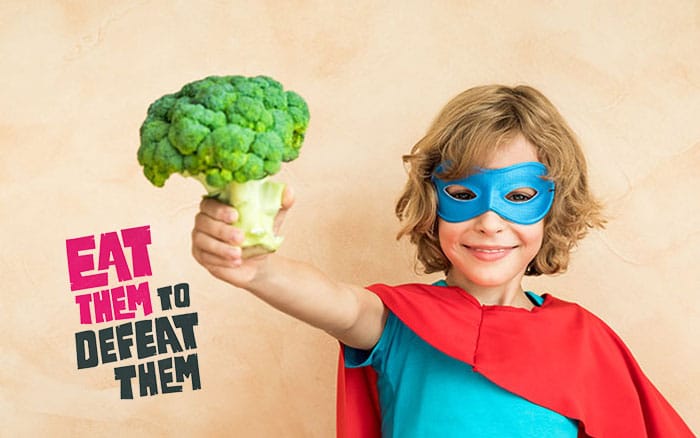 | | VEG | SUPERPOWER | NUTRIENTS |
| --- | --- | --- | --- |
| Week 1 | Carrots | Super-skin | Vitamin A |
| Week 2 | Peas | Super-brain | Vitamin B & Iron |
| Week 3 | Sweetcorn | Super-speed | Magnesium |
| Week 4 | Broccoli | Super-strength | Vitamin K |
| Week 5 | Tomatoes | Super-memory | Lycopene |
| Week 6 | Peppers | Super-sight | Vitamin C |
To make it super easy for you and keep you one step ahead of the game, there will be lots of inspiration on what to eat. Each week, a new recipe card will be released for you to download, so you will never be short of colourful cuisine to cook.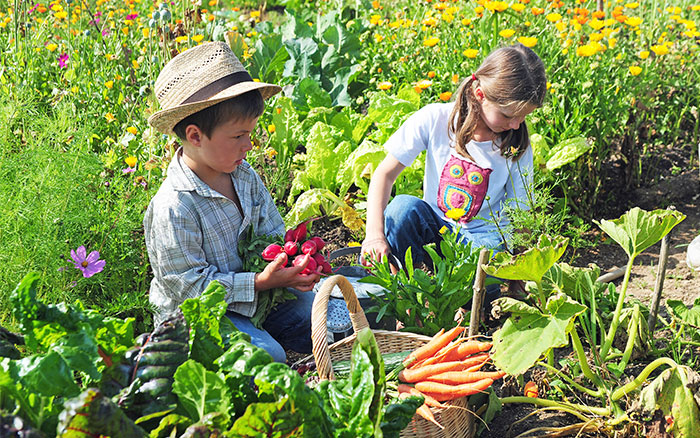 For the kids who are becoming veg experts and want a new challenge, you might consider growing your own veg at home for added benefits!
Home-grown vegetables will taste much better and be far more nutritious, helping towards those super-abilities. Crops that you grow yourself hold more vitamin content compared to shop-bought vegetables because they are picked fresh. According to the New York Times, fruit and veg can lose as much as 50% of its vitamin content in a single week.
Find out easy growers to get you started in this blog series and buy more seeds to sow here.
TOP TIP: Don't think you have to shove on your wellies and get into the garden to get growing. You can start your mini garden indoors. Pots and containers positioned on a sunny windowsill are a great place to start your veg growing journey.
If you're hoping to start growing your own veg at home, check in over the next six weeks as I'll be giving you my top tips on growing each of the vegetables that need to be defeated.
Keep me updated with how you're getting on through Facebook, Twitter and Instagram, using #vegpower #eathemtodefeatthem

David Domoney is a Chartered Horticulturalist, Broadcaster, and Author. David has worked with a number of the UK's leading garden retailers as a plant buyer and strategic consultant. With more than 30 years experience, in horticulture, David is as passionate about plants now as he was when he bought his first plant at a village fete.