Gardens are all different shapes and sizes, all with different purposes and aims. But, to make the most out of your garden you must work with what you've got! If you're gardening on a slope, there are ways to level it out and use it to its full potential.
Some are family spaces where the kids can run and play, whilst others are contemporary spaces used for socialising, or for growing an abundance of fruit and veg. So, whatever your garden plans, find out how to design your garden when gardening on a slope.
Completely flat gardens aren't incredibly common, with slight dips, slopes, and inclinations. But steep slopes and banks can sometimes cause problems with planting plants.
This is because they can be hard to get access to, the soil can dry out easily, or they can become overrun with weeds. However, choosing the right plants is possible.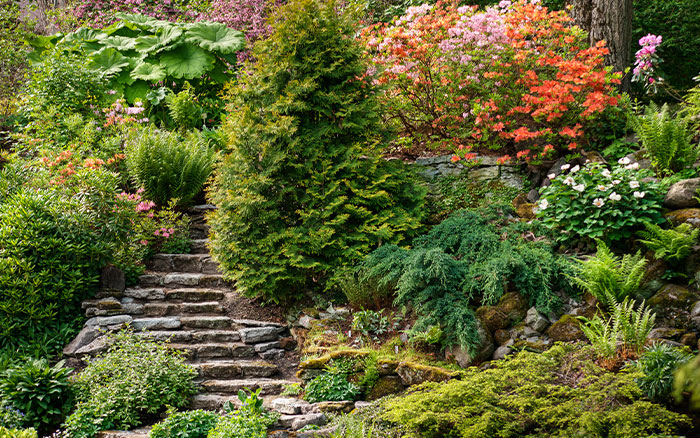 When planting, try to plant on a small shelf, so the water doesn't immediately run straight off. Also, when firmed in place, water in plants well which will help to settle the soil around the roots.
In spring, feed plants as applicable and add a layer of mulch which will help to retain moisture in the warmer months.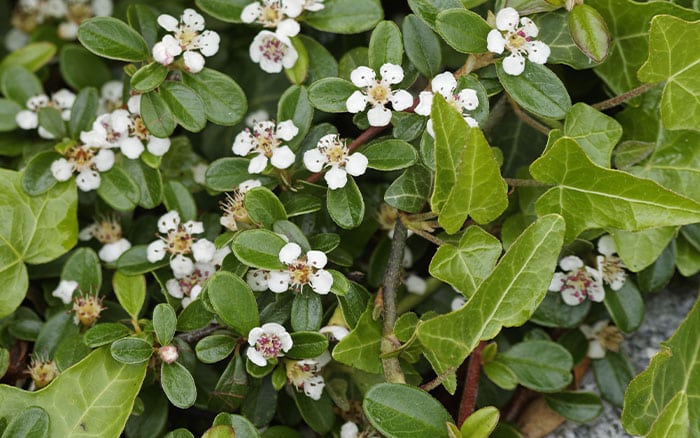 Calluna vulgaris (heather) 'Allegro' is a beautiful spreading evergreen that has dark green foliage, joined by spikes of red flowers during summer and autumn. These plants are perfect if your soil is acidic.
Jasminum nudiflorum (winter jasmine) has long arching branches, with small leaves and yellow flowers in winter and spring to bring some bright colour to the bank. They are well suited to coastal gardens too.
Cotoneaster dammeri (bearberry cotoneaster) will provide evergreen colour all year round with their small glossy leaves. In early summer, white flowers bloom and are followed by red berries in autumn. They are drought-resistant making them a perfect choice for your slope or bank.
Alternatively, incorporate long grasses onto your slope to form a grassy bank. Sow a mixture of seeds that are either traditional lawn mixes or wildflower mixes, or a wildflower turf.
Create a flat surface using retaining wall, which isn't just practical but adds an attractive architectural element to your design too, by incorporating different heights.
Having these walls is a great way to increase the space you have to grow, whether that is for a vegetable garden or beds to display ornamental blooms.
Create retaining walls using steel panels, concrete blocks, or browse the natural stone and walling options on Pavestone's website.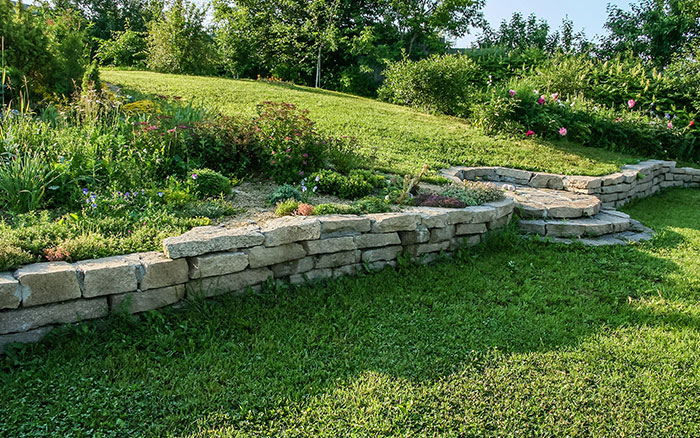 Run with the layout of your garden as use stone steps to create a meandering walkway to make the garden accessible. Embellish the steps with ferns and fragrant plants such as lavender or catmint.
Alternatively, if retaining walls or steps aren't to your taste, try terraces with low walls as a balance. Have a terrace area, paved with a cosy outdoor seating or dining area. Adding these different dimensions will bring so many layers of interest.
Decking can have the same impact, multi-level decking is a great way of levelling out the space, and is also great for making the space feel natural.
Whether you have a large slope, or a gradual descent, you can make the most of the space in your garden using these handy methods of gardening on a slope. I'd love to see how you have used the solutions on Twitter, Facebook, and Instagram.

David Domoney is a Chartered Horticulturalist, Broadcaster, and Author. David has worked with a number of the UK's leading garden retailers as a plant buyer and strategic consultant. With more than 30 years experience, in horticulture, David is as passionate about plants now as he was when he bought his first plant at a village fete.