For some drama in your borders, the sun loving Agapanthus or African lily have brilliant blooms that can be found in shades of blue, purple, and white. Find out how to grow agapanthus in your garden.
African lilies can be evergreen or deciduous, in fact the deciduous types tend to be more hardy than the evergreens. This make agapanthus great to grow in containers, where they can be moved or easily protected from winter weather.
They are sun-loving plants, thriving in a sunny spot with well-drained soil. If they are planted in shade, you won't get the same show-stopping flowers.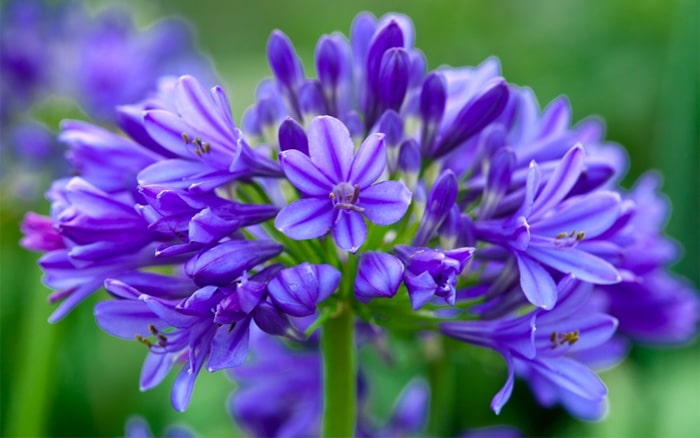 When planting in the border, spring is the best time. Either plant container grown plants at the same depth as they were grown in the pot, or plant bulbs at a depth of 5cm.
Alternatively, when grown in a container, use a peat-free loam based compost. Growing in a terracotta pot is ideal because it'll keep the roots nice and warm through summer.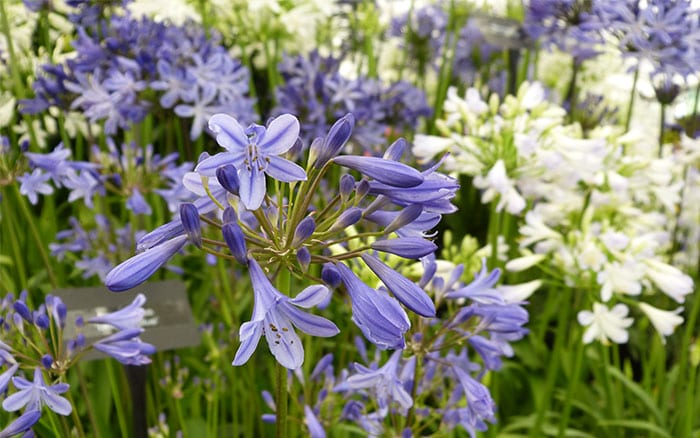 During the first few growing seasons, water regularly to keep the compost moist. Although when they are established, they won't need watering as frequently. During long, dry spells it's ideal to give them extra moisture to encourage better blooms next year.
When young, agapanthus like to have their roots restricted, so a few small plants can be potted up together in a 12-inch pot. Then, after 2 years the plants can be repotted into a larger plant pot.
To give the best flowers, feed border plants in spring with a balanced fertiliser, a granular feed is a good idea for slow release of nutrients. For container plants, start feeding every 2 weeks in April until flowers bloom with a liquid feed – like a tomato feed.
Keep the plants looking their best by deadheading when the flowers fade. Cut the flowers at the base, unless you want to keep the seedheads on the plant for interest later in the year.
Tidy the foliage of deciduous types in autumn, removing any dead, diseased, or damaged foliage. On the other hand, any dead foliage can be removed from evergreen varieties at any time of year.
From November to April, protect your agapanthus from cold weather with horticultural fleece. In colder areas, container grown evergreen types can be moved into a greenhouse or coldframe for extra protection. If the plants are grown in the border, mulching them in winter will help them to survive the winter season.
There is a huge variety of African lilies to choose from. There are taller varieties well-suited to the back of a border, and there are medium and shorter ones for the middle and front of a border.
You can collect seeds and grow agapanthus from these. However, they don't grow true to type.
Agapanthus africanus 'Albus'
First is a bright white variety that contrasts beautifully with the deep evergreen foliage. As a sun loving plant, positioning in a South or West facing position is best. Perfect for pollinators, they are a great addition to a wildlife garden.
Flowers in summer
Hardy in coastal and relatively mild parts of the UK
Grows up to 60cm tall
Moist but well-drained soil
Full sun
Sheltered

Agapanthus 'Headbourne Hybrids'
A deciduous variety that is a hardier type of African lily. During summer, the blue bell-shaped flowers bloom on top of upright stems. Well-suited to the front of a border, they will look great in a Mediterranean style garden.
Flowers in summer
Hardy through most of the UK
Grows up to 1m tall
Moist but well-drained
Full sun
Sheltered

Agapanthus 'Blue Moon'
The pastel blue-grey flowers of 'Blue Moon' bring delicate colour to the space on tall stems. Not only do they grow well in containers, but they are later flowering cultivars compared to other types so you can have lovely African lily blooms later in the year.
Flowers in summer and autumn
Hardy
Grows up to 1m tall
Moist but well-drained
Full sun
Sheltered

Agapanthus 'Midnight Star'
Next are the dark blue flowers of 'Midnight Star' that will grace your garden through summer. Another deciduous type, this hardy variety is suited to containers as well as borders, so will be sure to find a spot in any garden type.
Flowers in summer
Hardy
Grows up to 1m tall
Moist but well-drained
Full sun
Sheltered

Give growing agapanthus a go and you will be sure to have height and beautiful blooms in your borders and containers. Ensure they get the right care over winter and you will have bright blooms year after year.

David Domoney is a Chartered Horticulturalist, Broadcaster, and Author. David has worked with a number of the UK's leading garden retailers as a plant buyer and strategic consultant. With more than 30 years experience, in horticulture, David is as passionate about plants now as he was when he bought his first plant at a village fete.